The Step You Shouldn't Skip In Order To Make Rounder Cake Pops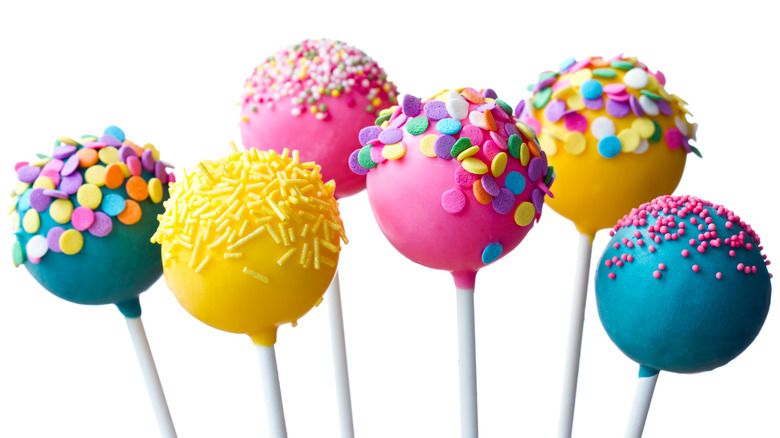 Ruthblack/Getty Images
For the record, we're not bothered by cake pops that aren't perfectly round. Know why? Because it's cake. Dipped in melted candy, chocolate, or icing. On a stick. Win-win-win.
But if you want to create an impressive presentation for an occasion, or you aspire to be a professional baker, you can learn the finer points of cake popping from this TikTok video. A quick tutorial from Main Street Sweets Frisco demonstrates how to create a nice round cake pop without the "foot." 
It seems easy, and it is, but the process does require taking certain steps to guarantee success. The Internet has an abundance of videos and recipes on making cake pops, many giving similar advice. Most bakers dip their cake pops in the coating, then either put them stick side down in a cake pop stand or cake side down on a parchment or wax-papered baking sheet (although no baking is required). That's when a hefty bottom can give the pop a bell or foot shape. The problem with that, says Main Street Sweets, is cake becomes exposed on the bottom. In contrast, when it's completely enrobed in the coating, the cake stays fresher for longer. To keep it round, Main Street Sweets creates a tiny foot to support the round pop. Her followers — including Betty Crocker — love the idea.
To make cake pops, you will need a baked cake, frosting, candy melts, and lollipop sticks, says Angie Dudley, the baking blogger who is credited with inventing cake pops. 
Rounder cake pops, from start to finish
Cake has been around for centuries, but did not become a staple in American homes until 1933, when P. Duff and Sons, a Pittsburgh molasses company, began selling cake mix in a box, according to America's Test Kitchen. Cupcakes and cake pops saw a burst of popularity in the early 2000s. Dudley, whose website is called Bakerella, had the idea to put cake balls on a stick in 2008. Once Starbucks started selling its version, cake pops became accessible to the masses.
To make the pops, a baked cake is crumbled and combined with frosting to give the mixture a doughy, pliable consistency. It is then rolled, chilled, and dipped into melted candy or chocolate. Before the ball is speared, the lollipop stick is dipped in frosting, which helps to anchor the pop. From there, decorations, sprinkles, and candy dusting are added, says Dudley.
One piece of advice coming from all bloggers is to be sure you don't dip the too-cold cake pop into a too-warm chocolate or candy mixture. That will cause the coating to crack. Instead prepare the pops in batches, allowing a few to come to room temperature (about 10-15 minutes after taking them out of the fridge), and waiting for the coating to cool down to 90 degrees, according to Preppy Kitchen. Once you've dipped your cake pops, follow Main Street Sweet's tip to ensure that your cake pops stay round.