Sesame Peanut Ramen Recipe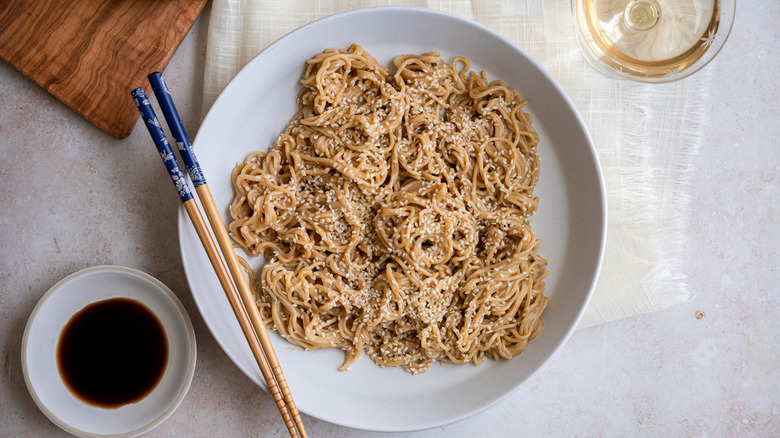 Christina Musgrave/Mashed
Besides sushi, ramen may be Japan's most famous culinary export. Ironically, though, this noodle dish was invented in Yokohama's Chinatown and uses Chinese noodles, combined with a delicious broth and other flavorings. 
This particular ramen, created by recipe developer Christina Musgrave, brings together the beloved peanut and sesame flavors found in so many Asian cuisines. Saucy rather than brothy, Musgrave's recipe is made from scratch yet not much harder to pull together than ramen from a packet, thanks to the use of fast-cooking noodles and pantry ingredients. 
"The sesame oil and peanut butter give this dish its signature flavor," Musgrave explains about these satisfyingly savory, nutty noodles. Make it yourself to forever upgrade your ramen routine.
Collect your sesame peanut ramen ingredients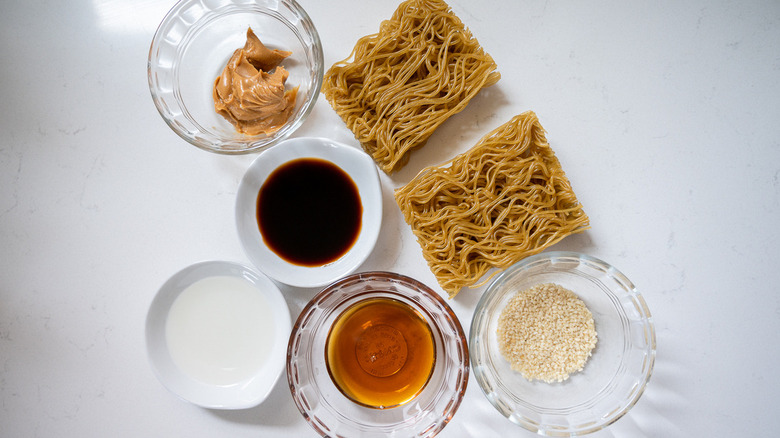 Christina Musgrave/Mashed
Though you could use any type of ramen noodles for this easy dish, "I love the Lotus Foods brown rice ramen," Musgrave says. Whichever brand or type you choose, grab 2 squares.
As for the sauce, you may already have everything you need at home. Check your pantry for a tablespoon each of peanut butter and sesame oil, as well as some soy sauce and rice vinegar. Finally, you'll need a sprinkling of sesame seeds for serving.
Cook the noodles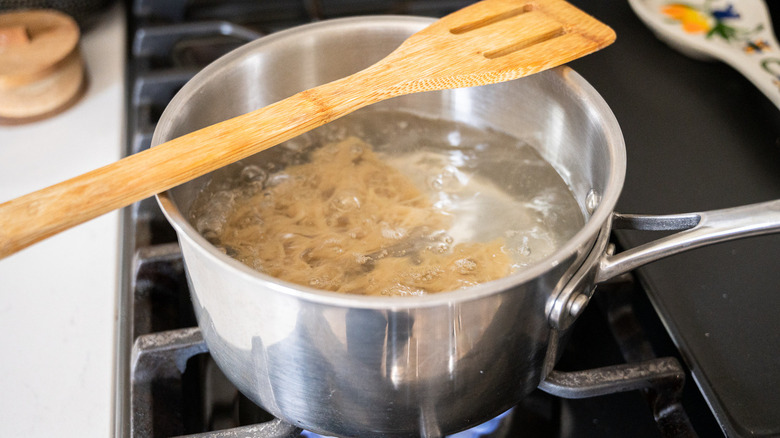 Christina Musgrave/Mashed
Start by cooking the noodles, which should be finished in the same time it takes to whip up the quick sauce. Bring a pot of water to boil, cook the ramen according to the package instructions, and all will be right in the world.
Make your ramen sauce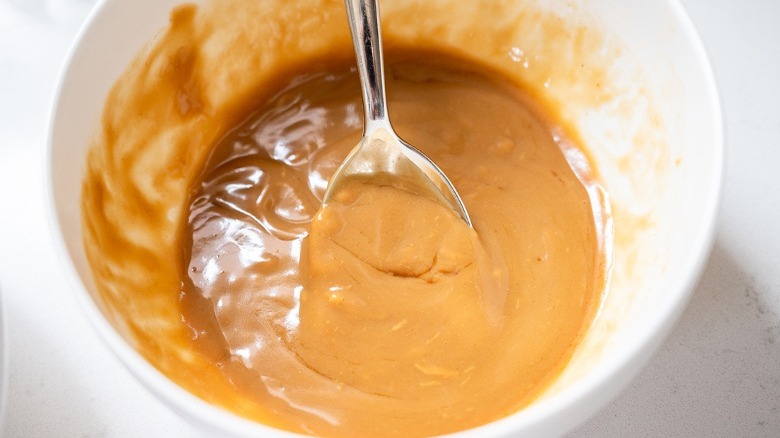 Christina Musgrave/Mashed
Meanwhile, move on to your silky sauce. Simply stir or whisk together the sesame oil, peanut butter, rice vinegar, and soy sauce until well combined.
Toss your noodles in the sauce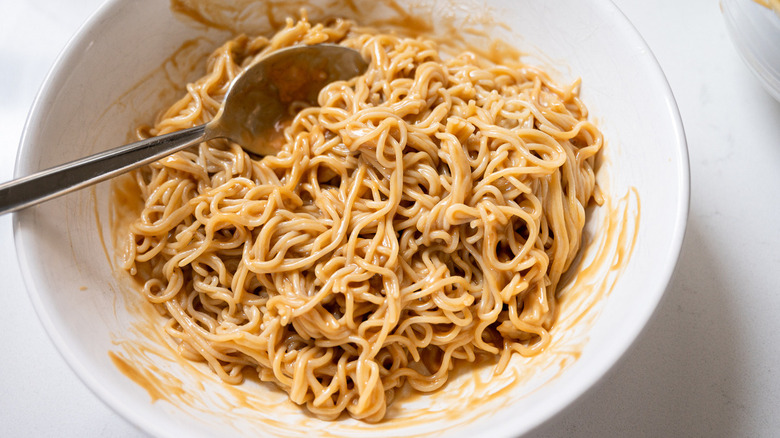 Christina Musgrave/Mashed
Now that your sauce is done and your ramen is cooked and drained, it's time to put the two together. Pour the noodles into the bowl of sauce and toss vigorously so the noodles and peanut sauce become one luscious combination.
Garnish and serve your ramen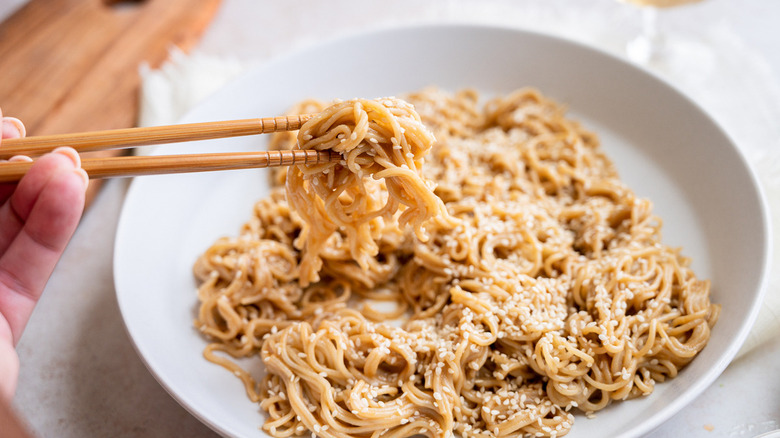 Christina Musgrave/Mashed
Divide the coated ramen among 2 bowls, garnish with sesame seeds, and serve immediately. Need ideas for accompaniments? "You could serve this with a sesame salad or as a side dish to roasted chicken," says Musgrave, though you may really just want to double this recipe and go back for seconds.
Sesame Peanut Ramen Recipe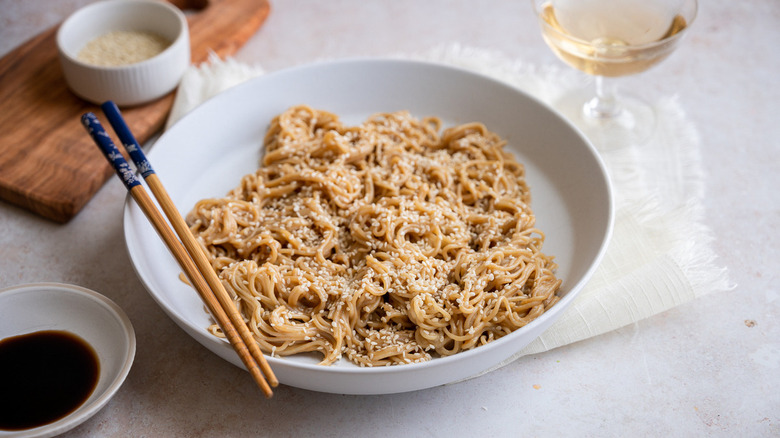 Christina Musgrave/Mashed
Prep Time:
Cook Time: 5m
Yield: 2 servings
Ingredients
2 squares ramen noodles, such as Lotus Foods brown rice ramen
1 tablespoon sesame oil
1 tablespoon peanut butter
1 teaspoon rice vinegar
1 teaspoon soy sauce
1 teaspoon sesame seeds, for serving
Directions
Boil water in a medium saucepan. Cook ramen according to package directions, then drain.
While the ramen is cooking, combine the sesame oil, peanut butter, rice vinegar, and soy sauce in a large bowl.
Transfer the cooked ramen to the sauce and toss vigorously until combined.
Divide among bowls, top with sesame seeds, and serve immediately.