Jam Is The Superior Summer Barbecue Sauce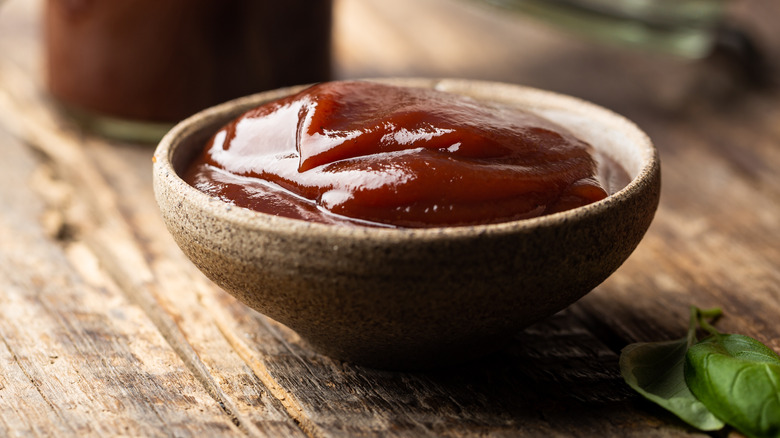 Goskova Tatiana/Shutterstock
For many people, summer means it's time to fire up the grill. Everyone seems to have their own signature barbecue sauce or spice rub. If you want to elevate your sauce game, consider getting figgy with it. Figs add a sweet yet earthy flavor that complements the smoky and tangy taste of barbecue sauce. The easiest way to add figs to your sauce is to use fig jam, as chef and restaurateur Tanya Holland does in a recipe concocted for Bon Appétit. Holland's version is rounded out with Worcestershire sauce, brown sugar, cider vinegar, onions, garlic, and spicy mustard.
Just be mindful of the sugar, whether you are making your own sauce or upgrading a store-bought sauce. Most barbecue sauces use a lot of sugar and so does fig jam. The key is maintaining balance which may mean using less sugar (or choosing a store-bought sauce containing less sugar) or adding ingredients like vinegar, mustard, or chili peppers. In fact, Georgia chef and former Food Network Star contestant Hans Rueffert did this by combining chipotle peppers and fig preserves in his barbecue sauce recipe published by the Food Network.
You can also use dried or fresh figs in your barbecue sauce if you prefer, which Martha Stewart did in a simple barbecue sauce incorporating dried figs. However, using jam in your barbecue sauce offers more than just sweet convenience. It also thickens the sauce and assists with the barbecue process.  
What's your BBQ jam?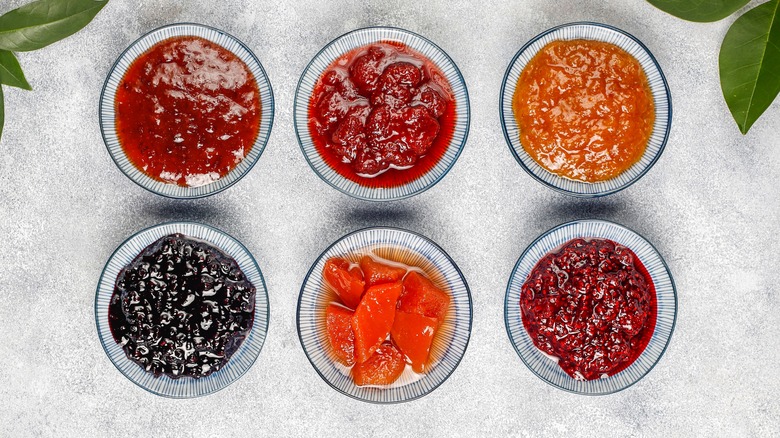 azerbaijan _stockers/Shutterstock
Fig jam isn't the only kind of jam used at the grill. Seasoned pit masters and more casual home cooks can add a variety of jams to their secret sauce. Barbecue sauce is primarily a marinade to baste meat for slow cooking, and while there are regional variations and countless personal recipes, many cooks swear by sticky sweet ingredients like jam, syrup, and molasses. The texture helps the sauce stick to whatever you are grilling, while the sugar also caramelizes over the heat to add color and texture. 
At its best, a good barbecue sauce delivers a sophisticated blend of flavor and texture. The mix of sweet, spicy, tangy, and smokey enhances the flavor of meats, mushrooms, jackfruit, or other grillable foods. If you want to play around with developing your own signature barbecue sauce, start with an easy homemade barbecue sauce recipe and go from there. Feel free to experiment with fig jam, pepper jelly, apricot jam, or any other preserve you enjoy to make it your own. When making a batch of barbecue sauce, you might want to make extra so you have it on hand to use as a condiment. You can use your leftover jammy barbecue sauce on pizza, as a dunking sauce for French fries, over fresh ripe sliced tomatoes, or even as a drizzle over goat cheese or other soft cheese.