Costco Shoppers Swear Goodles Mac And Cheese Is As Good As Kraft
Mac and cheese embodies the ultimate comfort food experience. With its effortless preparation and nostalgic appeal, it's a taste of childhood that never fails to warm your heart and bring a smile to your face. While homemade mac and cheese is undeniably delicious, the convenience of boxed mac cannot be ignored — it's pure comfort in a bite.
According to a TikTok video, Goodles mac and cheese is the new sensation causing a frenzy in Costco. Shoppers are going wild for this affordable delight, claiming it's just as good as the beloved Kraft. Even "gym girlies" can't resist the temptation, according to the video. For years the reigning champions of boxed mac and cheese has been the tried-and-true store-bought classics like Kraft Original and Annie's Shells & Real Aged Cheddar. These nostalgic favorites will transport you back to childhood with just one bite and without breaking the bank.
With an impressive 14 grams of protein per serving, Goodles mac and cheese dares to be different. But does it live up to the social media hype?
Is Goodles mac and cheese any better?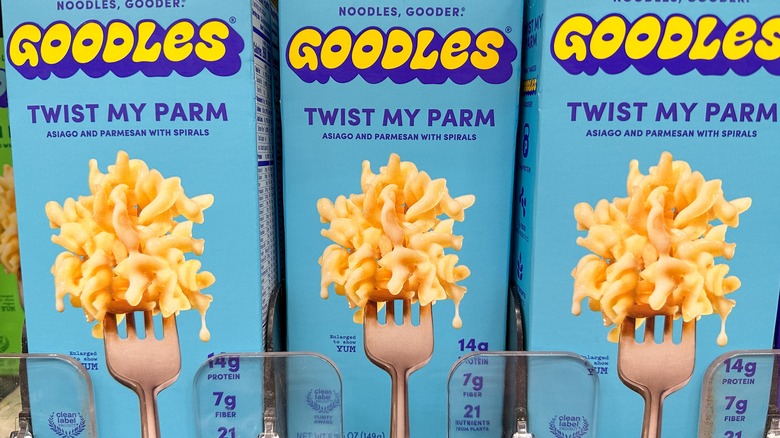 melissamn/Shutterstock
Goodles claims to be a healthier, high-protein alternative to traditional boxed mac and cheese like Kraft and Annie's. One Reddit user commented, "Just tried this last night, and it's a yes for me." While Goodles is packed with protein and fiber, its carb and sugar offerings are still high, as another Redditor lamented, "Yea, and 46 grams of carbs in one serving! It's not worth it." Another Goodles proponent reiterated in response, "Some of these commenters missing the point. It's a far better option than other boxed Macs."
Goodles CEO Jen Zeszut acknowledges the need for more innovation in the $4.4 billion mac and cheese industry. She says, "Mac and cheese is that universal thing, but more people are thinking of food as performance and are worried about what they put in their bodies. There was so much lack of innovation, and we are taking a fresh look at the category."
Goodles varieties are currently unsuitable for those following a gluten-free diet, as observed by one Redditor stating, "Damn, it's not gluten-free." However, the brand has hinted at developing gluten-free and other vegan options soon. In the meantime, if you're looking for a healthier alternative with exceptional flavor, Goodles is the mac and cheese for you — especially since it's currently available at Costco for a great price.