How Canned Cream Of Chicken Soup And A Ramen Packet Elevate Lunch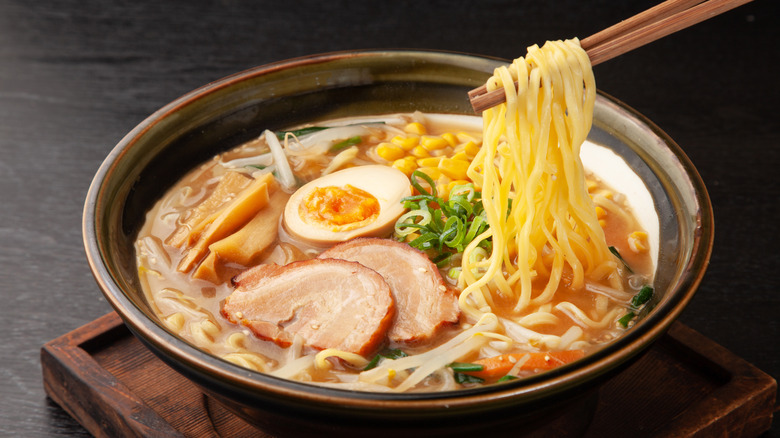 sasazawa/Shutterstock
When it comes to making lunch on a budget, many of us look no further than instant ramen. However, even though those little packages contain everything you need to make an easy meal, you can still upgrade instant ramen by adding your own ingredients. For instance, one ramen hack you'll wish you'd known sooner entails cooking your noodles in broth instead of water.
Similarly, you might elevate your instant ramen by substituting a can of cream of chicken soup for half the water in the recipe and adding the flavoring packet to season. As you might expect, the soup adds an element of creaminess to the ramen, which can't be achieved with plain water. Beyond that, you can further upgrade this dish by adding cheese, chunks of chicken, and other spices.
This version of ramen is more flavorful, filling, and interesting to eat. Plus, it gives you more control over the sodium content, which is one reason some say ramen noodles are bad for you. If you are trying to cut down on sodium, use low-sodium or sodium-free cream of chicken soup and swap out the seasoning packet for spices from your cupboard.
Use other cream soups to upgrade basic ramen noodles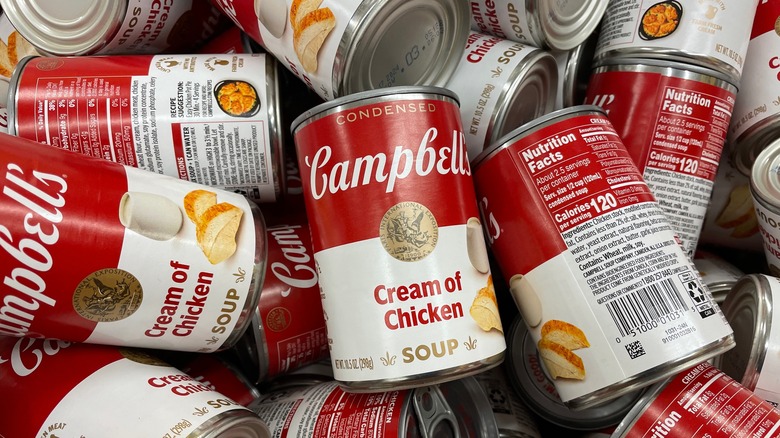 Billy F Blume Jr/Shutterstock
If you aren't fond of cream of chicken soup, you can use pretty much any cream soup to zhuzh up instant ramen. In a TikTok demonstrating how to make this type of ramen, The Ramen Guy notes that he prefers using cream of mushroom soup, as the Shin Ramyun ramen he uses also contains mushroom flavors.
In a previous video, he tried a similar recipe using Shin Ramyun, cream of mushroom soup, and a slice of Velveeta cheese. Supposedly, the combination of creamy soup and melty cheese help mimic the soft, jammy yolk of ramen eggs without adding an egg.
Of course, the obvious substitutions for cream of chicken soup are other cream soups, be it celery, broccoli, tomato, or even shrimp. Just imagine how tasty a seafood ramen would be with cream of shrimp to really emphasize those fishy flavors! We never would have guessed that instant ramen could be so creative.