Costco Hops On The S'mores Cookie Trend With New Bakery Find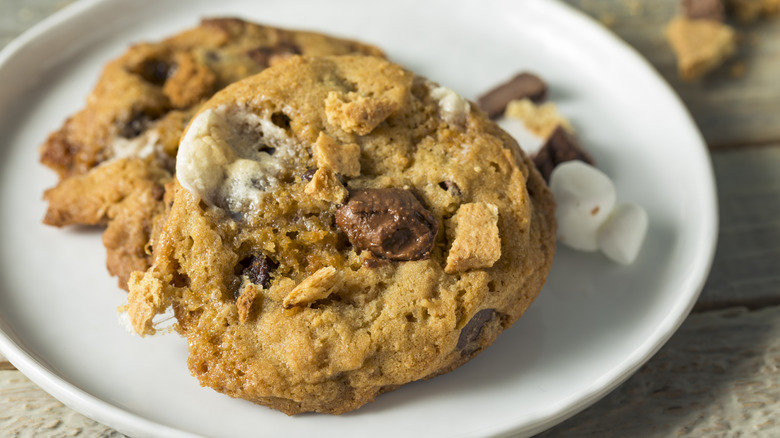 Bhofack2/Getty Images
S'mores are a quintessential summer classic. Who doesn't love gathering around the campfire to toast marshmallows until they're ooey gooey, then sandwich them between crispy graham crackers and a tiny bar of melty chocolate? The process of making s'mores is almost as fun as eating them. But if you can't get to a campsite this summer, Costco has totally got you with its new s'mores cookies available in some of its bakeries.
TikToker @costcohotfinds came across plastic containers of the store's new s'mores cookies in the bakery section of the warehouse. "At 24 in a box, they were selling so fast, and I could tell as soon as I took them out of the package how soft they were." @costcohotfinds recommends putting the cookies in your air fryer for one minute. "They came out so gooey and delicious; these are dangerous," they said. It seems as if Costco fans are certainly eating up the s'mores cookies; as of this writing the TikTok has over 8,500 likes.
It's s'mores galore at Costco
Lovers of the s'mores cookies took to the comments of @costcohotfinds' TikTok sharing the release of the cookies in Costco bakeries. One user wrote, "I tried it tonight because of this video. They were so fresh and delicious!" Another user chimed in with four "yum" emoji and shared, "Can't wait to go look for those!"
The s'mores cookies join other s'more products currently or previously sold at Costco, including the Fannie May S'mores Snack Mix which consists of graham cracker cereal and marshmallows covered in chocolate making for an easy pop-in-your-mouth snack. The warehouse has also sold delici Chocolate S'mores Soufflés, a refrigerated dessert heated in the microwave with individual servings featuring layers of graham cracker crumbs, chocolate, and marshmallow.
Whether it be s'mores snacks, soufflés, or cookies, Costco certainly seems to be cashing in on the summer s'mores trend. And, with cookies featuring an incredible texture and taste sure to please any sweet tooth, who can blame shoppers?