All The Reasons Five Guys Is Superior To Culver's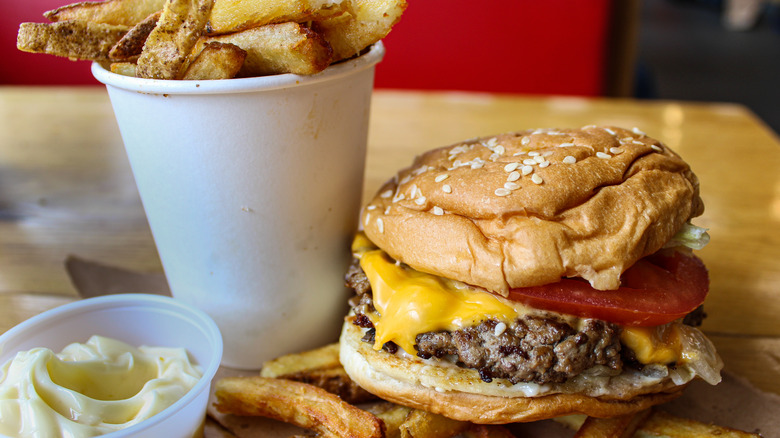 Irati Ventoso Cenzano/Shutterstock
I'm an Ohio-born Buckeye who's recently moved to "Cheese State" Wisconsin, where Culver's originated in 1984, and boy, am I sick of seeing Culver's on every corner. And to be honest, it's kind of bugging me that I even have to write this. I mean, come on! Isn't it crystal clear why Five Guys totally kicks Culver's to the curb? But hey, I'm here to break it down for you and spill the beans on why Five Guys, which got its start in Arlington, Virginia, in 1986, is hands-down the better burger joint. Buckle up because this is gonna be a wild ride!
Although Five Guys has a long-standing reputation of being one of the most tasty and popular burger joints out there, there's apparently some confusion as to why this restaurant chain is actually as special as it is. I'm willing to assume that it's the lack of information that causes people to lean toward Culver's over Five Guys. Five Guys has so many perks compared to Culver's. I feel that it's my pleasure — my duty — to inform those of you who may not know what all this dynamically delicious restaurant offers.
So, if you're ready, let's hop right into why Five Guys is most certainly the Cadillac of all things burgers and fries.
1. The buns contain minimal ingredients
If there's one thing that Five Guys does well, it's limiting the ingredients in its food to only what's needed to make everything taste awesome. Though Five Guys' buns tend to get a lot of flack (for reasons I still struggle to accept), what most people don't know is that the buns are made the way they are on purpose and with very minimal ingredients at that.
According to NBC News, the buns were purposefully formulated to take on an eggy and sweet flavor, which, in my opinion, provides the perfect base for the rich and meaty burger and toppings that get piled upon it. Unlike Culver's buns, Five Guys' buns contain only nine ingredients with basics like flour, salt, and eggs to create wonderfully simple bread that encases the most amazing burgers you'll find around.
Culver's, on the other hand, is a bit of a different story. A quick scan of ingredients for its buns reveals proverbial fast food swear words like "high fructose corn syrup" and "artificial flavor." I don't know about you, but I'm dang tired of feeding my body trash, especially since there are several fast food joints out there that have made concerted efforts to ban ingredients like these. So, this is just one way that Five Guys is definitely superior to Culver's.
2. Choose from over 250,000 ways to customize your burger
How many restaurants do you know where you can truly customize your burger virtually any way you want it? Select from tons of toppings to create up to 250,0000 customizations of your Five Guy burger without a single extra charge added. Choose from grilled mushrooms, green peppers, raw onions, grilled onions, jalapeños, lettuce, pickles, ketchup, or simply go "all the way" by adding all the menu's bolded ingredients to create the most delicious burger you'll ever sink your teeth into.
Now, is it possible to do this at Culver's? No, it isn't. First, Culver's doesn't have a near-endless list of customizable options for creating a burger. Not only this, but, like most fast food burger joints, Culver's gives you ready-made options, taking all the fun and joy out of jazzing up your burger that starts as a blank canvas. While some may settle for mediocrity, count me out because when it comes to burgers, I prefer to indulge in a patty crafted precisely to my liking.
3. The boardwalk style fries are made with meticulous care
Sometimes it's the most boring, unassuming things in life that take the most care and effort to produce. This is certainly the case when it comes to Five Guys french fries. Five Guys goes to extraordinary lengths to ensure the perfect fresh and salty fries every time, and for this, I'll forever be grateful.
According to a TikTok video that went viral, Five Guys goes all in when it comes to getting your fries done just right. It carefully selects fresh Idaho potatoes that are then sliced and soaked in water before they are fried in 100% peanut oil, which is cholesterol-free (via WebMD). They get salted and are served piping hot. That's it — just three ingredients. The thought of it alone gets my mouth salivating every ... single ... time.
Of course, Culver's offers fries, too, but not nearly the same way. Culver's crinkle cut fries include modified food starch, dextrin, and other unnecessary ingredients. Seriously? It just goes to show that Five Guys is a head above the rest when it comes to fries, and that, folks, is no contest. Oh, and don't forget to hit up that hefty bottle of malt vinegar and those cups of ketchup that Five Guys offers in-store. Perfection!
4. Burgers are grilled fresh right in front of your face
Culver's makes the claim that its burgers are cooked to order, and sure, I'll assume that's true. While it's great that a burger eatery can fry up the goods the moment you order, I'll say that there's something even better about being able to watch employees grill and assemble your burger right before your eyes.
That's why I absolutely love that Five Guys does nothing in the shadows. Instead, the restaurant allows you to closely monitor the burger and fry-making process if you so choose. Grill cooks stand behind glass shields and carefully prep your buns, toppings, cheese, and, of course, your hot sizzling burger out in the open so there's no denying what's going on. Meanwhile, Culver's employees are in the back doing who-knows-what before cooking up your order and presenting it to you wrapped and at the counter. Ya know ... the traditional way.
I get that this is the norm for most fast food joints, and if that's fine with you, it's fine with me. But at the end of the day, if I can watch a Five Guy employee cook my burger to perfection before grilling and adding my most favorite toppings to a deliciously toasted minimally processed bun all before stuffing my face in the most unimaginable state of burger bliss ... I'm going to.
5. They feature 100% beef hot dogs served a variety of ways
Did you know Five Guys also whips up fresh hot dogs? It's true. And like its prized and juicy burgers, Five Guys serves its dogs any way you want — with oodles and oodles of toppings. You can also order a bacon dog, a cheese dog, or a bacon cheese dog.
Does Culver's offer hot dogs? Right now, the answer is no. You can score a hot dog on a stick (aka a corn dog with honey batter). But if it's a warm hot dog with a snappy caramelized exterior that's made out of 100% beef and laid across a freshly toasted hot dog bun you're looking for, I'm afraid you'll need to head to Five Guys to get your fix. Not to mention the fact that even if Culver's menu did include hot dogs, it would undoubtedly contain a lot of the same artificial ingredients as the rest of its food. And for that reason, I won't be petitioning Culver's to bring out its own version of a hot dog anytime soon. It isn't worth it!
6. You can customize your drink with Coca-Cola Freestyle
Burgers aren't the only thing you can customize when you choose to dine in at Five Guys. Many Five Guys locations also feature a Coca-Cola Freestyle machine, which allows you to customize your fountain drink anyway you want it. Choose from over 100 flavors, and feel free to mix and match as you create unique soft drinks and juice mashups that are all yours. Not that into soda? Don't worry. Five Guys also offers bottles of water, tea, and lemonade at select locations. 
Culver's offers a varied selection of shakes, malts and floats made with its frozen custard. Flavors include strawberry, raspberry, peanut butter, and salted caramel. At Five Guys, you can order up a delectable shake and even add some pretty exciting mix-ins to this sweet temptation to ignite your taste buds. Choose from varieties like strawberries, bananas, Oreos, peanut butter, Reese's pieces, bacon (yes, bacon), and so much more. Five Guys pretty much has it all, even where drinks are concerned. What's not to love?
7. Look ma, free snacks
Free snacks while you wait, anyone? Yes, please! At Five Guys, you can readily enjoy a peanut or two (or three or four) while you wait. Some sources claim it's a tactic to keep you from awkwardly staring down your Five Guys grill chef, which is rather hilarious if you ask me. Whatever the case might be, you can expect Five Guys to have your back when it comes to helping you stave off your appetite while employees freshly prepare your food practically from scratch.
Sure, eating peanuts is a great way to pass the time while your food is cooked. But it isn't a great environment for any of you foodies out there with peanut allergies. If you've got severe allergies to peanuts, it's safe to say that you should steer clear of this hamburger establishment, but if you've got nothing of the sort, feel free to indulge. Oh, and as usual, there's no such thing as a free snack at Culver's. Surprise, surprise.
8. Grilled cheese is on the menu
Now, not only does Five Guys serve mouthwatering burgers, hot dogs, and fries, but it also offers a chance to indulge in a nostalgic blast from the past by savoring a classic childhood favorite: a deliciously satisfying grilled cheese sandwich. While it might not offer up any tomato soup to dip your sammie in, you can expect it to come on warm toasted bread with several slices of cheese added to the mix.
And it doesn't just stop there! You can also get a grilled cheese with a burger patty added to it (and any other toppings you'd like to try) to make this into an unexpectedly crave-worthy melted classic that's sure to tickle your taste buds in all the right ways.
At Culver's, you'll be hard-pressed to find a grilled cheese that isn't a part of the kids' menu. I mean, doesn't it always feel a little awkward — almost like you're doing something wrong — when you, as an adult, order off of the kids' menu? It might just be me, but I definitely feel more confident ordering one of these babies when it's advertised for adults. And the added burger patty makes the whole thing feel a little more grown-up. But hey, what do I know?
9. Customize a veggie sandwich the same way you would a regular
All you veggie fans out there, rejoice! While Five Guys isn't exactly the most vegetarian-friendly option out there, it does offer a variety of sandwiches, which is more than we can say for many fast food establishments. Choose to upgrade your sandwich game by ordering a veggie sandwich stuffed with mushrooms, grilled onions, tomatoes, lettuce, and green peppers for a flavorful and beef-free alternative to its otherwise deliciously juicy burger options. That doesn't sound too appetizing? No problem. According to Five Guys, you can add any toppings you want until it's the creation of your dreams.
To be fair, Culver's has a similar offering, although it comes in the form of a true veggie burger patty, which, of course, doesn't yield itself to all the customizations that Five Guys offers. You'll simply get the veggie patty, your basic lettuce and tomato toppings, and well ... that's pretty much it. If that's your thing, then by all means, go for it. But like many things in life, options tend to make everything so much more enjoyable.
10. You can get your Five Guys fix in almost every state
Unlike Culver's, you can expect to come across Five Guys in nearly every state except Alaska, so it seems. The chain has over 1,700 locations around the world, mostly in the U.S. but also in Asia, Europe, and the Middle East.
Culver's, on the other hand, certainly has locations outside of Wisconsin, but it hasn't expanded nearly as far and wide as Five Guys. In fact, despite the more than 900 locations nationwide, you won't find a Culver's in California, Oregon, Washington, Nevada, New Mexico, Oklahoma, Louisiana, Mississippi, and many other northeast states including New York as of 2023. Sadly, this means you hardcore Culver's fans out there won't have anywhere to turn in these states when the going gets tough and cravings begin to strike. But don't worry; Five Guys will always be there for you if you ever decide to sample a real burger for a change.
11. You get what you pay for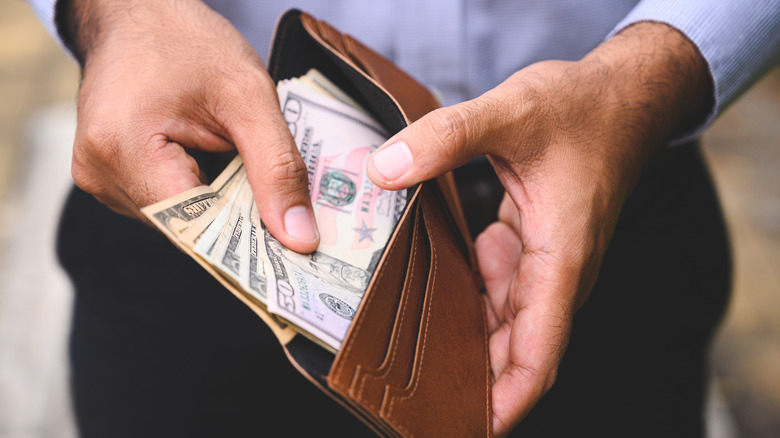 Nopphon Pattanasri/Getty Images
As a die-hard Five Guys fan, I'm willing to admit, the prices at Five Guys can hit the pocketbook pretty hard. Still, I refuse to let cost force me into deserting this beloved burger establishment. Why? Because I know I'm getting something far better than what's offered at a place like Culver's.
Remember that Five Guys goes to great lengths to serve up top-quality menu offerings that contain minimal ingredients, are made fresh to order, and are cooked right in front of you. The beef is fresh, the bread is fresh, the toppings are first-rate, and you'll be hard-pressed to find anything remotely artificial going on in its burgers, hot dogs, and fries, save a few ingredients in the cheese or condiments. Culver's burger buns are laced with high fructose corn syrup and artificial ingredients while its fries are made with modified food starch. That will help you understand why paying so much more for a meal that's seemingly so simple is worth it. It's all about the quality; and for that, I'm more than willing to pay up.
12. The atmosphere is poppin'
Stepping into a joint that simply screams "get ready for an epic burger" is something else. And let me tell you, Five Guys has nailed it like no other. Upon walking in, you're immediately hit with the loud sizzle of perfectly grilled hamburgers and grilled onions and the smell of freshly fried potatoes. The place is checkered with colors of red and white, evoking memories of a bubbling Coke and that tomatoey ketchup you're likely about to slather all over your meal.
And let's not overlook the tunes and the overall crew vibe. The blasting, mind-blowing riffs of the rock 'n roll guitar reverberating through the speakers, coupled with the lively cheers from the enthusiastic and bustling crew, are enough to make me jump with excitement whenever I step foot in that place. I remember my first time walking into a Five Guys in Wisconsin after moving from Ohio. I was so happy to have stumbled upon it here in Culver's-land. It truly felt like my home away from home. Five Guys' unbeatable atmosphere is the perfect complement to its scrumptiously satisfying food. I love it.
13. Five Guys offers real smokehouse bacon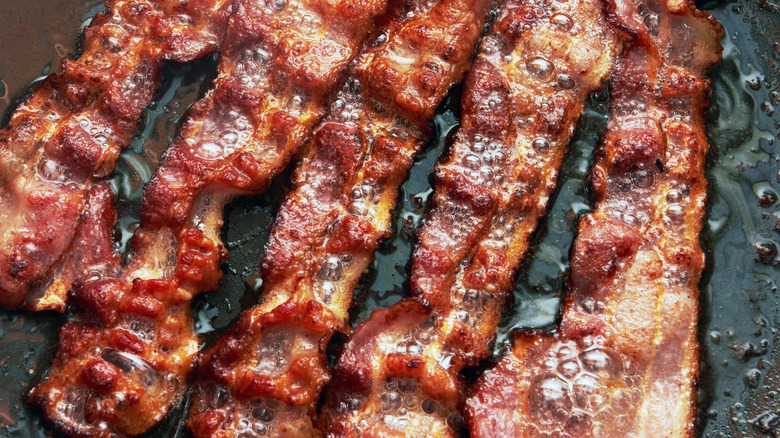 Krasyuk/Getty Images
If your knees start quakin' at the mention of applewood-smoked bacon, you'll be in good company at your local Five Guys. By now, you know that Five Guys takes its burger game seriously, and when it comes to selecting the best bacon for its burgers, it fares no differently.
At Five Guys, prepare to indulge in bacon straight from one of the few remaining smokehouses in the U.S., where it's expertly infused with mouthwatering flavors through a time-honored process of wood-chip smoking. You can even add this bacon to nearly anything, making this restaurant a match made in heaven for any true bacon enthusiasts out there.
So, how far can you go with bacon at Five Guys? Try ordering the BLT, which features a thick and hearty helping of bacon atop a bun with crispy lettuce and tomato, or take a slurp of a vanilla shake with a bit of chopped bacon mixed in. Now you know where to go to get your bacon fix. You're welcome.
14. You can get your burger lettuce-wrapped
Some of you might be making weird faces at me by now, and at this point, I can't say that I care. Though I'm long past my previous journey of keto-friendly dieting, the fact remains that many choose to live lifestyles that don't include hearty, soft slices of bread. Whether you're gluten-free or low-carb, those of us who have embarked on such an ambitious dieting path know how challenging it can be to find good food that actually fits our dietary restrictions when dining out.
Thankfully, Five Guys offers not one but two options for those looking to skip bread. Pick from a burger neatly wrapped in lettuce that includes all the toppings and condiments you'd normally place on your burger, or a burger bowl, which essentially features whatever you want in a sturdy foil tin with no bun in sight.
Sadly, Culver's once again fails to offer something even as simple as a lettuce-wrapped burger, even though I'm sure many of its fans could certainly benefit from one. I mean, how hard could it be? You can order your burger there without the bun, but no lettuce-wrap options exist. Apparently, Culver's has not yet caught on to the needs of a certain sect of its fan base. Tsk-tsk.