The Cost Effective Reason Fast Food Joints Don't Sell Veggie Burgers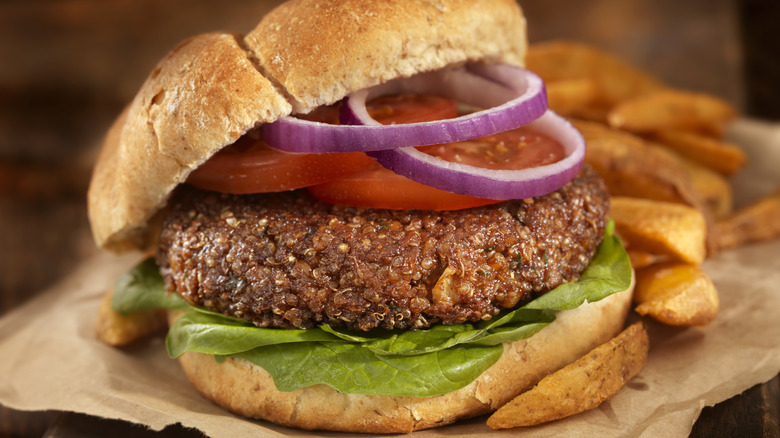 Lauripatterson/Getty Images
For a nation that's known for its profound love of burgers, it might come as a surprise that a majority of fast food joints in the U.S. have missed the opportunity to cater to the needs of an expanding target market of vegetarians and vegans. If you've ever been on the prowl for a decent veggie burger (made from actual vegetables), your chances of finding one at burger chains like McDonlad's are slim.
Franchise owners decide whether to include an item on their menus, and veggie burgers just don't happen to be a profitable addition for most. Kate Taylor, a senior correspondent at Business Insider, tells Food & Wine that franchise owners hesitate to add veggie burgers because customers don't order many. "Franchise owners tell me, a lot of the things people say they want to have, they don't actually end up ordering," Taylor says.
That's not to say there are no burger options for vegans and vegetarians. These days, most restaurants have a plant-based burger on their menus, and while those meet the needs of a vegan diet, they aren't the same thing as veggie burgers. Veggie burgers often have ingredients like beans, mushrooms, peppers, and carrots, among other vegetables, whereas plant-based burgers, like Impossible Foods' veggie burger, are lab-produced with ingredients like pea proteins and genetically modified soy concentrate to replicate meat.
It's not for lack of trying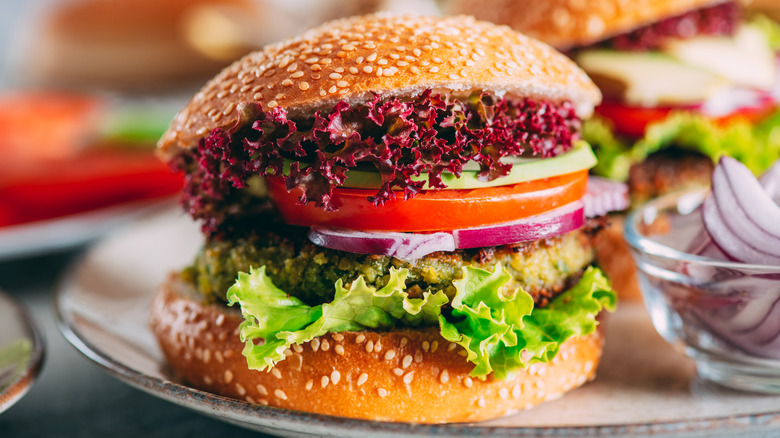 Aegeanblue/Getty Images
Nearly two decades ago, McDonald's put veggie burgers on their menu, but the demand was so low that they had to discontinue it. In 2022, the franchise introduced a plant-based McPlant burger, but they had to take it off the menu since customers weren't exactly clamoring for those, either. Past trends suggest that although some fast food joints have added veggie burger options, they had to discontinue them since they weren't profitable.
Sometimes, the reason for discontinuity isn't solely tied to profits. In 2019, Burger King swapped out its soy-free veggie burgers for a trendy vegan meat option by Impossible Foods. The franchise experienced growth in sales after rolling out the Impossible Whopper. "The Impossible Whopper is a huge hit with our guests and has quickly become one of the most successful product launches in Burger King's history," José E. Cil, the CEO of Restaurant Brands International, tells Food Business News. However, not everyone was happy with the decision. "The bean burger was so good. I can't stomach the Impossible stuff. Too much like meat," one Redditor writes.
Veggie burgers are elusive in the U.S., but you can still get your hands on one. In May 2023, Shake Shack introduced their veggie burger made out of mushrooms, carrots, and sweet potatoes. Wendy's has a veggie stack burger with black beans, brown rice, chickpea, sweetcorn, paprika, and carrot. Burger King's veggie offering comes with a special chunky mushroom patty.