13 Store-Bought Ice Cream Bars Ranked From Worst To Best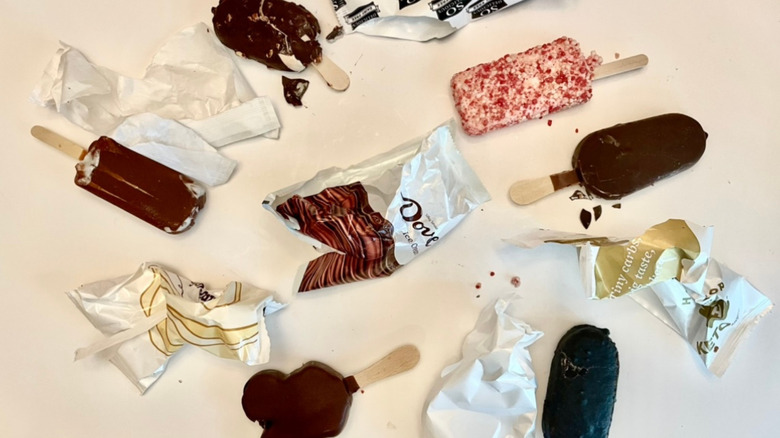 Brianna Corley/Mashed
When Harry Burt, the founder of the Good Humor ice cream company, looked out into the wider landscape, he must have known the frozen dessert world was in dire need of something new and delectable when he invented ice cream on a stick. Okay, so really, his daughter tried Burt's ice cream and complained that it turned into a melted disaster as she ate it. His son quickly noted that popping a stick in the frozen treat could fix the messy mayhem. As a result, Burt invented the concept of ice cream on a stick and the idea caught on like wildfire. What we know today as ice cream bars are a dime a dozen in the freezer section.
But as with everything, quantity does not equate to quality. And if you're looking to find the best ice cream bars to stuff in your freezer for those hot summer days (or a break up), we have carefully assessed a dozen ice cream treats to help you make the best choice to beat the heat (or emotionally regulate yourself). Keep in mind that the prices listed are accurate as of July 2023 and tend to vary a bit by region. 
We tasted these frozen desserts and determined the quality of the ice cream, thickness of the outer layer, overall flavor, and sturdiness. Finally, we ranked them from worst to best; here are the results.
13. Blue Ribbon Star Bars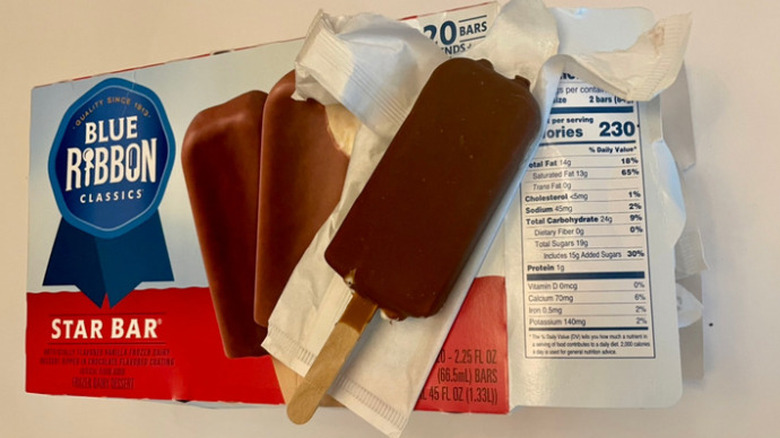 Brianna Corley/Mashed
Not to be confused with Blue Bunny, Blue Ribbon is churned out by the same ice cream empire of a company – Wells Enterprises. Seriously, check your freezer. Ice cream favorites like Bomb Pop and Halo Top (more on that later) are also produced by the folks at Wells. However, the company reports its Blue Ribbon line is all about bringing classic ice cream treats to your freezer. We tried the family-oriented brand's take on a classic chocolate-coated vanilla ice cream on a stick and were sorely disappointed.
At $6.48 for a 20-pack, Blue Ribbon's Star Bars are definitely a bargain. However, when we unwrapped these bars, we could tell right away that the chocolate coating was thin. In fact, you could see the vanilla ice cream through it. Plus, the outside was already cracked before we even tasted it. As expected, when we took a bite, we found there was too little chocolate and too much low-quality ice cream. A good deal aside, in our opinion, Blue Ribbon's Star Bars are has-beens.
12. Breyers Carb Smart Vanilla Bar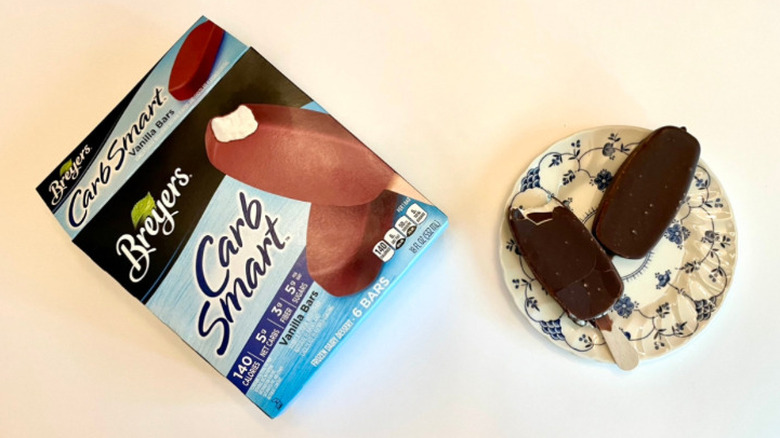 Brianna Corley/Mashed
Whether enjoyed by Chinese emperors, Spanish viceroys, or all-American kids in the '50s, ice cream and its historic forebears have always been high in calories and fat. However, these days, there are low-cal and low-fat versions for ever-eager ice cream loving health-conscious foodies. Breyers offers a range of lines such as Better for You, which includes products with no added sugar, without lactose, and low in carbs. We opted for Breyers Carb Smart Vanilla Bar for our selection.
Costing $4.48 for a six-pack this better-for-you take on vanilla ice cream coated with chocolate may be low-carb, but it's also low-taste. Although the chocolate layer was slightly thicker than Blue Ribbon's, these ice cream bars still have such a thin coating that we were barely able to savor the flavors. After one bite, the top layer cracked to pieces. We also noted that low-carb ice cream has a strange aftertaste. That being said, if you follow a low-carb diet and love ice cream bars, don't be discouraged. There are other options out there — and one of them is much higher on our list.
11. Nutty Bars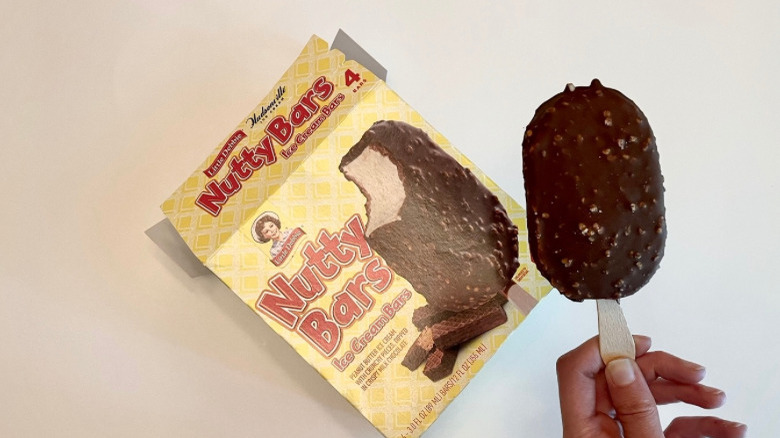 Brianna Corley/Mashed
In 2022, Little Debbie came forward to announce it was launching an array of ice cream treats inspired by its famed snack cakes. This year, it took on another section of the ice cream game by releasing Nutty Bars.
Ringing in at $4.98 for four bars, these Nutty Buddy-inspired ice cream treats feature crunchy pieces and peanut butter ice cream. This ice cream bar has a fairly solid coating that doesn't easily break and a decent-quality vanilla cream base. However, while represented, one of its alleged flavors is not tastily plentiful. We're looking at you PB.
Yes, this ice cream bar's peanut butter was so subtle we could barely taste it. So while many of the ice cream treats that are ranked higher than Nutty Bars Ice Cream Bars don't hold up as well and have a thinner outer layer, unlike this dessert, they commit to their flavors.
10. Good Humor Strawberry Shortcake Bars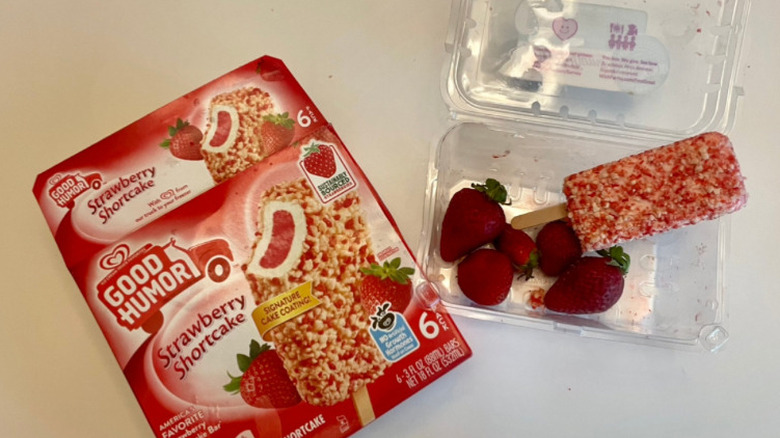 Brianna Corley/Mashed
And so we return to the first company to shove a hunk of ice cream on a stick. As expected, Good Humor has quite a few ice cream desserts in the freezer section. But its version of the Strawberry Shortcake ice cream bar is reportedly America's favorite, so it practically had a big sign on its box asking to be tasted.
Coming out at $5.44 for six bars, these are made with sustainably sourced strawberries and milk free of growth hormones. The bars feature strawberry ice cream and a milky, cake-crumble coating (which was a new flavor experience for us). The second you tear open the red wrapper, you are hit with the smell of fresh strawberries. Unfortunately, when you take a bite, you will be quickly disappointed.
Yes, the elements are all there: a creamy milk taste, a cake-crumb texture that doesn't fall apart, and the subtle taste of strawberries. But the strawberry taste is just that — subtle. This strawberry shortcake bar needs to up its fruit flavor because right now, this dessert tastes like it's missing something. Good Humor's Strawberry Shortcake dessert bar doesn't commit to its concept, so it falls near the bottom of our grocery store ice cream bar list.
9. Oreo Ice Cream Bars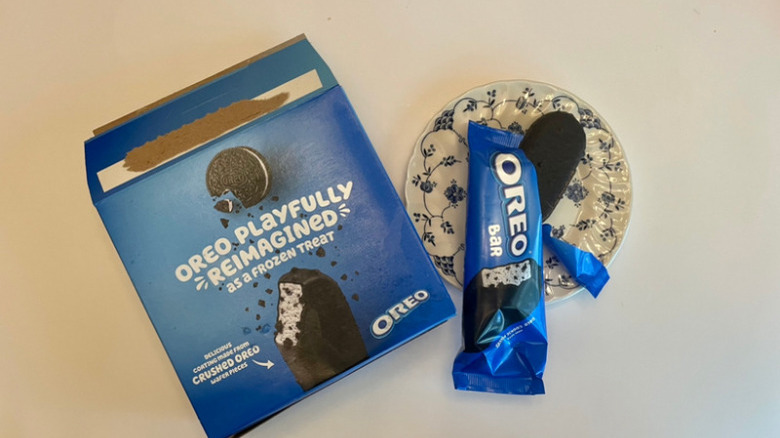 Brianna Corley/Mashed
There must have been something in the snack brand water in 2022. Before Little Debbie revealed its frozen treat news, Oreo also decided to launch a line of Oreo cookie-flavored ice cream. Its repertoire of frozen treats featuring Oreo-piece-loaded vanilla ice cream includes, of course, Oreo Ice Cream Bars.
Costing $4.94 for a five-count box, this ice cream dessert has an outer layer of chocolate covered in Oreo pieces. This is what we mean when we say a treat should commit to its concept — and Oreo's commitment pays off. Firstly, the Oreo crumb outer layer is delectable, with a texture and taste that remind us of a dirt cake. The coating also melds perfectly into the bar's Oreo-bit-infused ice cream.
If you're worried that this bar is overwhelmed by Oreo flavor, you can rest easy, because the vanilla ice cream acts as a perfect buffer for the Oreo pieces inside and outside of this dessert. However, for all their merits, Oreo Bars also come with some pretty cheap ice cream. On top of that, while tasty, their outer layer is still thin and breaks easily. So, Oreo's take on a time-honored desert classic ranks near the bottom of the list.
8. Blue Bell Krunch Bars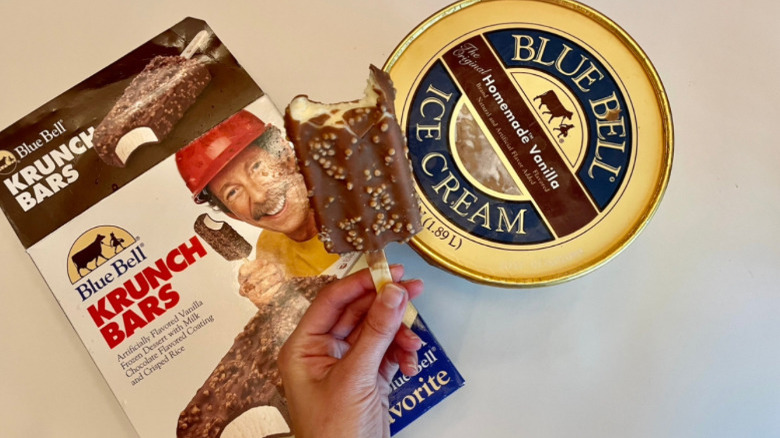 Brianna Corley/Mashed
While Blue Bell is one of the best-selling ice cream brands in the U.S., it's understated in just about everything it does. The company only stocks its desserts in select grocery stores across the nation and its packaging showcases farmers, construction workers, and coaches holding up the brand's frozen desserts with a smile. Out of the entire humble-looking ice cream bar selection, we tried the Krunch Bars (a certified Blue Bell favorite, according to the packaging). After tasting these treats, we decided that if Blue Bell won't brag about itself, we will.
First of all, let's talk about the price. A 12-count package of Blue Bell Krunch Bars will only run you $5.97. Even better, these bars featuring vanilla ice cream covered in chocolate and crisped rice coating are both low in cost and high in quality. The vanilla ice cream is creamy and fresh and the chocolate-crisp rice coating adds a wonderfully irresistible crunch. While the coating runs on the thinner side, it holds up well and breaks minimally. Although it can't beat some thicker top coat competitors, Blue Bell Krunch Bars are our top pick for ice cream lovers on a budget.
7. Halo Top Keto Peanut Butter Chocolate Pops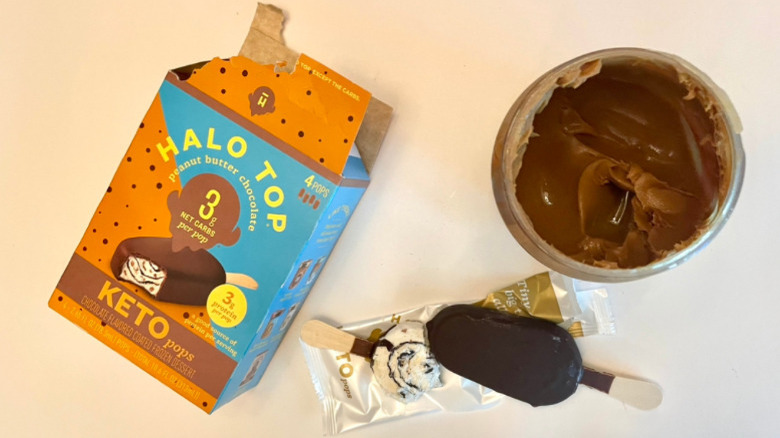 Brianna Corley/Mashed
Here it is, a keto ice cream bar that's worth spending your money on. Another brand under the great Wells company umbrella, Halo Top's better-for-you ice cream is so good that its original pints earned the title of best-selling ice cream brand in 2017. The company's Keto Peanut Butter Chocolate Pops are just more proof that it is the king of light and low-carb ice cream.
Costing $4.98 for four bars, these treats taste like Reese's Cups in ice cream form. To ensure foodies get a delectable dose of peanut butter and chocolate in each bite, the company swirled fudge and pieces of peanut butter into the ice cream base. However, the major downfall of these keto-friendly bars lies in their coating. While the inside is delectable, the outer layer is thin and easily prone to breaking. Out of all the thinly-coated ice cream bars on this list, when it comes to serious flavor, Halo Top Keto Peanut Butter Chocolate Pops are the best.
6. SO Dairy Free Dipped Mocha Almond Fudge Bar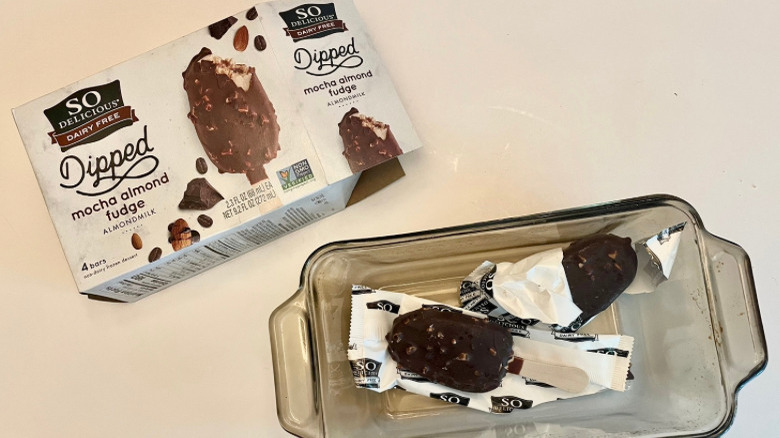 Brianna Corley/Mashed
Call us cynics, but the concept of dairy-free ice cream didn't sit well with us when we first encountered it. Thankfully, SO Delicious Dairy Free was here to prove us wrong. After trying the brand's Dairy Free Dipped Mocha Almond Fudge bar, we are dairy-free ice cream believers.
Featuring a rich chocolate coating, these fudge bars are positively decadent despite containing no cow milk whatsoever. When biting into one of these desserts, you'll enjoy some seriously full-bodied chocolate flavor. The ice cream is not only creamy, but it has an extra dimension of taste because it's made of almond milk. This element plays on the almonds in the snack's exterior coating –  which also give the bar a nice crunch.
Costing $5.47 for a four-count, this bar's weakness is the thinness of its coating. While the outside layer is thicker than some of the other options we ranked, it's still easily breakable and not nearly as solid as the next bars on our list.
5. Disney Mickey Mouse Bars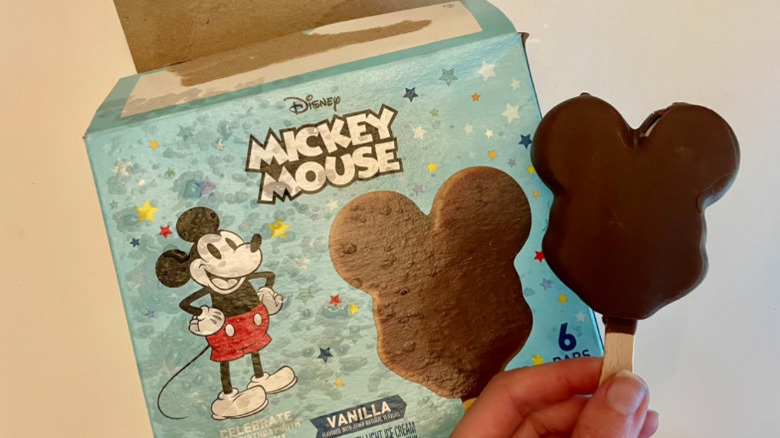 Brianna Corley/Mashed
Who sells some of the best treats made for you and me? M-I-C-K-E-Y M-O-U-S-E. But after years of gatekeeping its famous dessert recipes behind park doors, Disney brought its mouse-shaped ice cream bars to grocery stores across the nation in 2019. While the bars were supposed to be limited edition, they are still sold in the freezer section at a smooth $8.29 for six bars.
On that note, as we enter the category of higher-priced ice cream bars, we also enter the realm of higher-quality eats. These Mickey-eared ice cream bars have a seriously thick chocolate coating that will knock your socks off. Wonderfully decadent, the chocolate is as plentiful as the ice cream in the bar — at first. However, as you eat your way past the ears, you'll find the outer layer gets thinner and thinner. Also, the ice cream isn't as good as it gets. This is why the at-home version of Disney's famed ice cream bar couldn't hold a mouse-shaped candle to our next grocery store ice cream bar picks.
4. Häagen-Dazs Vanilla Milk Chocolate Almond Bars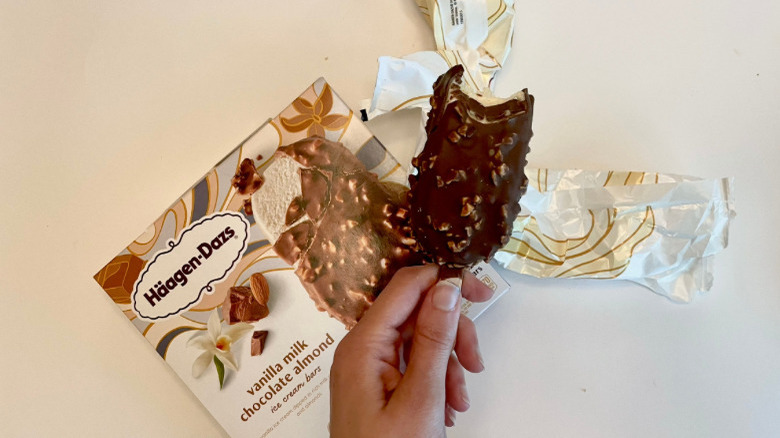 Brianna Corley/Mashed
As the third most popular ice cream brand in America, Häagen-Dazs' sworn mission is to make the most delicious ice cream in the freezer aisle. In its efforts to achieve its flavorful goal, all of the company's frozen desserts are made with real cream, milk, eggs, and sugar. But while Häagen-Dazs' ice cream has a hold on the country's hearts and wallets, we endeavored to find out if its Vanilla Milk Chocolate Almond Bars are just as good.
Costing $4.39 for three treats, these bars are not the cheapest, however, they are incredibly delectable. From top to bottom, the outer chocolate layer is thick and doesn't skimp on almonds, which gives the dessert an extra crunchy texture. Of course, the ice cream itself can't be beaten in terms of quality.
However, while Häagen-Dazs' frozen treats are very delicious, the chocolate isn't mind-blowing. Out of our top four, these bars are the most breakable. So, while Häagen-Dazs makes a top-notch ice cream bar, it couldn't make our grocery store ice cream dessert top three.
3. ​​Dove Vanilla Ice Cream with Milk Chocolate Bar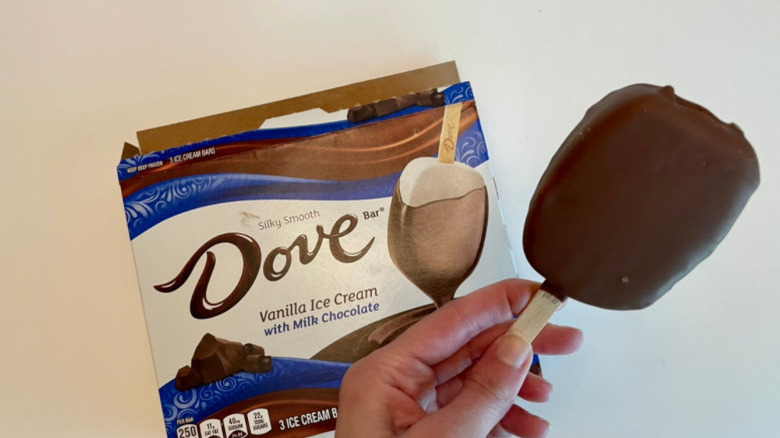 Brianna Corley/Mashed
And now ladies and gentlemen, with the small fries in the dust and the runner-ups named, we have entered the ice cream bar big leagues. Earning the bronze medal, Dovebar Vanilla Ice Cream With Milk Chocolate Bar shines strong.
Priced at $4.98 per three bars, in our opinion, these ice cream treats are worth their weight in creamy gold. This product has the thickest, most decadent chocolate coating around. Each Dovebar is so thick, we'd argue that you're probably eating the equivalent of two chocolate bars sandwiched around a wedge of high-quality ice cream. 
Indulgent and the perfect mixture of chocolate and vanilla, Dove's take on the original chocolate-covered ice cream dessert is the best version of the treat you can hope to eat. However, for all its merits and sturdiness, the sheer flavor of our top two ice cream bar picks win out against Dovebar in the taste Olympics.
2. Magnum Double Caramel Bars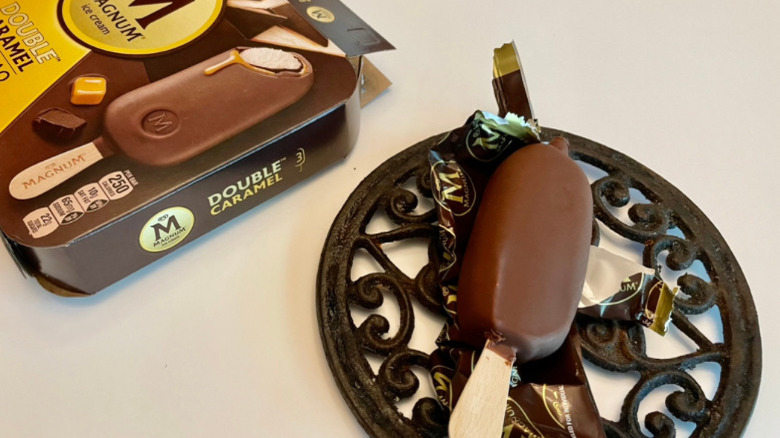 Brianna Corley/Mashed
Once, ice cream bars were thought of as a treat for sticky children to enjoy at the beach. But then Magnum came along and classified them as a premium treat, made for adults with a craving for a high-quality dessert. We tried the Double Caramel Ice Cream Bars to find out for ourselves.
As we mentioned, one of the main problems many of the ice cream bars on this list exhibited was their inability to fully commit to all of their flavors. But Magnum, a brand with the motto "more is more," showed that its Double Caramel Ice Cream Bars are everything those half-baked ice cream bars wish they could be ... and more.
Costing $6.14 for a six-count, every flavor is present and plentiful. Behind a thick, hardy layer of quality chocolate is an unctuous layer of caramel that melds into the creamy vanilla ice cream like a dream. To top it off, although the bar is thick with chocolate, it doesn't start cracking until the end. Plus, the amount of caramel stays consistent throughout your savoring experience. For such a high-quality ice cream bar loaded with caramel, Magnum Double Caramel Bars could only be beat out by another very special ice cream bar.
1. Biscoff Ice Cream Bars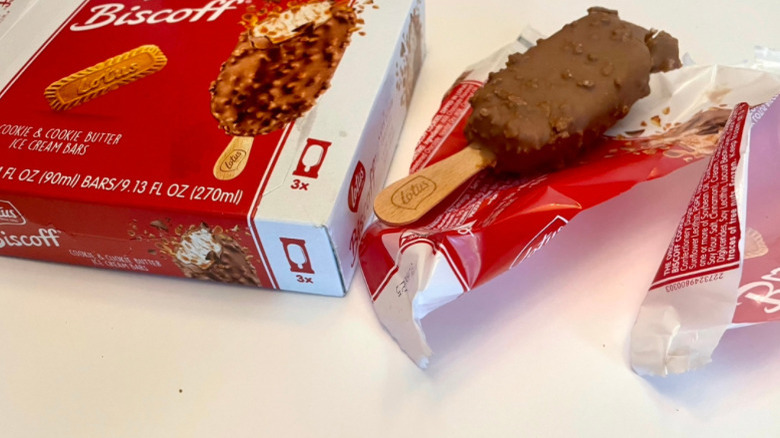 Brianna Corley/Mashed
Biscoff has mastered the art of being low-key but tasty. The Belgian cookie is credited as being popularized in the U.S. by Delta Airlines, and the beloved airplane snack is known for its distinctive just-sweet-enough taste. When we bought a box of Biscoff Ice Cream bars, we weren't sure what we were in for, but these blew our minds.
Costing $4.47 for three units, these bars are filled with quality ice cream and a multitude of tasty flavors. Firstly, each treat features delectable vanilla ice cream filled with bits of Biscoff dipped in a thick, solid chocolate coating dusted in pieces of the same iconic cookie. But what really sets these ice cream bars apart is the Belgium chocolate and cookie butter layered between the chocolate coating and vanilla cream base.
While this extra bit of goodness isn't as thick as the layer of caramel in the Magnum bar, it's as thick as it needs to be so that fans can take in all of this treat's buttery flavors. For its quality and otherworldly taste, Biscoff is officially the most beloved snack in the skies and the best ice cream bar in the grocery aisle.