The Chopped Cheese Sandwich Has Been A New York Staple For A Long Time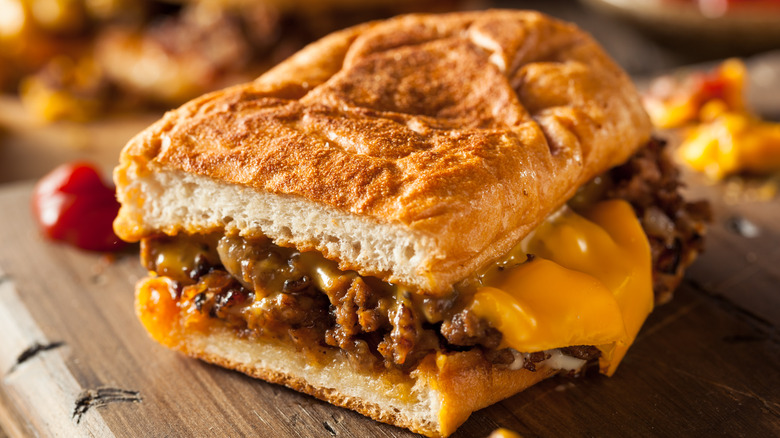 Brent Hofacker/Shutterstock
While New York's 73 Michelin-star-rated restaurants may offer fancy foods and white tablecloths, the food for which New York is most famous can be found in much more low-key locales. Dingy bodegas and hole-in-the-wall delis boast brilliantly boiled bagels, monstrous slices of pizza, and towering deli sandwiches that serve as a reminder that good food comes in all forms. And in no instance is this sentiment more true than in the case of New York's famous chopped cheese sandwich.
While 'chopped cheese' may conjure up visions of a wet and sloppy mound of pimento cheese dip, the real thing is far more mouthwatering. Created by combining adobo-seasoned ground beef with chopped onions and gooey melted cheese before piling the whole ensemble onto a hero roll, dressed with lettuce, tomato, and condiments, the chopped cheese sandwich is a treat that some native New Yorkers — like Harlem-based rapper Cam'ron Giles – encourage visitors not to sleep on.
But before famous New Yorkers propelled the chopped cheese into the national spotlight, the sandwich was a secret only some lucky locals were privy to. Previously, if you wanted something that fell somewhere between a cheeseburger and a Philly cheese steak (it uses hamburger meat instead of thin slices of beef), you had to venture up to a bodega in Harlem or Queens. But even there, one bodega has continuously stood out as the epicenter of the chopped cheese sandwich.
Where it all began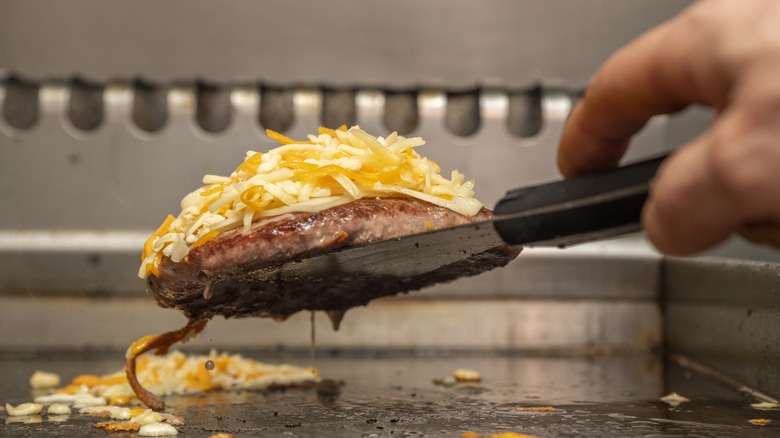 Toyakisphoto/Shutterstock
The chopped cheese sandwich is believed to have been created in the mid-90s by Carlos Soto, an employee of the Harlem-based bodega Blue Sky Deli (also known as Haji's). The bodega's manager says the chopped cheese sandwich was a play on a dagha yamneeya — a traditional Yemani sandwich — which the deli had been serving before Soto's hire. However, it's also possible that Soto created the sandwich in an attempt to scale down a cheeseburger to fit on a hoagie roll.
Regardless, the sandwich, which promised a warm and tasty meal for somewhere between $4 and $5, proved to be a hit in Harlem. However, after a string of star-studded endorsements, including a feature on Anthony Bourdain's show, "Parts Unknown", the sandwich began to pick up steam outside of the community in which it was born.
Recognizing that the sandwich was gaining public favor, restaurateurs started looking for ways to get a cut of the action. Upscale restaurants in Manhattan as well as Los Angeles, Tokyo, and London quickly caught on and began serving the sandwich, much to the destain of local New Yorkers. While locals have valid concerns that the chopped cheese is yet another part of their culture up for the taking, neighborhood staples, like the Blue Sky Deli, continue to keep the tradition of the chopped cheese sandwich alive.