Crispy Fried Soft Shell Crab Recipe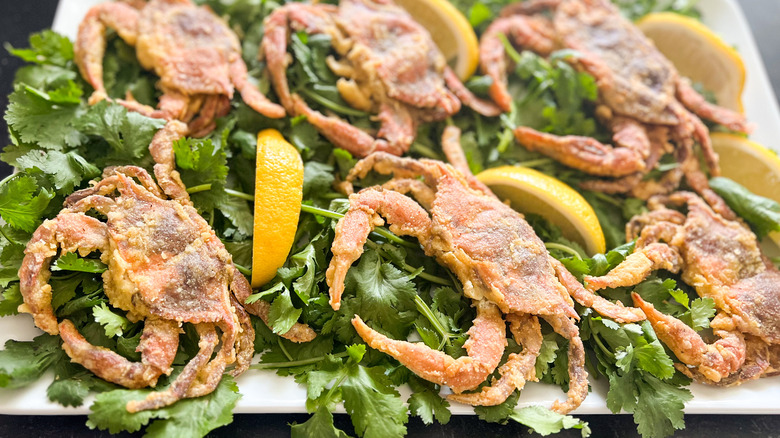 Erin Johnson/Mashed
Soft shell crabs, which are crustaceans caught between molts, are a specialty of the mid-Atlantic region. Recipe developer Erin Johnson calls them "simple and delicious to cook at home," adding "Best of all, [they] are ready for the table in under 30 minutes." While she likes to season her crab batter with Maryland's own Old Bay Seasoning, she does say it's okay to use Cajun seasoning if you prefer.
As far as where you acquire your crabs, if you live where they can be had locally, Johnson suggests purchasing them from a seafood store and advises that "Most fishmongers will clean them for you for free or for a nominal fee." If you're in a landlocked area, however, she says that it's perfectly okay to use frozen ones. Should you have a choice of different sizes of crab, Johnson advises picking the smaller ones, telling us "They are sweeter and the most tender."
Collect the ingredients for the crispy fried soft shell crabs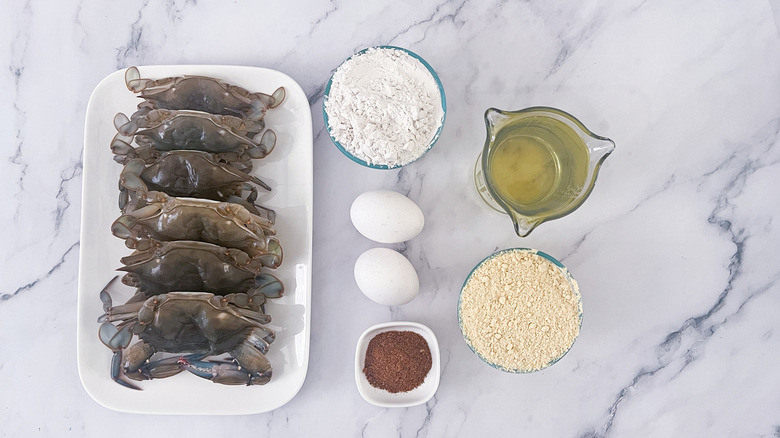 Erin Johnson/Mashed
In addition to the soft shell crabs themselves, you'll need flour, cornmeal, Old Bay, and eggs for the coating. You're also going to need a fair amount of vegetable oil for deep frying.
Coat the crabs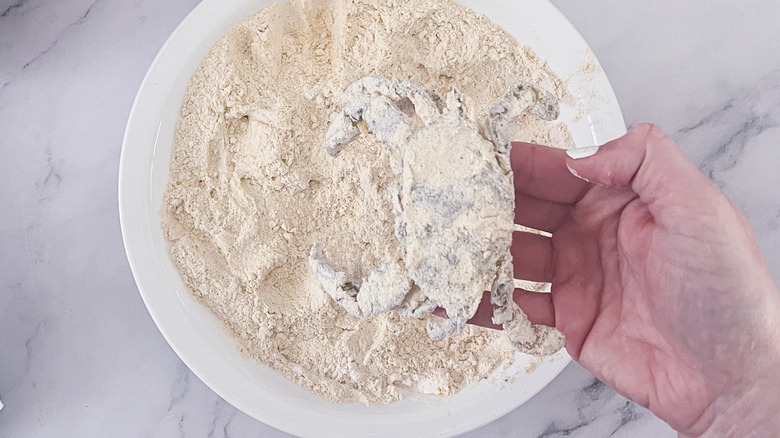 Erin Johnson/Mashed
Mix the dry ingredients together (the flour, cornmeal, and Old Bay). Beat the eggs in a separate bowl, then dip each crab first into the eggs, then into the flour mixture. Make sure to coat both the body and the legs of each one.
Fry the crabs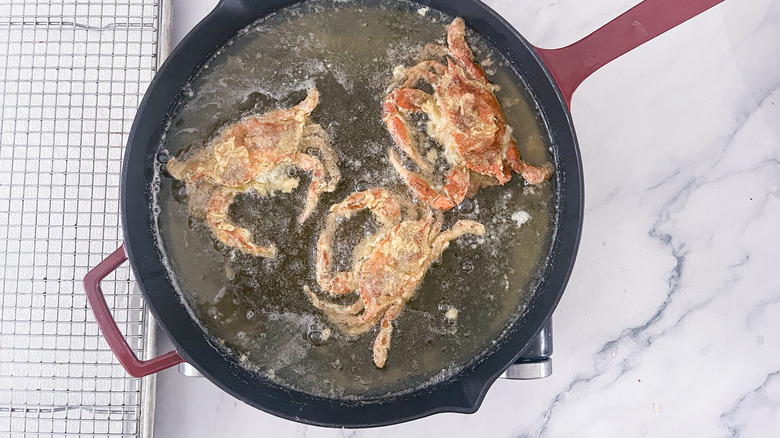 Erin Johnson/Mashed
Pour enough oil into the pan to cover the crabs about ¾ of the way. While Johnson notes that "The exact amount you will need will vary based on skillet size," she says her pan takes 2 cups. Heat up the oil until it's pretty hot (about 350 F), then fry the crabs for about 3 to 4 minutes on each side (6 to 8 minutes in all). Depending on how large your pan and crabs are, you may need to do so in batches. When the crabs are done, they will have the golden-brown color typical of deep-fried foods.
Drain and dish up the crabs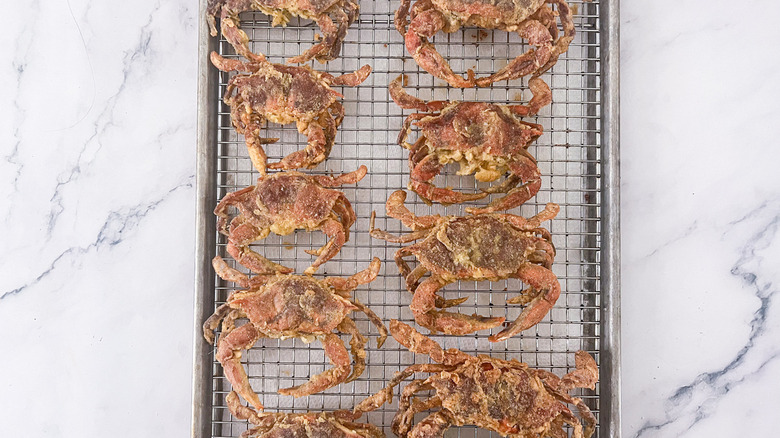 Erin Johnson/Mashed
Once the crabs finish cooking, you can drain them on a wire rack to let the grease drip off (you'll probably want that rack inside a pan to prevent oil puddles on the counter).
When the crabs have cooled a bit, you can eat them as they are or with a squeeze of lemon or perhaps a dab of remoulade. Johnson also suggests that two smaller crabs (or one larger one) could be used to make a sandwich. If you don't think you'll be eating all eight crabs in a single sitting, you might want to halve or even quarter the recipe, though. Johnson insists that the crabs are "best eaten hot and fresh" and while she allows that leftovers can be refrigerated, she says they'll only last for about one day.
Crispy Fried Soft Shell Crab Recipe
You don't have to go to a restaurant to enjoy soft-shell crab - fry some up in your own kitchen thanks to this recipe.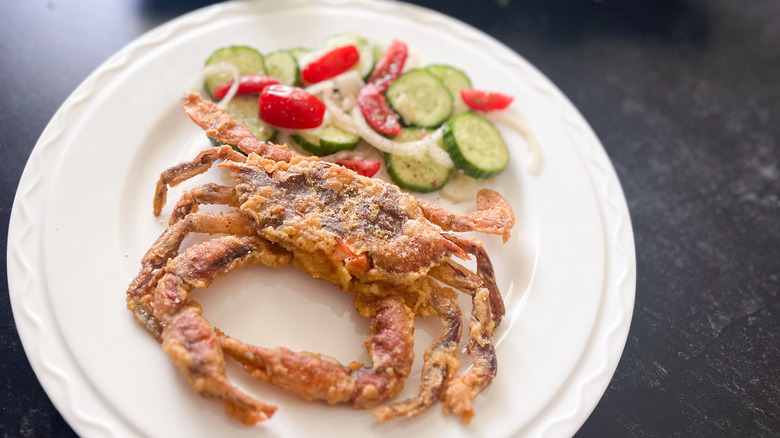 Ingredients
¾ cup all-purpose flour
¾ cup cornmeal
1 tablespoon Old Bay seasoning
2 eggs
2 cups vegetable oil
8 soft-shell crabs, cleaned
Directions
Mix together the flour, cornmeal, and Old Bay in a shallow bowl or plate.
Beat the eggs in a shallow bowl.
Heat 2 cups of vegetable oil in a cast iron or heavy skillet.
Dip each soft-shell crab into the egg and then into the dry mix. Make sure the crab and each leg is thoroughly coated in the batter.
Once the oil is hot, fry each crab for approximately 3 to 4 minutes per side, or until golden. You may have to work in batches. Place the crabs on a wire rack-lined baking sheet after frying.
Serve right away.
Nutrition
| | |
| --- | --- |
| Calories per Serving | 210 |
| Total Fat | 10.5 g |
| Saturated Fat | 1.0 g |
| Trans Fat | 0.1 g |
| Cholesterol | 56.4 mg |
| | |
| --- | --- |
| Total Carbohydrates | 21.1 g |
| Dietary Fiber | 1.0 g |
| Total Sugars | 0.3 g |
| Sodium | 78.2 mg |
| Protein | 7.5 g |