McDonald's Latest Breakfast Sandwich Is Packed With Jalapeños
Just in case July hasn't been hot enough for you, Mcdonald's is turning up the heat with a brand new line of breakfast sandwiches that quietly launched this week. The burger giant is putting a spicy spin on some of their classic morning options with the addition of cheese sauce and sliced jalapenos.
According to an internal document obtained by Fast Food Post, Mcdonald's will be offering six variations of the sandwich, including a Cheesy Jalapeno Sausage McMuffin, a Cheesy Jalapeño Sausage McMuffin with Egg, and a Cheesy Jalapeño Sausage McMuffin with Egg & Cheese, complete with an extra slice of American cheese. If English muffins aren't your thing, Cheesy Jalapeno Bacon Egg Cheese Biscuits will also be available, as well as a Cheesy Jalapeño Sausage Biscuit, which can be ordered with or without an egg.
The information has yet to be confirmed by McDonald's. However, Chew Boom reports that some customers in Texas and Louisiana have already gotten their hands on some of the fiery new breakfast items. While Chew Boom suggests that the new breakfast items will be available in select locations until August 13, a contradicting Reddit thread claims that the new menu items will be rolled out nationwide on August 15.
What people are saying about McDonalds' spicy new breakfast items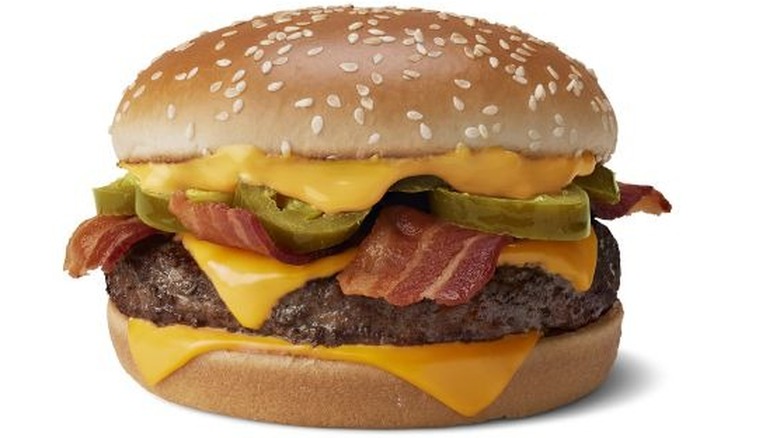 McDonald's
Proving that McDonald's exciting new breakfast items aren't just a rumor, YouTuber Rhody Foody posted a review of the Cheesy Jalapeno Sausage McMuffin with Egg. After taking a first, second, and third bite, he says, "I should have got two of these!" adding, after another bite, "They better never take this away."
YouTuber The Endorsement posted a similar review. Because his local Mcdonald's didn't have the new breakfast items, he opted to add cheese sauce and sliced jalapenos to a classic Egg McMuffin, noting that he was charged for the add-ons. After his first bite, his eyes widen, and he nods with approval before explaining that the cheese sauce also has a little heat. Nevertheless, he muses that the sandwich ranks pretty low on the heat meter, saying, "It won't burn your face off."
If you need a little spice for lunch or dinner, you're in luck! The news of McDonald's zippy new breakfast sandwiches comes less than a week before the fast-food chain is set to launch its new Jalapeño Bacon Quarter Pounder with Cheese, which will be available July 10.