The Most Unique Fast Food Breakfast Menu Items In The US
Ever get tired of the same old song and dance when it comes to fast-food breakfast? We sure do. Though we love our meat, egg, and cheese sandwiches, sometimes we find ourselves craving something a little more ... non-traditional.
Can you relate? If so, don't worry; you've got options. With a little digging and searching, we found some of the most interesting and flavorful breakfast options in the U.S. that will topple everything you think you know about what breakfast should be and introduce you to a world in which almost anything is possible when it comes to eating a hearty and filling breakfast.
If that sounds like something you're interested in, be sure to stick around. We've searched far and wide across a multitude of breakfast menus to offer you the most unique fast-food breakfast items in the U.S. Don't forget to come back and thank us; we'll be shocked if you don't find your next breakfast favorite on this delicious list. Let's get started.
Jack's: Bologna Egg & Cheese Biscuit
If you've never heard of Jack's, it may be time to make yourself familiar. This Southern-based regional fast-food eatery offers its lucky customers quite the breakfast lineup, with one dish in particular catching our attention as a truly unique chow down after your nighttime snooze.
What could it be? Fried bologna, of course! Now, if you're anything like us, you know the deliciously retro lure of fried bologna. When done right, it's flawlessly crispy with loads of mayo and topped with a perfectly fried egg. So, does Jack's live up to this household classic?
First, we commend Jack's for even attempting this handcrafted favorite, and yes, the sandwich is delicious. While we miss the mayo in this case, the flavorful taste of the bologna itself, along with the egg, cheese, and tasty biscuit it's layered upon calls for two thumbs up. The only thing we dislike is the fact that Jack's only offers this as a seasonal option. It comes back about once a year (as of the time of this post) and who knows how long Jack's will keep that up. So, get it while and if you can while supplies last.
Zippy's: Breakfast Bento
Zippy's is a regional fast-food chain that serves very unique and flavorful breakfast combinations. Nestled in the beautiful towns of Hawaii, this popular chain dishes up curious breakfast options that have left us intrigued, to say the least.
One of the most notable items on the menu for breakfast is what the chain calls its Breakfast Bento #1. The meal comes complete with corned beef hash, eggs, and Spam, all over a bed of either white or brown rice. Spam with rice and eggs is something of a Hawaiian state favorite and specialty, and even gets mentioned on the Spam website as a bona fide recipe worth trying the next time you pick up a tin of Spam at the store.
While we certainly love a good classic breakfast, we have to admit, this unique offering sounds like it's worth the sample. If you're ever in the Hawaii area, it might be worth paying Zippy's a visit.
Starbucks: Kale and Mushroom Egg Bites
If you're an avid Starbucks fan, you probably already know that its menu features yummy sandwiches and treats in addition to coffee fare. One of these goodies we just can't get enough of is their sous vide egg bites. These lovely little egg creations come in a variety of flavors including bacon and roasted pepper. But there's one flavor in particular that we find just as interesting as we find it tasty.
We speak, of course, of the kale and mushroom egg bites. If you haven't gotten your hands on these just yet, you don't know what you're missing. Yes, the flavor combo sounds rather mundane — we admit that kale and mushroom don't necessarily seem like something that we'd consider a flavor powerhouse. Still, one of these egg bites had us nodding our heads in agreement that these are, indeed, a very tasty veggie-stuffed option when you're hungry and want a snack on the go.
While they taste marvelous, the portions are rather small. Starbucks egg bites come in a pack of two, and true to their name, each one is conveniently bite-sized. So, if you're super hungry, you may find yourself needing to order at least a few of these to stay satiated, but that'll totally depend on your appetite.
Panera Bread: Spinach and Artichoke Souffle
Though Panera Bread is a café well-known for bready treats and boldly rich coffee, we will heartily acknowledge that the popular coffee chain serves out-of-this-world breakfast eats that keep us constantly checking for something new and unforgettable.
For us, one of its most unparalleled options is the spinach artichoke souffle. While fast-food chains have their advantages, fast-casual outfits like Panera tend to offer slightly more sophisticated menu items, such as this decadently delicious breakfast option for your sunrise meal. Sometimes, the occasion calls for a grilled egg, cheese, and sausage on an English muffin; other occasions demand a souffle.  
In addition to spinach and artichoke, this nosh also features red bell pepper, garlic, and comforting Romano cheeses to top it all off. As if that isn't enough, Panera went the extra mile by encasing all of this dreamy breakfast goodness in a delicate and delicious croissant. Is it delicious? You bet.
McDonald's: Sausage, Egg, and Cheese McGriddle
‌If you've ever encountered a morning where you simply couldn't decide what to eat for breakfast, know that you aren't alone. Sometimes you've got a taste for both savory and sweet, but somehow, to choose only one of the two would seem grossly unfair to yourself. The solution? Enter the Sausage, Egg, and Cheese McGriddle.
This distinct sandwich featured at McDonald's is a hodgepodge of savory and sweet flavors all wrapped in one. You get McDonald's classically flavorful egg topped with spicy sausage (or bacon) covered in melted cheese and smashed between two soft, pillowy, maple-infused griddle cakes for a flavor experience you'll likely have a hard time turning down.
Originally introduced in 2003, this sandwich has retained a permanent spot on American Mickey D's menus, and we aren't at all surprised. In fact, we feel incredibly fortunate to indulge in such an exquisite array of dynamic flavors, all while satiating our hunger and combating early-morning grogginess.
Taco Bell: Breakfast California Crunchwrap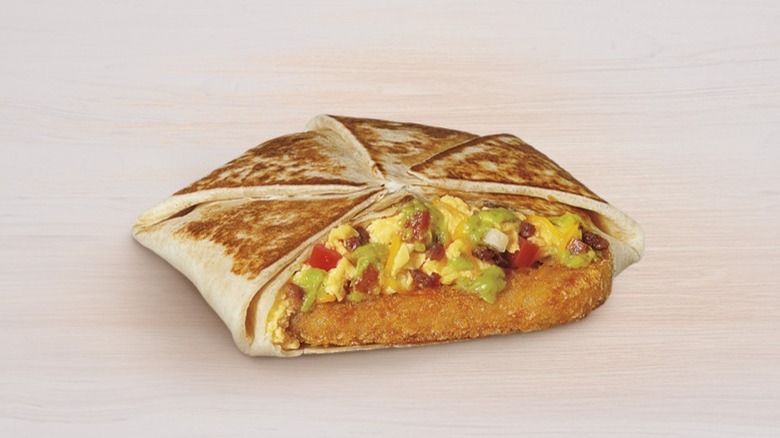 Taco Bell
‌Of all the unique breakfast offerings mentioned here, this has got to be one of the most interesting. It isn't the concept of the "Crunchwrap" itself that piques our curiosity when it comes to Taco Bell's California-inspired breakfast option, but rather, the toppings stuffed within it.
Surely, Taco Bell has been serving breakfast-style Crunchwraps for a while, with most featuring the classic flavors of meat, egg, and cheese. Still, we were excited to see a change in the traditional status quo when Taco Bell introduced its Breakfast California Crunchwrap, especially when we saw tasty add-ins like avocados and tomatoes in the mix.
The California Breakfast Crunchwrap features soft eggs encased in a warm tortilla and stuffed with guacamole, crispy bacon, cheddar cheese, tomatoes, and one large hash brown. Customize this heck of a meal with optional upgrades like steak or diced potatoes and you're practically guaranteed a flavor party in your mouth worthy of an early wake-up.
Del Taco: Breakfast Toasted Wrap
What do you call an entire breakfast spread covered in salsa and cheese and wrapped in a warm flour tortilla? A breakfast toasted wrap from Del Taco, that's what. Similar to Taco Bell, Del Taco never ceases to disappoint when it comes to serving up delicious eats inspired from traditional cuisine originating from South of the Border.
In the Del Taco breakfast toasted wrap, you can expect to find a multitude of yummy traditional ingredients, with a few surprise extras thrown in for good measure. This tortilla-wrapped breakfast grab is rolled up with hash browns, savory eggs, cheddar cheese, and your choice of bacon or carne asada steak. What's more is that this creation comes slathered in fresh pico de gallo and a signature Del Taco salsa that work to take this wrap up and over the edge. As far as we're concerned, the only thing that's left to do is find out what time Del Taco opens in the morning.
Panera Bread: Chipotle Chicken Scrambled Egg & Avocado on Ciabatta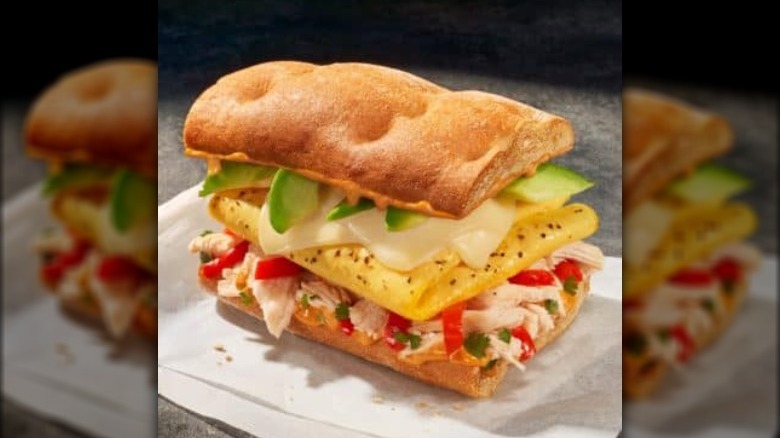 Panera Bread
‌Chicken, avocado, and ciabatta bread for breakfast? Yes, and it tastes awesome. Panera Bread is no stranger to offering flavorful dishes that aren't usually found on its competitors' menus. From unique breads to interesting toppings, Panera Bread often features tantalizing, though curious, ingredient pairings. This is especially apparent in its breakfast offerings.
It is for this reason that we weren't the least bit surprised to see Panera Bread doling out chipotle chicken with scrambled egg and avocado on ciabatta bread for the morning rise. It just sounds like a Panera Bread item, doesn't it? Well, according to Reddit fans, this striking creation certainly doesn't disappoint. We've found a handful of Panera sammie devotees gushing over this one, with one claiming it as her top favorite sandwich on the entire menu.
So, what is it about this sandwich getting people all worked up? It's likely the chipotle flavor paired with distinctive toppings like fresh avocado slices on toasted ciabatta bread that's keeping breakfast lovers returning for more.
Krystal: Donut-Glazed Chik Biscuit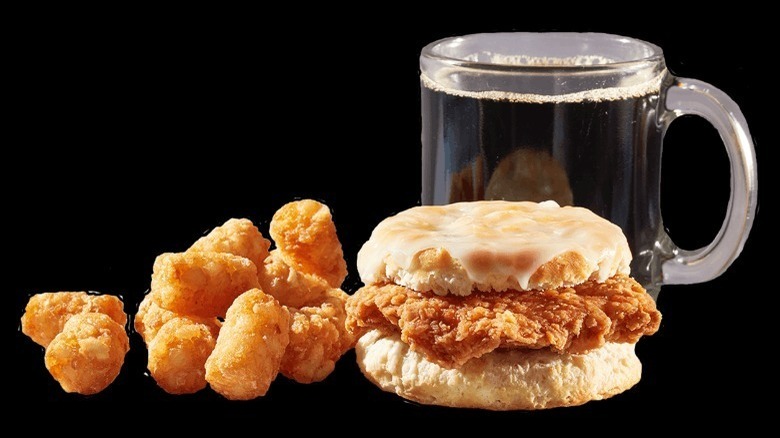 Krystal
‌Similar to the McGriddle sandwich we covered earlier, we got kind of excited when we found out about the sweet and savory flavors of fried chicken and donut combined in one easy-to-grab morning option. And while there are several other breakfast-serving fast-food eateries that offer similar chicken biscuit combinations, we hadn't quite seen a donut chicken biscuit until Krystal's came along.
So, how does it fair? Pretty well. Although, we think they could've gone a little heavier on the donut flavor, the Krystal Donut-Glazed Chik Biscuit is a decent grab when you want a little sweet and savory all in one go. At the very least, it's definitely one of the more creative chicken breakfast biscuits out there, and for that, we can't hate on it too much. With so many chicken biscuits from places like Chick-fil-A and Bojangles looking mostly a little samey, witnessing a new sweet spin on these classic flavors felt refreshing.
Krystal: Original Scrambler Breakfast Bowl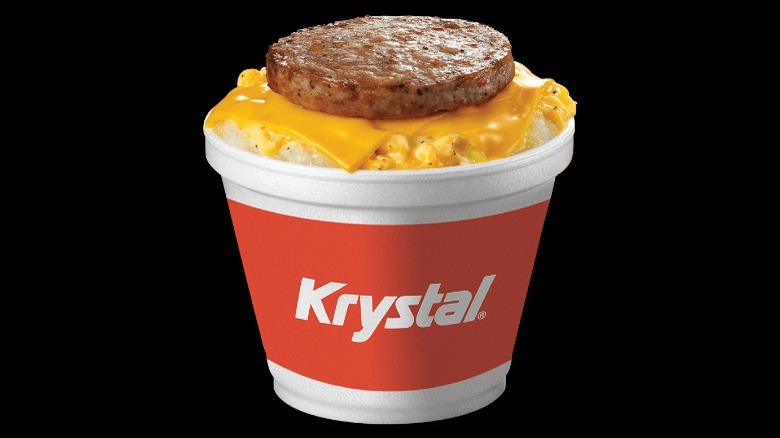 Krystal
Since we're already covering Krystal, we might as well mention its Original Scrambler breakfast bowl as another eyebrow-raising breakfast selection we've found on U.S. food chain breakfast menus. Now, we know what you're thinking: There are tons of fast-food places these days featuring breakfast bowls, so what could possibly make Krystal's rendition any different?
Our response? Touché! It's worth noting that while breakfast bowls can be found at various fast-food establishments, there's something intriguing about Krystal's option that you might not be aware of — at the time of this writing, they offer patrons the delightful choice of having grits as the foundation for their breakfast bowl creations.
Krystal's breakfast scrambler actually features grits as a base before it's topped with melted cheese, scrambled egg, and your choice of bacon or sausage. Call us crazy, but we think this idea is just as much genius as it is unique.
Carl's Jr.: Breakfast Burger
The breakfast burger at Carl's Jr. combines all the awesomeness of lunch and breakfast into one entrée and offers it to the public. We're forever grateful for the innovative creative thinking behind this one, since honestly, it can sometimes be quite hard to decide whether our taste buds are more interested in lunch or breakfast. If only we could combine the two into an entirely new meal. Perhaps we could call it "lunkfast."
Anyway, even though it's technically a burger, you can expect this item from Carl's Jr. to be topped with all the classic flavors you expect from a traditional breakfast sandwich. You'll find a charbroiled beef patty along with richly flavored scrambled eggs, crispy bacon, and American cheese. If you thought that was all, hold on to your seat. This burger also comes loaded with fried hash browns stuffed right into its interior. If that's not enough to get your mouth watering, we don't know what will. Just be sure to make it to your local Carl's Jr. quick; this unique breakfast offering is only available until 10:30 a.m.
Bojangles: Pimento Cheese Biscuit
Bojangles is already known for serving up piping hot fresh biscuits, but what better way to top them than to smear on a hearty helping of pimento cheese? What is pimento cheese, you may ask? Pimento cheese – a routine fixture of dinner tables across the Southern United States — can be described as a velvety spread formulated with cheese, mayo, and, you guessed it, pimentos. The result is a creamily delicious sauce that you can use to top any biscuit you order from Bojangles.
If you don't think you'll be a fan of this Southern spread over a plain biscuit, try asking Bojangles to ladle a bit of it over their spicy chicken filet. If you can handle the heat, you'll likely love all the interesting flavor elements in this one, which make it one of the most uniquely crave-worthy breakfast items we've come across.
Bojangles: Steak Biscuit
‌We've got another Bojangles' favorite for you here on the list, mostly because we're not sure we've seen this type of offering featured anywhere else. While you can certainly order up a country-fried steak at your local ma and pa establishment, you'll find it a little more difficult to find a fast-food sandwich marketed that way. Nevertheless, Bojangles made it happen, and we must say we're glad they did.
A hearty and hefty portion of carefully fried steak laid atop an impeccably fresh Bojangles' Southern biscuit sounds like our idea of an awesome breakfast meal, especially in cold winter months where country-fried steak works to warm our taste buds as well as our bodies. To give this plain biscuit a bit of a boost, try adding a bit of the pimento cheese spread for an overall unique-tasting meal that'll give you the flavor and savor of a small-town diner, despite having come from a drive-thru window.
White Castle: Chicken and Waffles Slider
Chicken and waffles pack mass appeal, and if you've ever had the pleasure of sampling them jointly, you know exactly why. After all, how bad could it be to stack two of America's most beloved entrées together for an early wake-up meal? That's why we were intrigued to see White Castle offering their own version of this uniquely ambitious meal, all in the form of a tiny slider.
Yes, you can enjoy a chicken and waffles slider at White Castle on your way to work, and yes, you'll love it. The chicken is seasoned just right, the waffles are sweet and tasty, and the added bacon is the finishing touch that brings it all together. The only thing that might be missing from the sandwich is a bit of syrup or ketchup to prevent the slider from tasting overly dry. Still, even without those additions, you'll likely find yourself enjoying the deeply nuanced flavors of these sweet and savory components all compiled in one. We don't know about you, but we're glad this one exists and wish other fast-food joints would hop on the bandwagon, too.