Copycat Taco Bell Crunchwrap Supreme Recipe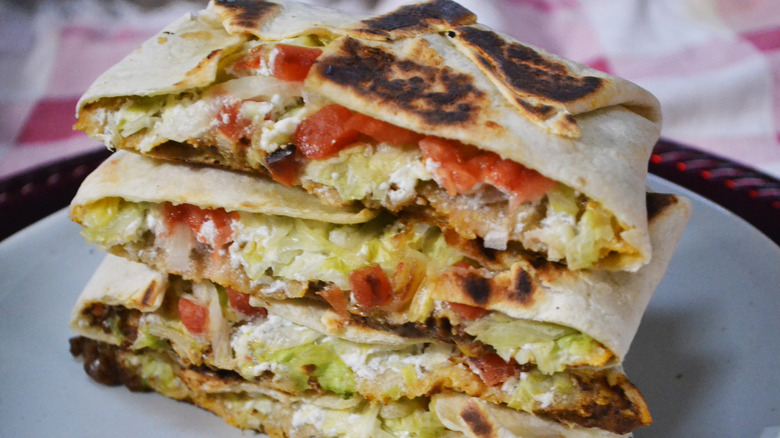 It's hard to believe, but the Crunchwrap Supreme has been a Taco Bell staple since it was introduced in 2005. In no time, it became a legend; the combination of a soft shell with a crunchy interior, easy to eat on-the-go, and balanced with a hot and cold mix — plus, it's just delicious. It's a genius invention, and super simple to make. There are a few steps involved to make it just right, but your patience will be rewarded with your very own Crunchwrap Supreme.  
Gather your ingredients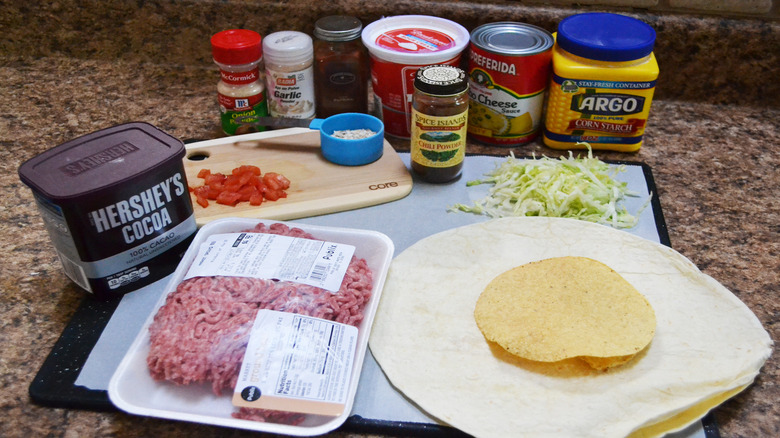 Here's what you need to make your own perfect Crunchwrap supreme: Ground beef, oats, onion powder, garlic powder, chili powder, smoked paprika, cocoa powder, corn starch, nacho cheese, low-fat sour cream, shredded lettuce, diced tomatoes, a burrito shell, and a tostada shell. The full ingredients list is at the end of this article, along with a step-by-step recipe.
What exactly is this thing?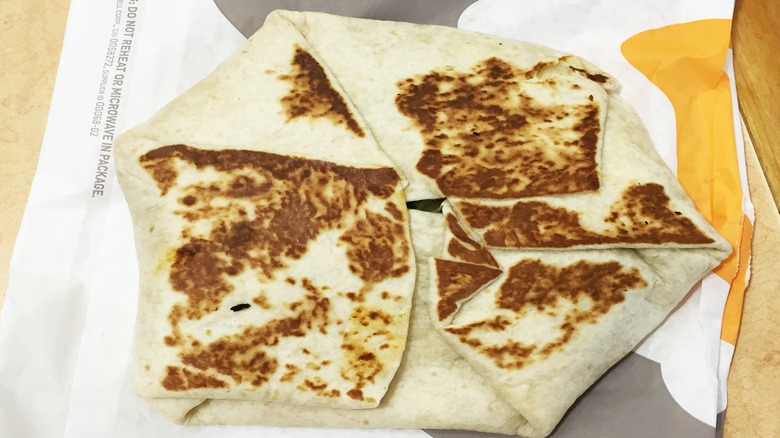 A Crunchwrap is a brilliantly named item created specifically for drive-thru service. The name is quite genius when you consider they almost called it a "Origami Tostada," which is pretty awful. But Taco Bell wanted to develop something to satiate their incredible drive thru traffic — which is upwards of 70 percent of all business. The Crunchwrap is sturdy enough to eat while driving, without spilling it all over yourself. Ever try to eat pinto beans from the driver's seat? It's not a pretty sight. So the concept is simple — big enough to hold with one hand and consume, but strong enough not to whittle over and end up in your lap.   
The tostada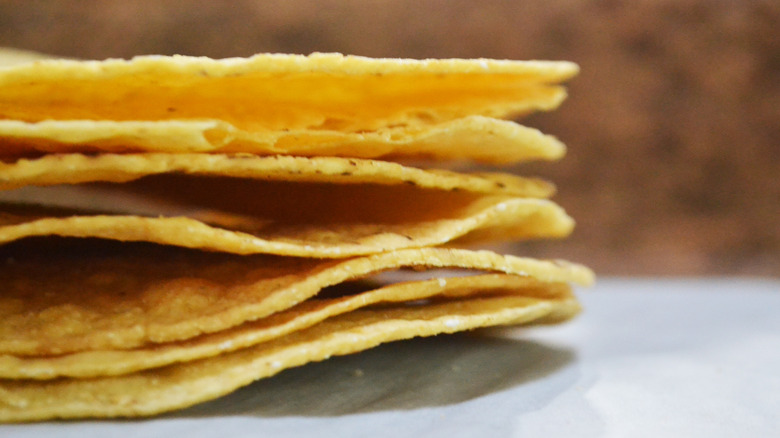 The "crunch" located in the Crunchwrap isn't just a clever name to draw you in; there's actually some crunchy texture to the dish. That comes in the form of a tostada — the word literally  translates to toasted — which is exactly what it isn't. Tostadas are created by frying, but who are we to tell them they named it wrong?
The soft shell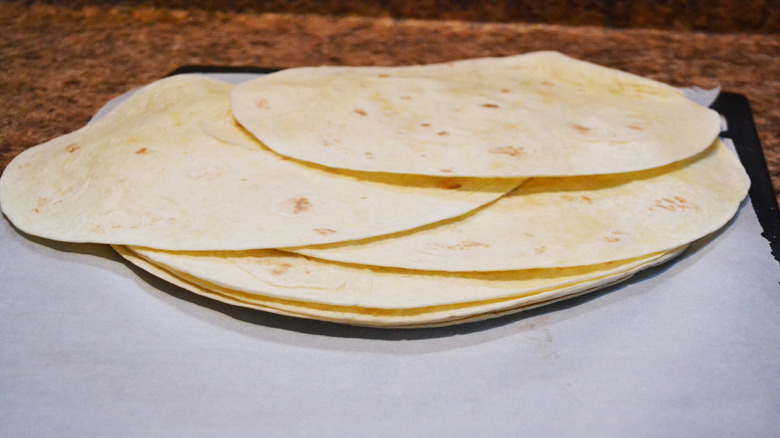 The outside shell is a 12 inch burrito shell.  Those are available everywhere, so just pick up your favorite brand (or the one on sale), and that's your outside base. Taco Bell's shells are fairly sturdy, so don't go with a thin one if you can avoid it.  
The meat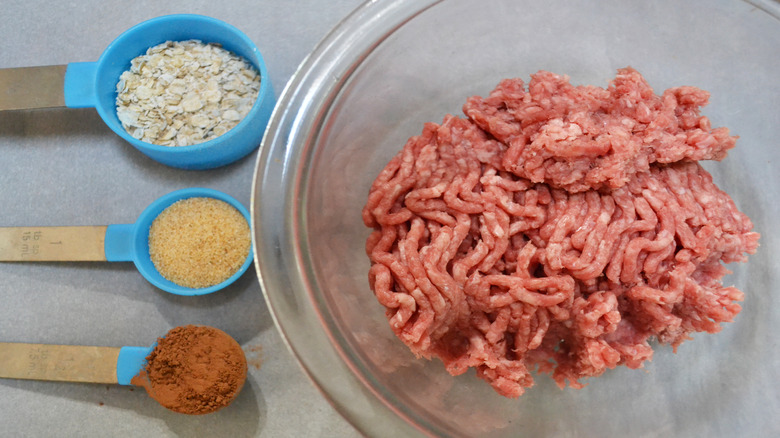 You may recall that making beef taste like Taco Bell isn't terribly difficult, but it's instersting. As created in the Fiery Doritos Locos Taco, the key ingredient is oats. Haul yourself over to your local grocery and grab some "plain old oats," because that will be the key in taking our meat down to around the 88 percent beef Taco Bell uses. No, you won't taste any oats, all you'll taste is the spices — paprika, chili powder, onion powder, and garlic powder.  The only other ingredients are water, cornstarch (to thicken it), and cocoa powder (to give it a darker color), and of course, ground beef.  
Lettuce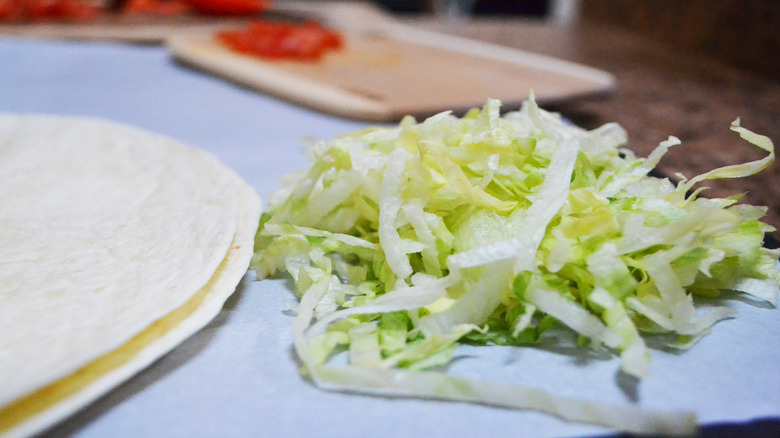 Taco Bell uses shredded lettuce, and if you want to get it authentic, buy a bag of shredded iceberg lettuce. That's what they do — the lettuce comes pre-shredded so all they have to do is take two fingers worth and add it to the item. It's a time-saver.
Tomatoes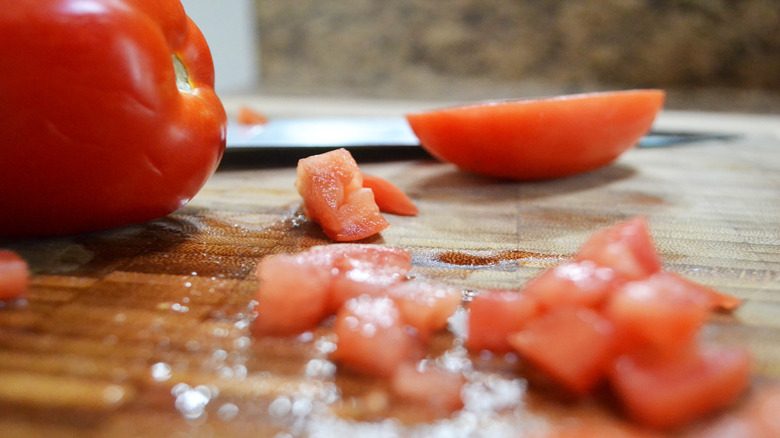 In case you were wondering what kind of tomatoes Taco Bell uses, they say the use the extremely popular "fresh tomatoes" variety — which doesn't exactly narrow it down. Taco Bell famously had a dispute with the growers in Immokalee, Florida, but pretty much any type of tomato will grow in Florida. So what type should you purchase to get this exactly correct? It's just the one that's the cheapest. Let's be real, they aren't splurging on an heirloom tomato — it's just a beefsteak, roma, or plum. I'm using plum (they were on sale).
Just dice yourself a tomato, one should be enough but have another on standby just in case.  
Sour Cream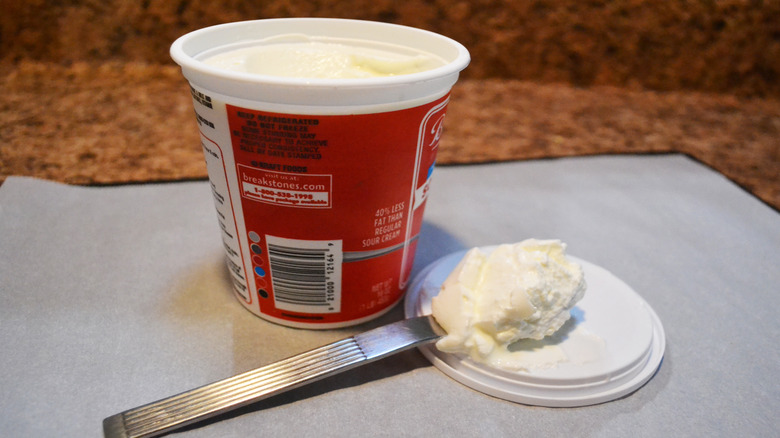 If you're thinking to yourself, "you know, I'd love a Crunchwrap Supreme but I'm concerned about those hidden calories in the sour cream," well, you're not going to believe this — are you sitting down? Taco Bell uses low-fat sour cream in the Crunchwrap. So instead of those dangerous fats you get things like corn starch and a bunch of words that scientists use to impress their neighbors. In reality, kinda like skim milk, which is watery, light sour cream — with its non-viscous texture — really works in the Crunchwrap.  
Nacho cheese sauce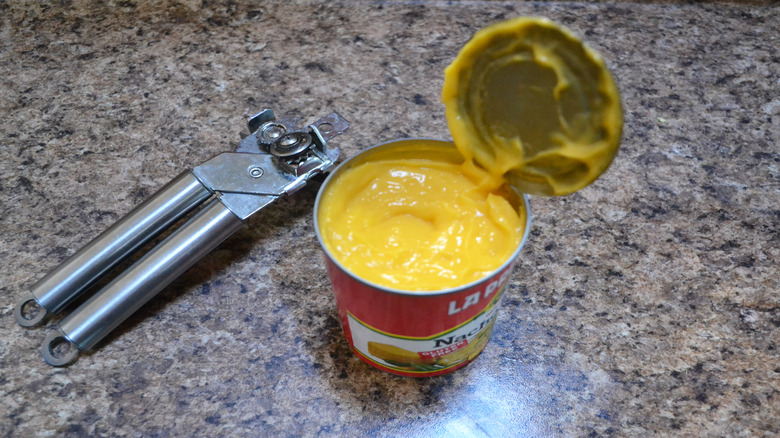 You can make homemade nacho cheese. In fact there are a bunch of different ways to do it if you're a purist. It's only about 18 steps, a gigantic pain, and something you're guaranteed to mess up at least once. Or, you can simply buy a can of nacho cheese and crack that sucker open, then follow the instructions on how to warm it. I can guarantee you that Taco Bell isn't scratch making nacho cheese sauce at every restaurant. If you want an authentic Taco Bell Crunchwrap, grab a can.   
Beef prep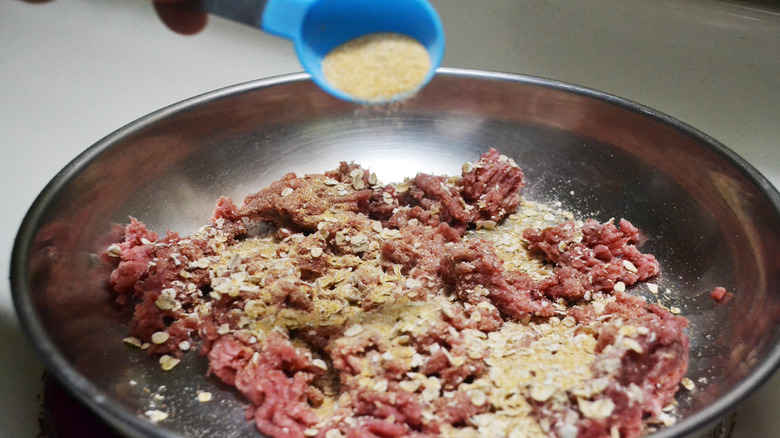 I'm not going to plagiarize my own work, but did you read the Fiery Doritos Locos Tacos build?  Well, we're going to do the same thing here.
Achieving Taco Bell ground beef is pretty simple. Yes, you really need oats. And yes, really, cocoa powder. It might seem unconventional, but I assure you, this is going to taste exactly like Taco Bell meat.  
Throw all that into a pan and cook it up, bringing it to a boil and then reducing to a simmer, adding in the cornstarch, and letting it come together. The whole process should take four to five minutes, depending on how your stove top cooks.  
Build it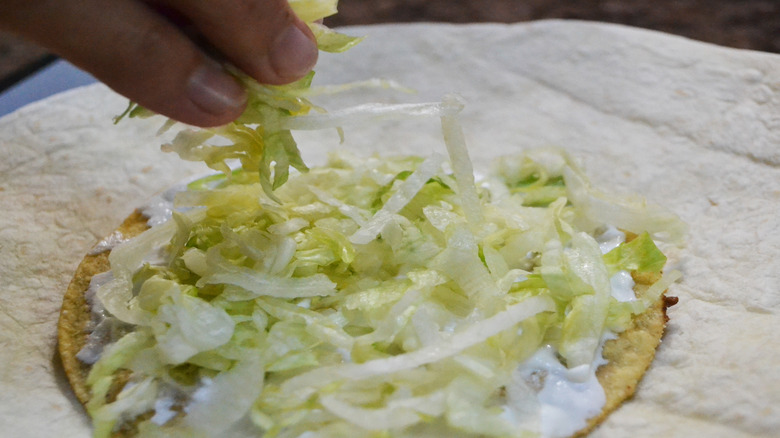 The order is the key, because that's what brings the flavor that makes the Crunchwrap... um, Supreme. This might seem a bit odd in the build, but it'll work perfectly. First, take a spoon full of meat (about 1.5 ounces, give or take) and put that on the tostada. Next, carefully put nacho cheese onto the meat.  Then, take a burrito tortilla shell and place it over the meat-cheese-tostada layering, and flip it over.  That's right, the meat and cheese are actually on the bottom of the Crunchwrap, with the shell separating the "hot" from the "cold" – think of it as a McDLT sandwich with neither styrofoam or Jason Alexander.  
To create cold side, we begin with a layer of the low-fat sour cream, and then shredded lettuce, and diced tomatoes on top. Now that we have that all together, we get to the truly tricky part.
The magic fold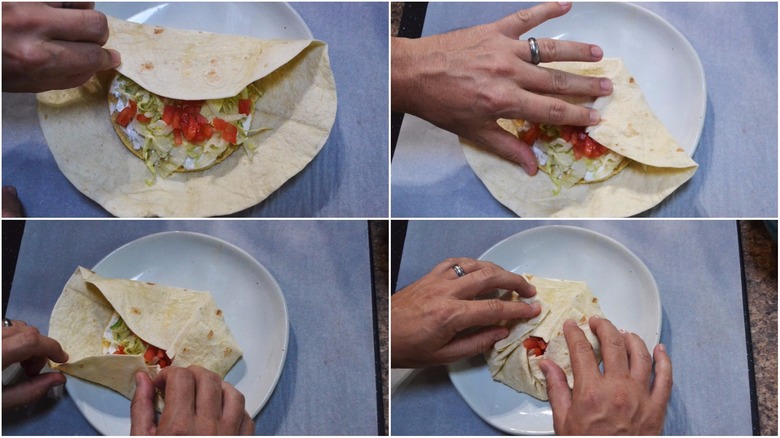 The famous Crunchwrap fold can trick even a seasoned paper airplane maker, but once you understand the dynamics of the fold, it actually makes a lot of sense. Start on the top, and fold that to the center of the Crunchwrap. Next, take the top right corner, and fold that to the center.
Do the same thing from the bottom, so it almost looks like a cape. We're just going to continue to work clockwise and fold the right side up to the middle just as we did from the top. Continuing our way around, take that next corner and pinch it into the middle as we did with the top two folds. Keep working that fold around until you have created a "star" like shape.  
Toast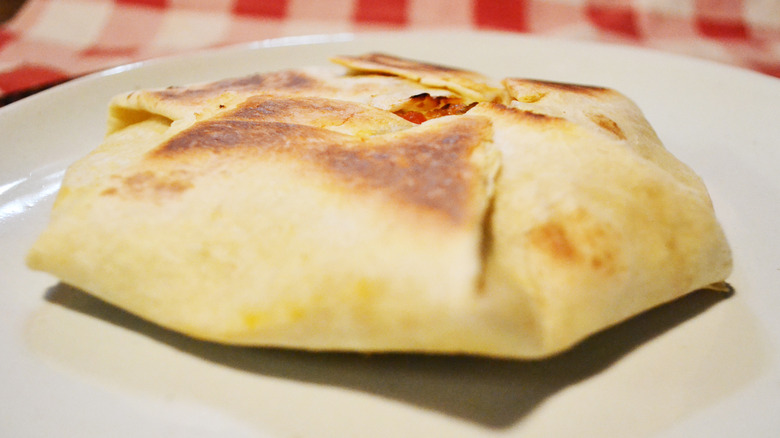 We need to toast this, and quick, because Isaac Newton and his stupid gravity doesn't like to play well with folded sides. Start with the folded side first, and toast that on a pan set at medium for about four minutes, and carefully flip it to toast the the solid part for another four minutes, or until the tortilla is golden brown.  
How close are we?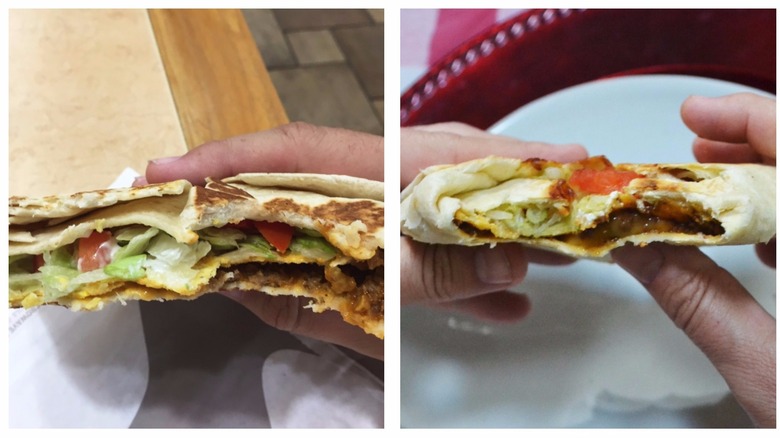 Trust me, this tastes just like the real thing. The key is the layering; the flavors really meld together, and the whole thing holds up shockingly well considering it's just a tortilla shell in the middle for stability. Surprisingly, the sour cream even tastes just like Taco Bell's, and that sour punch mixed with the zesty cheese is what gives this such a unique flavor.  
Copycat Taco Bell Crunchwrap Supreme Recipe
The Crunchwrap Supreme is a Taco Bell legend. There's no reason to spend your evening in the drive-through—you can make one yourself with these easy directions.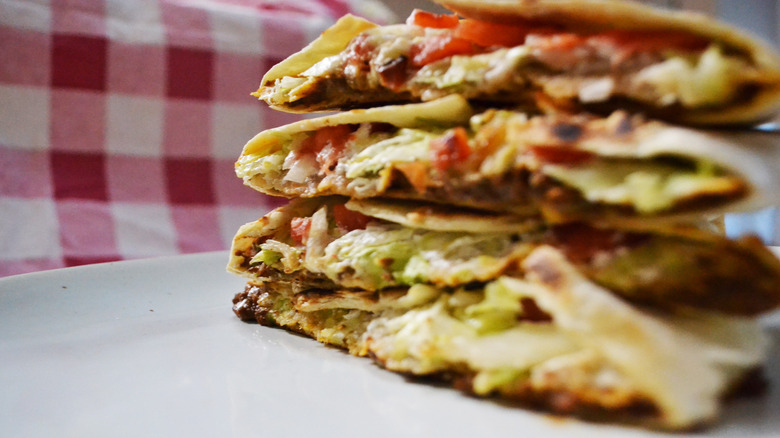 Ingredients
½ pound ground beef
⅛ cup oats
1 tablespoon garlic powder
1 tablespoon onion powder
3 tablespoons chili powder
1 tablespoon smoked paprika
1 tablespoon cocoa powder
1 cup water
2 tablespoons cornstarch
2 tostadas
2 burrito tortillas
2 tablespoons nacho cheese
⅓ cup diced tomatoes
⅔ cups shredded lettuce
2 tablespoons low-fat sour cream
Directions
Combine meat, oats, garlic powder, onion powder, chili powder, smoked paprika, cocoa powder, water, and cornstarch in a pan over medium heat.
Bring to a boil, reduce to low, simmer for 3 minutes.
While the meat cooks, heat nacho cheese to directions on the can.
Dice tomatoes and shred lettuce.
Spoon (about 1.5 ounces) of ground beef onto a tostada shell.
Carefully place 1 tablespoon of nacho cheese onto the beef.
Place a burrito tortilla on top of the meat/cheese/tostada and flip it over.
Put a tablespoon of low fat sour cream on the top of the tostada.
Top the sour cream with ⅓ cup shredded lettuce.
Top the lettuce with half of the diced tomatoes.
Fold the tortilla around the tostada, starting with the top and moving clockwise around the tostada.
Toast folded side down in a pan set at medium for 4 minutes.
Carefully flip the Crunchwrap and toast for an additional 4 minutes.
Remove, eat, and enjoy!
Nutrition
| | |
| --- | --- |
| Calories per Serving | 802 |
| Total Fat | 43.5 g |
| Saturated Fat | 18.8 g |
| Trans Fat | 1.5 g |
| Cholesterol | 130.6 mg |
| | |
| --- | --- |
| Total Carbohydrates | 69.5 g |
| Dietary Fiber | 10.9 g |
| Total Sugars | 3.1 g |
| Sodium | 1,140.6 mg |
| Protein | 41.0 g |