McDonald's Viral Training Game Is Surprisingly Entertaining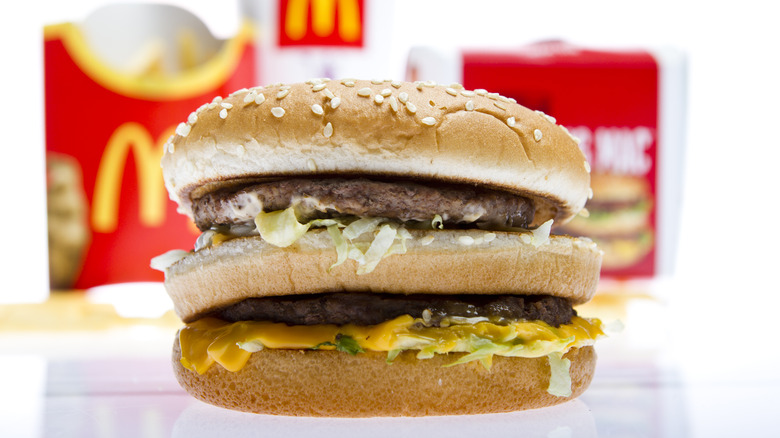 Spflaum1/Getty Images
Over the years, the world's biggest fast food chain has released its fair share of McDonald's video games, playable on retro consoles like the NES and SEGA Genesis to the popular Nintendo DS. If you're a fan of multitasking games like Overcooked, you'll be happy to know that the franchise released a game in 2021 that has recently resurfaced thanks to TikTok. The best part is that even though it's a training sim meant to teach McDonald's employees how to use the ordering system, it's available as a free download for both iPad and Android users to try. If you're a casual gamer intrigued by the idea of ringing up orders and testing your accuracy without actually dealing with customers, it could be worth checking out.
Just as many locations across the nation have quietly introduced robot employees, there's another helpful android featured in this game, simply called "McDonald's POS Training," who serves as your training companion. Players can choose between two gameplay modes that involve either register training or just popping in for a quick game. Its friendly bionic instructor, donning the golden arches on his red exterior, guides you through various challenges and timed mini-games as you navigate your way through its menu items. Across the top of the screen are detailed orders being placed by other robots for players to place accurately and quickly. Not only is the trending game exactly like the McDonald's POS system, it apparently really helps new hires learn the ropes.
There are only three levels in the McDonald's training game
Let's be real. This McDonald's game is just a training simulator, so there aren't going to be a ton of levels like Candy Crush's ever-climbing 14,000, of course. The game went viral on TikTok, posted by @allbotthings. Many fans expressed their need for even more levels beyond the third and final challenge in the comments.
The clip shows the user making their way through the McDonald's training game's third level, Advanced Order Taking, where the robot instructs the player about customized orders, how to increase an item's quantity, and how to add extra pickles to its famous Big Mac. Many users are eager to play the game based on what they've seen, but there are a few employees who don't see what the hype's all about based on experience. "As a McDonald's worker, I get paid to do this for eight hours," said one commenter, while another remarked, "I got PTSD, never again." Some even seem inspired to apply to work there after seeing the game in action, but there's unfortunately a lot more that goes into the fast-paced food service industry than merely pushing all the right buttons.
You've got to hand it to them, the game seems like an entertaining way to help new and aspiring employees to become more familiar with popular McDonald's menu items and ordering system. We only wish all fast food customers were as nice and understanding as these in-game robots are.