Campbell's Is Finally Giving 2 Classic Creamy Soup Flavors The Gluten-Free Treatment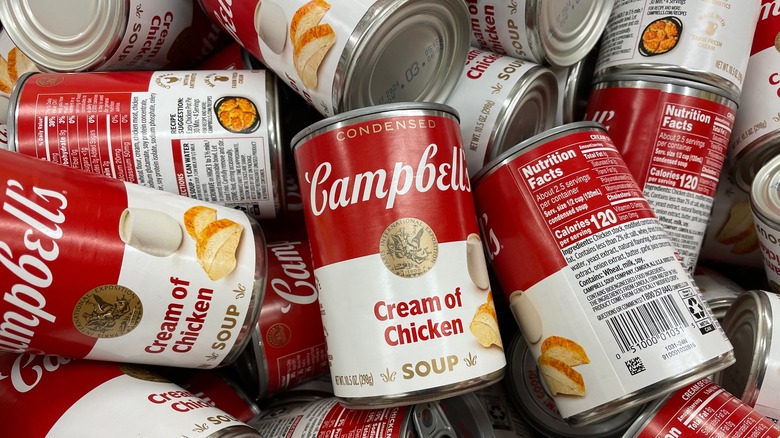 Billy F Blume Jr/Shutterstock
Navigating a gluten-free diet can be tough. Per Johns Hopkins Medicine, those avoiding gluten must stay away from grains like wheat and instead opt for foods like fruits, vegetables, and processed foods designed to be gluten-free, like gluten-free breads and pastas made from chickpea flour or quinoa. You may be surprised to learn that most canned soups, especially creamy ones, are not typically gluten-free, as wheat is often added as a thickener. In fact, the Celiac Disease Foundation says soups are "one of the biggest sources of hidden gluten." While you can always make your own gluten-free soup at home, the process is of course much more labor intensive and time consuming than just opening a can.
That's why it's so significant that Campbell's has released two new gluten-free cooking soups that are takes on two classic, creamy, condensed favorites: cream of mushroom and cream of chicken, which a press release from Campbell's notes are a couple of its most popular soups.
Scoop up Campbell's new gluten-free soups
Campbell's vice president of marketing Gary Mazur acknowledges the difficulties many maintaining gluten-free diets face when cooking their favorite meals, which is why he's "excited to have our iconic soups help address dietary needs." The company's press release notes the Gluten Free Cream of Chicken soup has antibiotic-free chicken along with "farm fresh cream," while the Gluten Free Cream of Mushroom soup has zero preservatives and the same cream, plus mushrooms and garlic.
The two new soups will be featured in stores across the country, retailing for about $1.99 apiece. Look for the orange emblem on the can that reads "gluten free." Currently, some of Campbell's soups are available online at retailers like Amazon, so these two new gluten-soups may also be featured on their websites if you cannot find them in stores near you.
If you stick to a gluten-free diet and want to use these cooking soups to safely make a green bean casserole, chicken noodle casserole, or mushroom stroganoff, you can rest assured that these options will meet your dietary needs.