Sesame Seared Salmon Recipe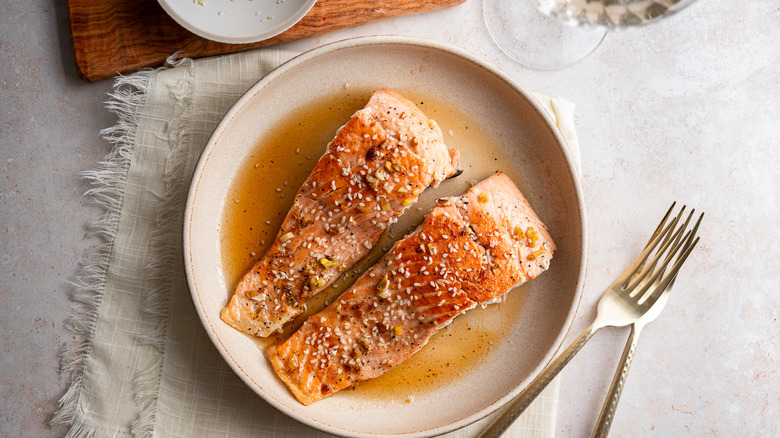 Christina Musgrave/Mashed
If you're the kind of person who watches "Diners, Drive-Ins and Dives" for the alliteration alone, then you're going to go gaga over this triple-S recipe: simple, savory salmon seared in a sauce of seasoned sesame oil and sprinkled with sesame seeds. (Okay, the seeds are optional, but we just couldn't resist the opportunity to slip in a few more S's.).
As recipe developer Christina Musgrave explains, this recipe uses nothing more than simple, easy-to-find ingredients such as sesame oil, ginger, and garlic, but explains that it "levels up and adds more flavor to seared salmon than just salt and pepper" and tells us she finds it to be "easy and so flavorful." One more thing about it is, once the fish is cooked, it can be eaten in a number of different ways. It works wonderfully with rice or noodles, or you could make a low-carb meal out of it by using it to top a salad.
Select the ingredients for the sesame-seared salmon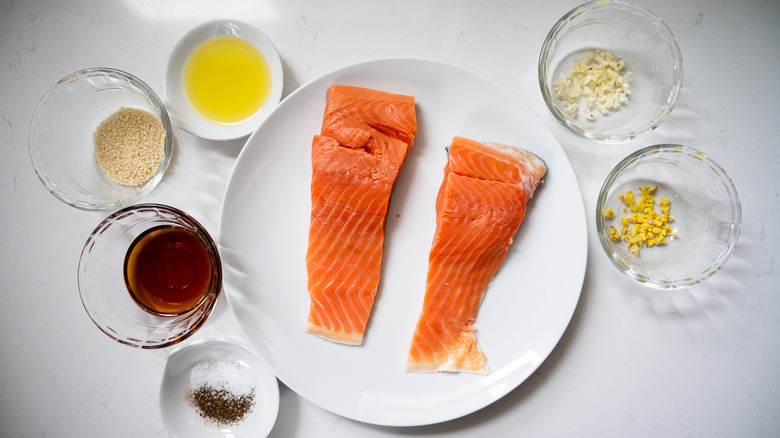 Christina Musgrave/Mashed
Besides the salmon fillets, you really only need seven more ingredients. Sesame oil, garlic, ginger, salt, and pepper all go into the marinade, while you'll be using olive oil for cooking. If you want a garnish (and a few extra alliteration S-points), you could also mix in some sesame seeds.
Soak the salmon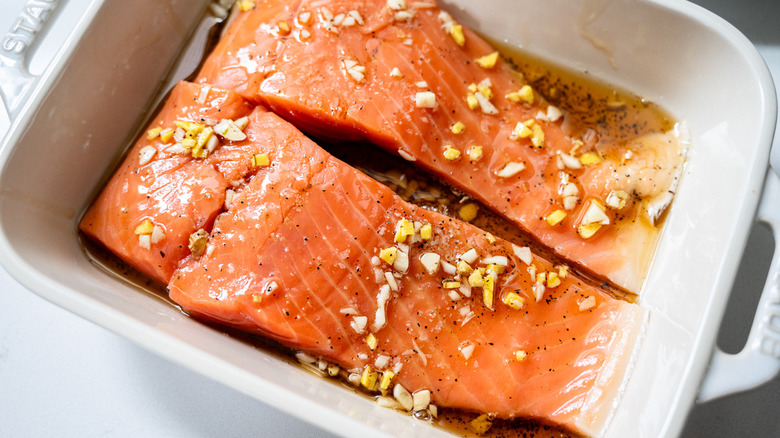 Christina Musgrave/Mashed
Start off by peeling and chopping the garlic and the ginger, or else by squashing them in a press if you prefer. Combine them with the sesame oil, then sprinkle in some salt and pepper. The measurement Musgrave provides is a "pinch," which technically translates to ¹⁄₁₆ teaspoon, but you can use as much or as little as suits your personal preference. Once you've mixed up your marinade, soak the salmon for 16 minutes. Well, okay, 15 will work, too, or anything up to 20, but we saw a way to sneak in one more S.
Sear the salmon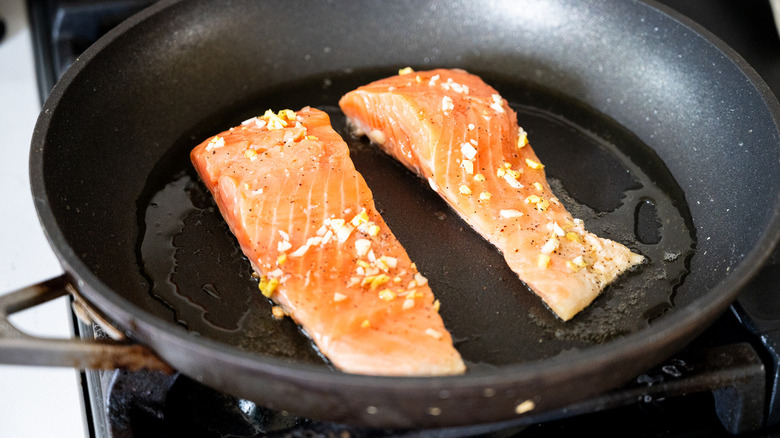 Christina Musgrave/Mashed
Pour the olive oil into a pan, then heat it over a burner set to medium-high. One the oil is hot, sear the salmon with the skin side facing down. Flip the salmon after 5 minutes, then cook it for 3 to 4 more minutes to finish it up.
Serve the salmon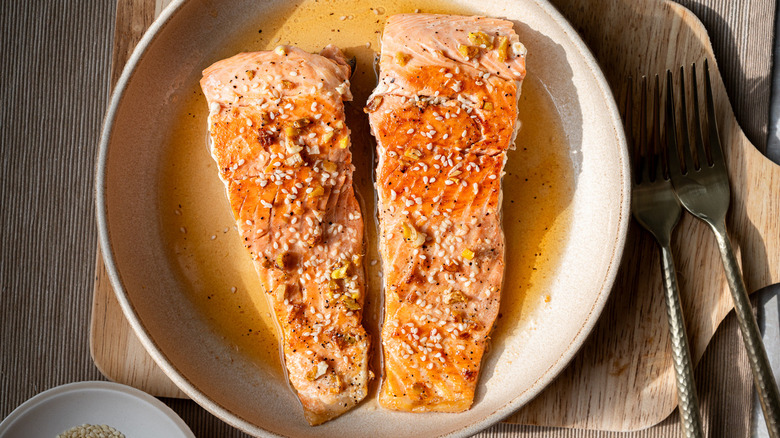 Christina Musgrave/Mashed
At this stage, your seared, sesame-seasoned salmon is all set to serve. If you favor a fancier finish, you may scatter some sesame seeds over the salmon. Should you wish to garnish your fish dish with something less alliterative, Musgrave says a sprinkle of herbs or a squeeze of citrus would work as well.
Sesame Seared Salmon Recipe
This sesame seared salmon will get dinner on the table in 30 minutes flat.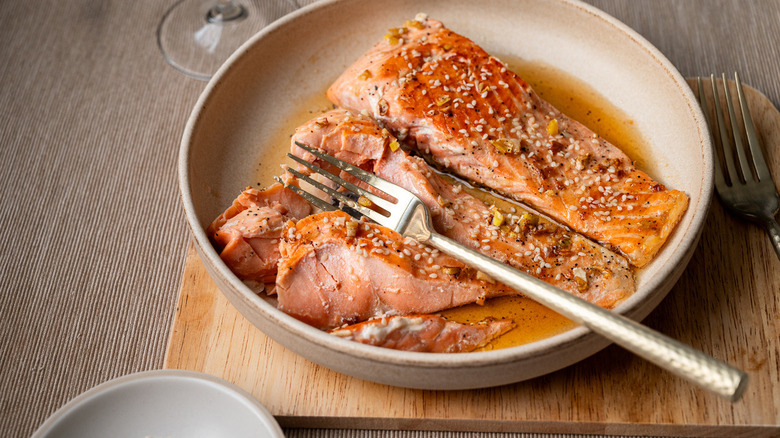 Ingredients
2 tablespoons sesame oil
2 cloves garlic, minced
1 teaspoon minced ginger
salt, to taste
pepper, to taste
2 salmon fillets
1 tablespoon olive oil
1 tablespoon sesame seeds, for garnish
Directions
Combine the sesame oil, garlic, ginger, salt, and pepper in a small bowl.
Place the salmon fillets in a shallow bowl. Top with the sesame oil, garlic, and ginger and marinate for 15 to 20 minutes.
Heat the olive oil over medium heat in a large skillet. Sear the salmon, skin-side down, for 5 minutes, then flip and sear for 3 to 4 minutes, or until cooked.
Top with sesame seeds and serve.
Nutrition
| | |
| --- | --- |
| Calories per Serving | 1,038 |
| Total Fat | 75.7 g |
| Saturated Fat | 15.3 g |
| Trans Fat | 0.0 g |
| Cholesterol | 217.8 mg |
| | |
| --- | --- |
| Total Carbohydrates | 3.0 g |
| Dietary Fiber | 0.9 g |
| Total Sugars | 0.1 g |
| Sodium | 990.9 mg |
| Protein | 81.9 g |