We Wish McDonald's Viral Breakfast Sandwich Hack Was On The Menu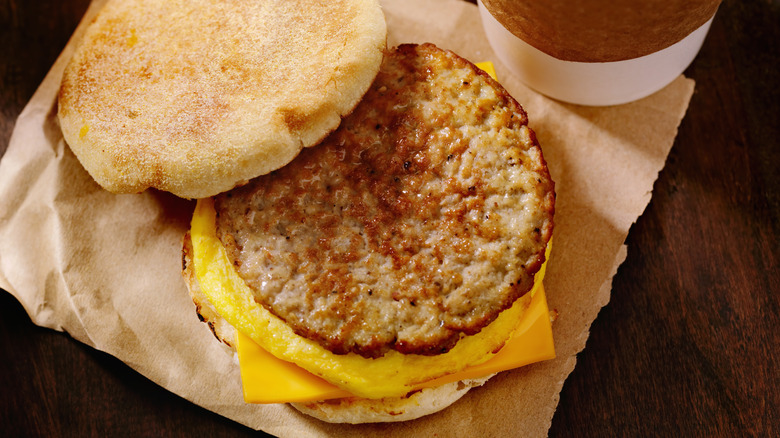 Lauripatterson/Getty Images
McDonald's breakfast sandwiches are some of the best that fast food has to offer, and a viral TikTok hack is leveling them up even further. Creators are ditching the English muffins on staples like the Sausage McMuffin with Egg and replacing them with hash browns on either end. This gives the breakfast item more flavor, and it adds an extra crunch. Since McDonald's hash browns are a favorite menu offering, it's understandable that customers would enjoy this crispy addition to their sandwich.
Apparently, TikTok user @diegos_eats wasn't the first person to come up with this idea, either. Creator @chefmikeharacz stitched that video, revealing that he pitched this concept while he worked as a corporate chef at McDonald's. According to him, the higher-ups at the fast food company shot it down. Seeing the end product, it's obvious it had potential. However, it seems the combination's likely success could have been part of the reason it never became a menu item.
Why McDonald's breakfast sandwich hack isn't on the menu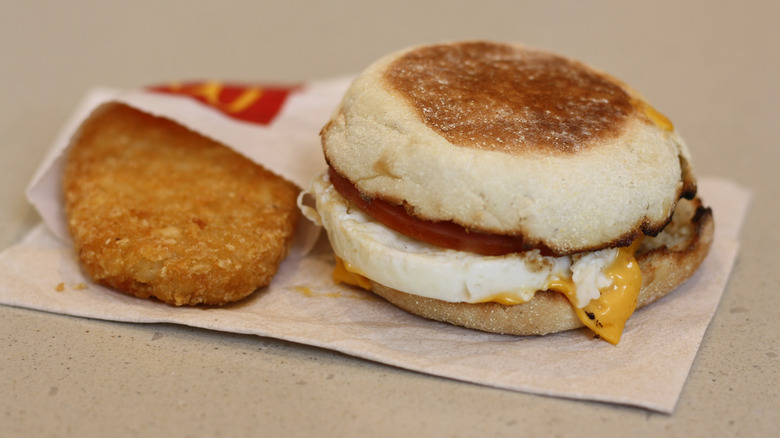 Deutschlandreform/Shutterstock
Although Mike Haracz pitched the idea of hash browns as "buns" to McDonald's, the fast food giant never added the creation to the menu. Haracz claimed the company said the item would be "too many calories" and "too operationally complex." The powers that be also thought the addition would be too successful — to the point where "it would make the kitchen just crash and burn." Knowing how complicated secret menu items can negatively affect the restaurant industry, they might have been right.
When asked how the McDonald's breakfast sandwich hack is "operationally complex," Haracz explained, "You can only cook so many at a time. It takes a certain amount of time to cook it." He added that the hash browns are "only allowed to be held for a certain amount of time after they're cooked" and are "cooked in a different section, not by the Make Table, which is where all the sandwiches are assembled." Needless to say, it would take a lot of time and effort to churn out hash brown sandwiches. This wouldn't work if multiple customers ordered several at a time.
Sadly, this means this McDonald's hack for all varieties of Egg McMuffins will likely remain a DIY trend. Fortunately, swapping the bread for hash browns isn't very difficult (though it does waste a perfectly good English muffin).