The Emmys Says 'Yes, Chef' To The Bear Season 2
The critically acclaimed television series "The Bear" has garnered an astounding 13 Emmy Award nominations for the 75th annual ceremony. This remarkable achievement highlights the show's exceptional storytelling, influential performances, and creative execution.
Jeremy Allen White, who plays the main protagonist Carmen "Carmy" Berzatto, was nominated for Outstanding Lead Actor in a Comedy Series. Meanwhile, Ayo Edebiri, who portrays sous chef Sydney "Syd" Adamu, and Ebon Moss-Bachrach (Richard "Richie" Jerimovich) are in the running for Outstanding Supporting Actress and Actor in a Comedy Series. Several other actors also received recognition for their work. Jon Bernthal (Michael "Mikey" Berzatto), and Oliver Platt (Uncle Jimmy "Cicero" Szorski) are up for Outstanding Guest Actor in a Comedy Series. Off camera, director and screenwriter Christopher Storer is up for both Outstanding Directing for a Comedy Series and Outstanding Writing for a Comedy Series. 
Of course, the series itself was nominated for Outstanding Comedy Series, along with "Abbott Elementary," "Barry," "Jury Duty," "Only Murders in the Building," "Ted Lasso," "The Marvelous Mrs. Maisel," and "Wednesday." Other categories for which "The Bear" is competing include production design, casting, picture editing, sound mixing, and sound editing.
'The Bear' is nominated for 13 Emmys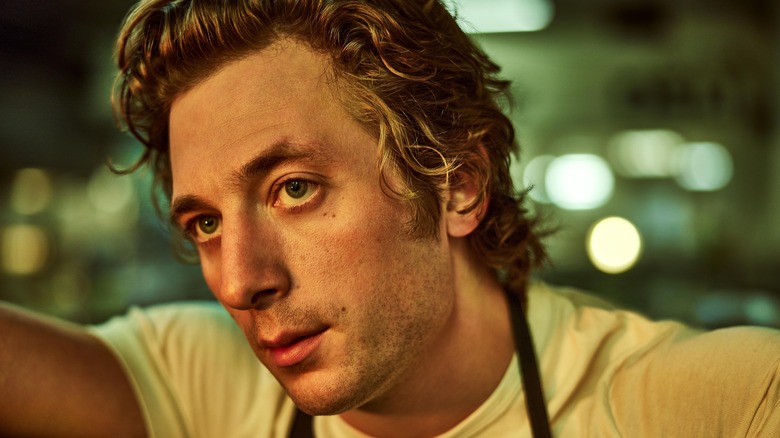 Hulu
Star Jeremy Allen White, who previously starred in the long-lasting TV series "Shameless", shared his thoughts on the nomination. The actor was admittedly nervous to have such a focus on his acting talent. This is the first time that he's been nominated for an Emmy. In an interview with Deadline, he said, "I'm hopeful that by September maybe I'll be comfortable enough around these people and not be such a nervous wreck and be able to enjoy the night a little bit more."
Likewise, White's co-star Ebon Moss-Bachrach shared his own reaction to the news. It's also Moss-Bachrach's first time receiving a nomination as well. He told Deadline, "Truthfully, it feels so great because so many of us got nominated — for sound mixing, and our great casting director, Jeanie Bacharach, and Chris, our showrunner... it's his baby. Ayo and Jeremy, [too], I'm so excited that it's a group recognition. For me, that's everything."
While "The Bear" certainly attracted an audience in season one, its sophomore outing has made the show more popular than ever, particularly with critics. Both White and co-star Ayo Edebiri were the subject of a Vanity Fair profile. It remains to be seen how the show performs at the awards. The 75th Primetime Emmy Awards will air on Fox on Monday, September 18, 2023, at 8:00 PM Eastern.