Baked Cheeseburger Egg Rolls Recipe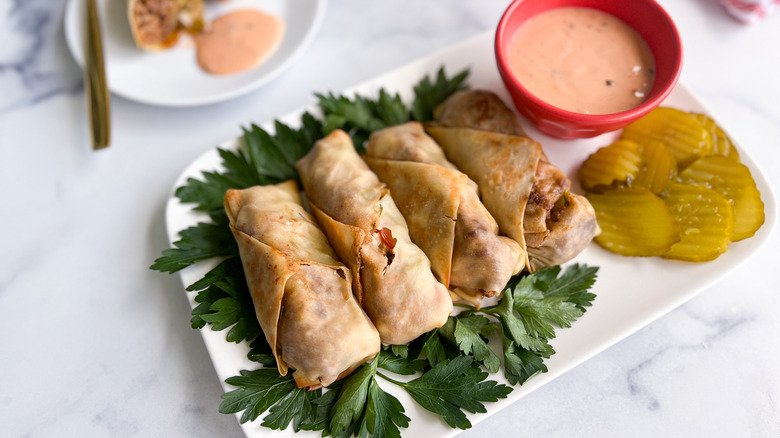 Erin Johnson/Mashed
While classic egg rolls are stuffed with vegetables and deep-fried to perfection, they're ultimately a blank slate into which one can stuff just about anything their heart desires. Case in point: these baked cheeseburger egg rolls, courtesy of recipe developer Erin Johnson. As the name suggests, these egg rolls feature everything you might find in a good ol' cheeseburger, including seasoned ground beef, cheese, onion, lettuce, pickles, and tomato. And, unlike traditional egg rolls that get a hot oil treatment, these cheeseburger egg rolls are baked in the oven — ideal for the home chef who doesn't have a deep fryer lying around.
"These egg rolls are a delicious twist on the classic backyard cheeseburger," Johnson says, and she also highlights the fact that this recipe is very customizable. "Substitute any ground meat or cheese to your preference," she says. "I like to use a variety of toppings when I make them. Lettuce, tomato, and pickles are classic, but you can also add bacon, ketchup, mustard, jalapeño — anything you typically put on your burger!" Essentially, if it fits into the wrapper and can be rolled up without making a big mess, it's fair game to add to your cheeseburger egg roll. So, get creative and craft the cheeseburger of your dreams, then roll it up and enjoy the crispy goodness.
Gather the ingredients for baked cheeseburger egg rolls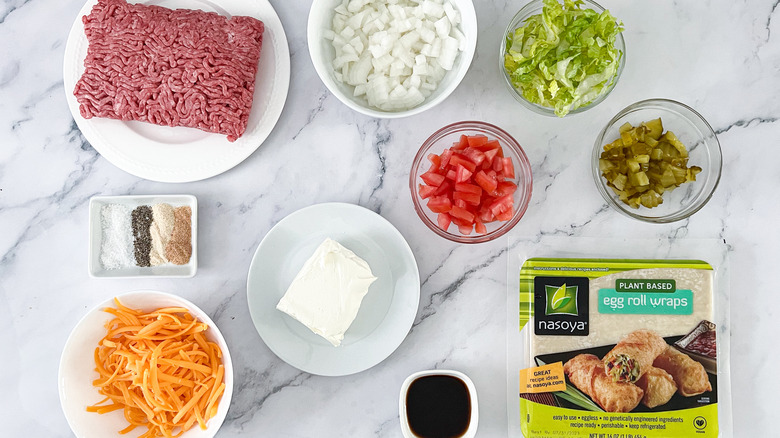 Erin Johnson/Mashed
If you want to follow the recipe exactly as Johnson does, then you'll need some key ingredients to get things going. Ground beef is the star protein here, and you'll season it with salt, pepper, garlic powder, onion powder, and Worcestershire sauce. It wouldn't be a cheeseburger egg roll without the cheese, so be sure to have both cream cheese and shredded cheddar on hand. You'll also need some onion to go into the mix, along with any toppings you would typically include on a burger; Johnson opts for chopped lettuce, tomato, and pickles. Finally, you'll need egg roll wrappers, though a package of wonton wrappers will also do the trick.
Cook up a cheesy ground beef base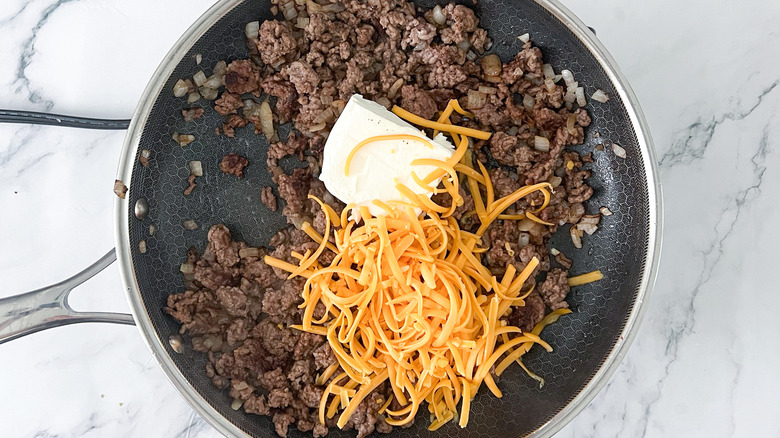 Erin Johnson/Mashed
Preheat your oven to 400 F, then heat up a large skillet on the stovetop. Add in the diced onion and sauté for a few minutes until it begins to soften, then add in the ground beef. Break up the beef as it cooks, and once it's fully browned, add both the cream cheese and shredded cheddar, mixing those in until they're melted.
Now, season up the beefy egg roll base with the Worcestershire sauce, salt, pepper, garlic powder, and onion powder. Mix all of the seasonings in and give it a taste, adding any additional seasonings as desired.
Wrap up the egg rolls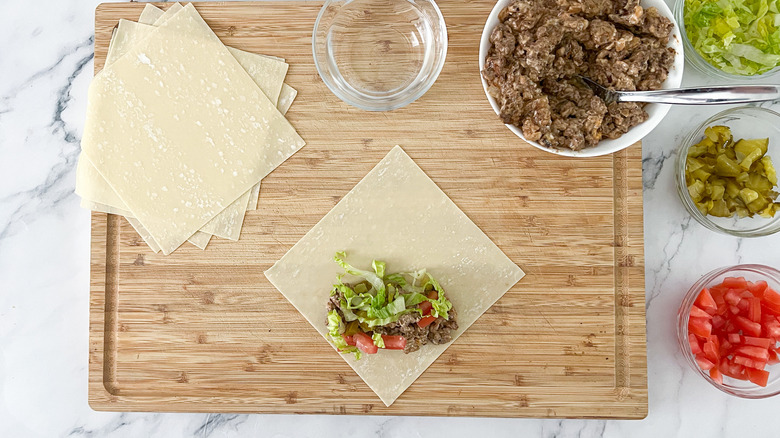 Erin Johnson/Mashed
Lay out a single egg roll wrapper, and spoon a decent heap of the beef mixture into the middle, along with any additional toppings that you want to include. Fold the bottom and side corners of the wrapper inward, then use a bit of water to moisten the top corner to ensure the roll stays closed. Then, tightly roll the egg roll up (away from yourself). Repeat the process with each egg roll (you should be able to make 12 total), then place them onto a parchment paper-lined baking sheet and spray with cooking oil.
Bake the cheeseburger egg rolls and serve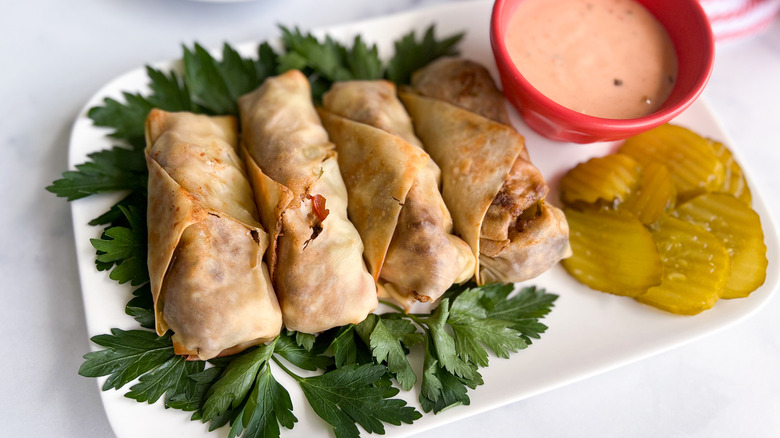 Erin Johnson/Mashed
Pop the egg rolls into the oven and bake for about 15 minutes until they're all golden brown. "I baked these for ease of preparation, but you can also air fry or deep fry," Johnson notes, should you have such appliances at your disposal.
Once they're baked, serve these cheeseburger egg rolls right away, ideally with ketchup or burger sauce if you want to follow Johnson's lead. If you happen to have leftovers, you're in luck — store them in the fridge for up to 3 days, and then, as Johnson advises, reheat them in the oven or air fryer.
Baked Cheeseburger Egg Rolls Recipe
Serve up this crispy, cheesy fusion recipe at your next party.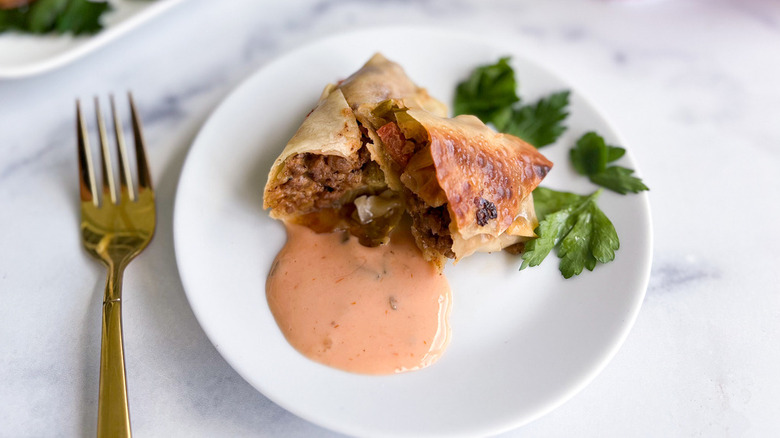 Ingredients
1 onion, diced
1 pound ground beef
4 ounces cream cheese
1 cup shredded cheddar cheese
1 teaspoon Worcestershire sauce
½ teaspoon kosher salt
¼ teaspoon ground pepper
½ teaspoon garlic powder
½ teaspoon onion powder
12 egg roll wrappers
½ cup shredded lettuce
⅓ cup chopped pickles
½ cup chopped tomatoes
Cooking oil spray, as needed
Directions
Preheat the oven to 400 F.
In a large skillet, sauté the onion until it begins to soften, then add the ground beef and cook.
Once the beef is browned and cooked through, add the cheeses, stirring until melted.
Add the Worcestershire, salt, pepper, garlic powder, and onion powder. Stir to combine and adjust seasonings to taste.
Place an even amount of the meat mixture, lettuce, pickles, and tomatoes (and any other desired toppings) onto each egg roll wrapper. Working with 1 at a time, moisten the top corner of the wrapper to ensure it seals closed. Fold the bottom and side corners in, then tightly roll around the filling. Repeat with all of the wrappers.
Place egg rolls on a parchment-lined baking sheet and spray with cooking oil.
Bake for 15 minutes, or until the egg rolls are golden brown and warmed through, and serve.
Nutrition
| | |
| --- | --- |
| Calories per Serving | 280 |
| Total Fat | 15.9 g |
| Saturated Fat | 6.8 g |
| Trans Fat | 0.6 g |
| Cholesterol | 48.6 mg |
| | |
| --- | --- |
| Total Carbohydrates | 20.9 g |
| Dietary Fiber | 0.9 g |
| Total Sugars | 1.1 g |
| Sodium | 306.4 mg |
| Protein | 12.6 g |