The Price Of McDonald's McChicken Has TikTok Mourning The Dollar Menu All Over Again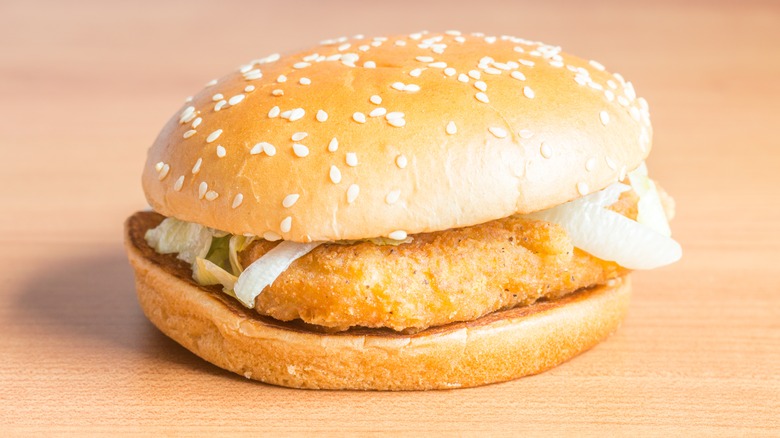 Robson90/Shutterstock
The McDonald's empire was built on the basis of fast service and inexpensive food. In recent years, however, diners have been acutely aware of the steady price increases affecting menu staples like the McChicken — and they are none too pleased.
Before the 2013 fall of McDonald's beloved dollar menu, a McChicken could be yours for the low, low cost of $1 — plus tax. Today, however, some locations list the basic sandwich — which consists of nothing more than a chicken patty, a dollop of mayo, and a smattering of shredded lettuce on a burger bun — for a whopping $5. Not a group of people known for biting their tongues, the McDonald's fanbase has had much to say about what they deem to be an outrageous price increase.
In a video that has amassed over 2 million views, a TikToker crumples their face, as if they're about to burst into tears, while a weepy voiceover says, "President Trump, if you see this, please save us!" A text overlay on the video reads, "POV: When a McChicken from Mcdonald's now cost $5." With over 5,000 people sounding off in the comments, the content creator received an outpouring of support from equally heartbroken diners. One TikTok user wrote, "I miss the $1 menu" with a crying emoji, while another said, "And sometimes they don't even be good!"
Why is McDonald's raising its prices?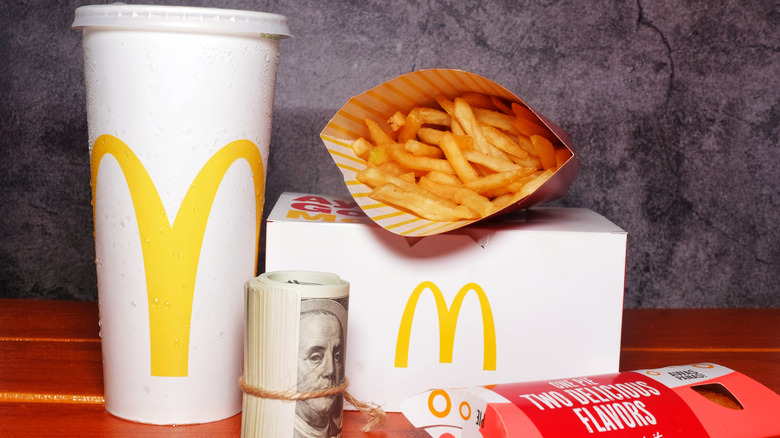 Najmi Arif/Shutterstock
McDonald's decided to do away with the dollar menu in 2013 after it was established that the company was losing money by pricing some menu items so low. Diners tightened their purse strings in response, and after experiencing a drastic dip in sales, the fast-food giant decided to bring back the deals in 2017 with its $1, $2, $3 menu. Select items have enjoyed a place on this menu, including the McChicken. However, the McChicken has since been removed from the discount menu at many locations and from 2019 to 2021 — for example — the product experienced a price increase of 28% (per Yahoo!News).
The McChicken isn't the only menu item to get this kind of treatment. Another TikToker recently went viral after posting a video highlighting the outlandish prices of McDonald's combo meals at a Connecticut location. Commenters were shocked to learn that the location was charging upward of $17 for both the Big Mac combo and McCrispy chicken sandwich combo. "I won't go there anymore," wrote one TikTok user, while another said, "Now I have a reason to tell the kids 'we have food at home.'"
McDonald's CEO Chris Kempczinski recently told CNBC that customers have been resisting such inflation by buying less food at the restaurant and avoiding tacking on "extras" such as french fries.