SpongeBob SquarePants-Inspired Krabby Patty Recipe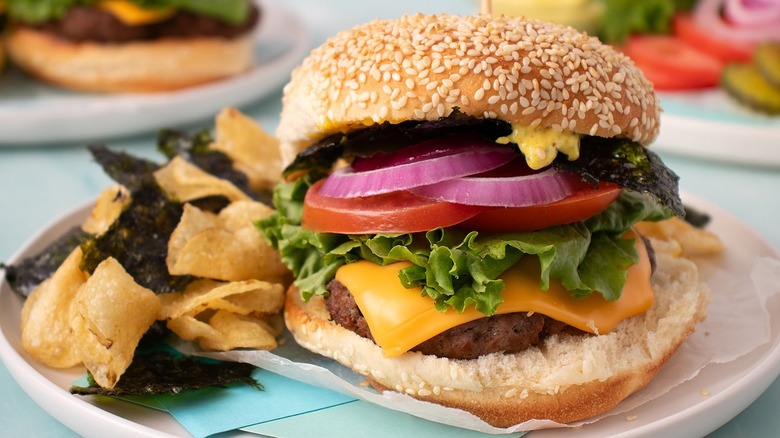 Patterson Watkins/Mashed
Even if you don't happen to live in a pineapple or spend much time under the sea, you might still keep up with the antics of a fictional sea critter who does. Of course, we're talking about SpongeBob SquarePants, and between his frolicking in Jellyfish Fields and his day job at the Krusty Krab, SpongeBob leads a pretty busy life in Bikini Bottom. One of the most alluring parts of SpongeBob's life is the fact that he gets to serve up Krabby Patties all day long, and as it turns out, quite a few real-life folks are left wishing the iconic cartoon food were real after enjoying an episode of the series.
Well, we're pleased to say that your wildest dreams will soon be a reality thanks to this "SpongeBob SquarePants"-inspired Krabby Patty recipe, courtesy of recipe developer Patterson Watkins. "The more whimsical the recipe, the better," Watkins says of her Krabby creation, adding, "If you're a fan of Big Macs and occasionally dabble in Filet-O-Fish, you'll absolutely love this burger." 
Watkins explains that this burger "is savory, not fishy, with the occasional flash of salty-sweet thanks to the combo of seaweed snacks and special sauce." She spent a decent amount of time sleuthing on the internet for the ingredients that make up what she calls "one elusive cheeseburger," but she has undoubtedly succeeded in cracking Mr. Krabs' secret formula, concocting the best copycat recipe in all of Bikini Bottom and beyond.
Gather the ingredients for this SpongeBob SquarePants-inspired Krabby Patty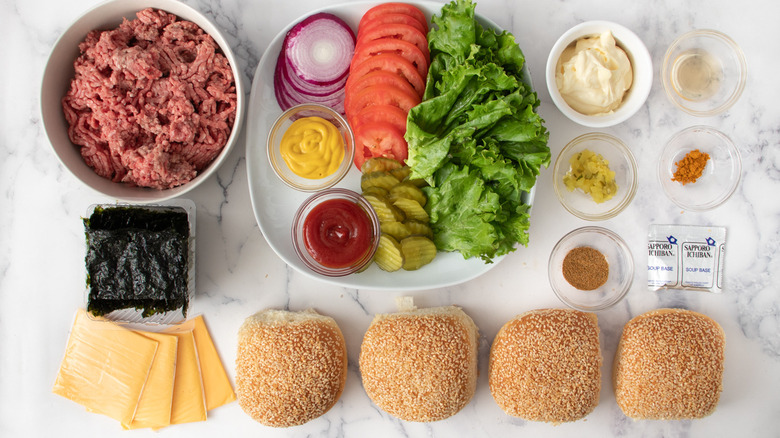 Patterson Watkins/Mashed
Some of the ingredients for a Krabby Patty are familiar burger items, whereas others are definitely more "Spongebob"-esque. For starters, you'll need ground beef, American cheese, toasted sesame-seed buns, and our first secret weapon: a shrimp-flavored seasoning packet from a package of instant ramen noodles. "Like King Neptune's Poseidon Powder, I thought ramen noodle seasoning would be the perfect substitution-shrimp flavor," Watkins explains.
For the special sauce, you'll need mayonnaise, relish, seafood seasoning (like Old Bay), ground turmeric, and apple cider vinegar. "I crafted this like a typical seafood tartar, using seafood seasoning and turmeric (turmeric being noted as one of the ingredients in a Krabby Patty) for a pop," Watkins says of her saucy creation. 
Finally, no good Krabby Patty is complete without lots of toppings, so you'll need ketchup, mustard, lettuce, tomato slices, red onion slices, pickle slices, and one final special ingredient, seaweed chips. Attempting to mimic barnacle shavings (which, in Watkins' opinion, don't sound all too edible), she opts for crispy seaweed snacks, as "barnacle shavings sounded like they'd be a little crunchy, and sea salty."
Make the patties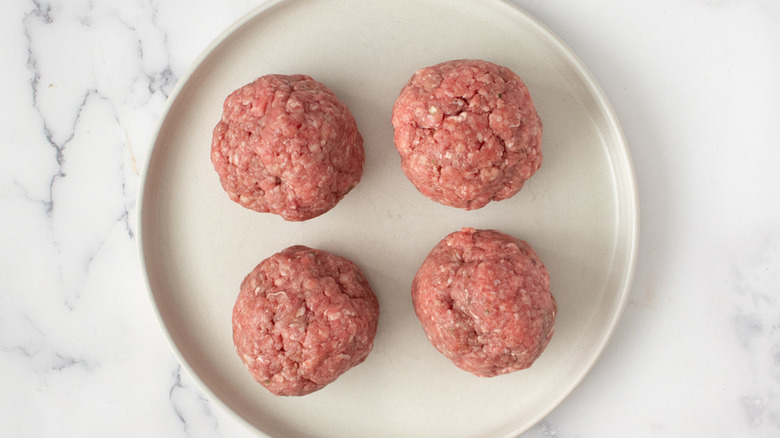 Patterson Watkins/Mashed
It's time to channel your inner fry cook — either fire up your stovetop griddle (AKA get it preheating) or place an extra-large skillet over medium-high heat. Whichever cooking device you're using, be sure to spray it with nonstick cooking spray.
Now, it's time to make the patties. Add the ground beef and shrimp seasoning packet to a large bowl, using your hands to mix it all up. Then, divide the meat into 4 equal sections, and use your hands to shape these sections into balls. Once the patties are ready for cooking, bring them over to your preheating griddle.
Cook the patties, and don't forget the cheese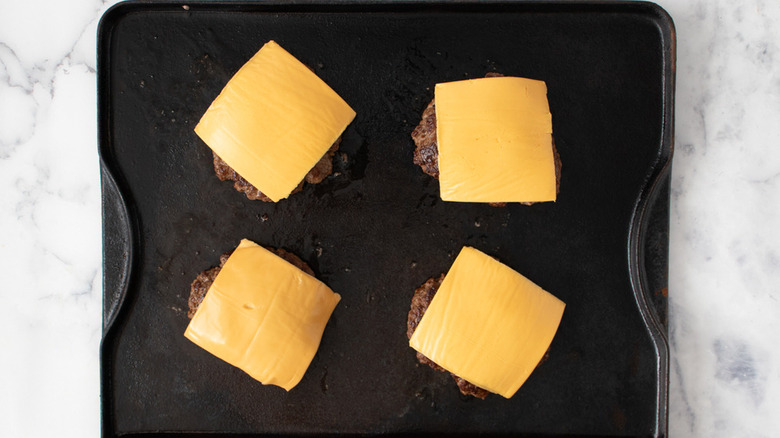 Patterson Watkins/Mashed
Place each patty onto the griddle and allow them to sear, undisturbed, for 1 minute. Use the back of a spatula to flatten to each patty, then continue cooking on the same side for another 2-3 minutes until they're nice and browned. Flip the patties and cook for 2-3 more minutes, or until they reach your level of desired doneness. 
At this point, either reduce the heat to low or remove the patties from the heat altogether. Layer a slice of American cheese on top of each patty, then set them aside and let the cheese melt naturally as you focus on the other burger components.
Whip up the special sauce and begin assembling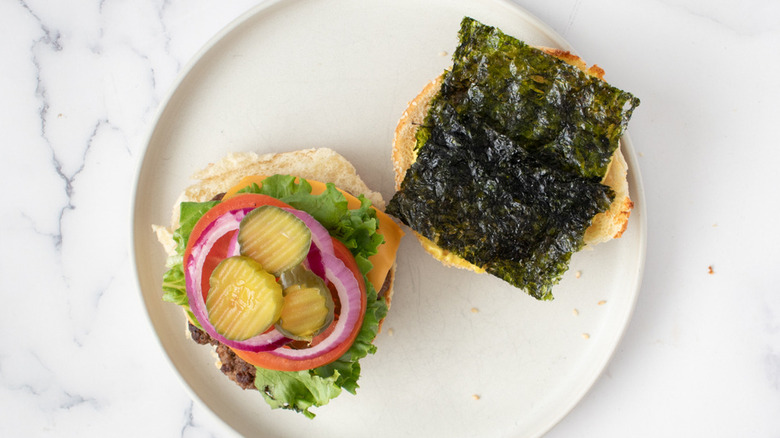 Patterson Watkins/Mashed
In a small bowl, mix together the mayonnaise, relish, Old Bay, turmeric, and apple cider vinegar. Then grab a toasted bun and turn each side face-up. Give the top bun a hearty dollop of special sauce, being sure to spread it out evenly. Add about 1 tablespoon each of ketchup and mustard to the bottom bun, then place a patty on top.
As Watkins explains, "There's a specific stacking of toppings that I tried to recreate" based on the real Krabby Patty, so you'll want to follow the order carefully to get the most authentic sandwich possible. Onto the patty, add lettuce, then tomato, then onion, then pickles (don't forget the pickles!). Add a couple of seaweed chips to the top bun, and gently press down so they stick to the sauce. Finally, place the top bun onto the bottom bun and secure your hefty sandwich with toothpicks. Repeat these steps until you've constructed all 4 burgers.
Serve up these Spongebob-inspired Krabby Patties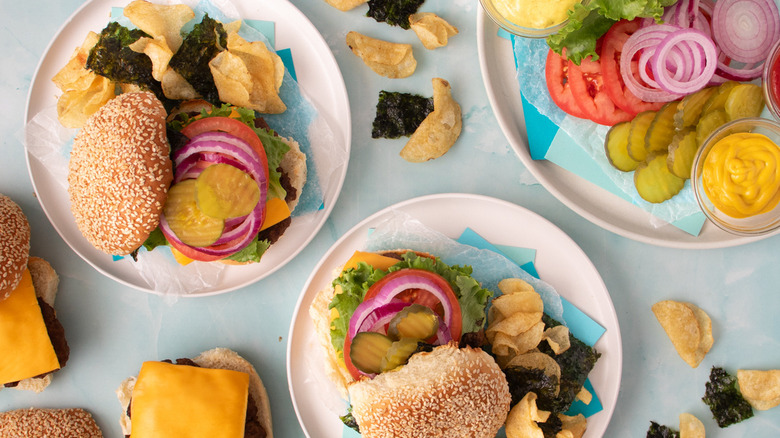 Patterson Watkins/Mashed
Just like that, you've got some authentic Krabby Patties that SpongeBob himself — and perhaps even Squidward — would proudly serve. If you're not able to find any kelp fries to pair with these patties, Watkins has a few suggestions: "I liked combining my Krabby Patties with the leftover seaweed snacks and some kettle chips. But, as with any cheeseburger, good crispy fries pair well, too," she says. There's no nautical nonsense happening with this recipe — just some good burgers with a family-fun twist.
SpongeBob SquarePants-Inspired Krabby Patty Recipe
Round up SpongeBob, Patrick, and Squidward for these highly convincing Krabby Patty copycats.
Servings
4
Krabby Patties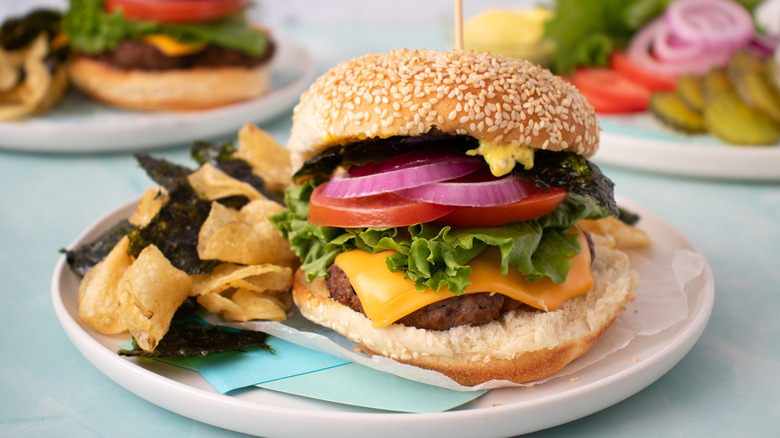 Ingredients
For the patties
Nonstick cooking spray, as needed
1 pound ground beef
1 each ramen noodle seasoning packet, shrimp flavor (just the seasoning, not the noodles)
4 slices American cheese
For the special sauce
⅓ cup mayonnaise
1 tablespoon relish
½ teaspoon seafood seasoning (such as Old Bay)
¼ teaspoon ground turmeric
1 teaspoon apple cider vinegar
For assembling the Krabby Patties
4 sesame seed hamburger buns, toasted
¼ cup ketchup
¼ cup yellow mustard
8 lettuce leaves
1 roma tomato, sliced
½ medium red onion, sliced
½ cup dill pickle slices
1 package crispy seaweed snacks or chips
Directions
Preheat your stove-top griddle or an extra-large skillet over medium-high heat and lightly spritz with cooking spray.
Place ground beef in a medium bowl, add the ramen seasoning, and, using your hands, thoroughly combine.
Divide the ground beef mixture into 4 even balls and, once the griddle has preheated, transfer to the pan.
Sear the burger balls, uninterrupted, for 1 minute before using the back of a spatula to flatten them into patties. Continue to cook on that side for 2-3 minutes until nicely browned, then flip. Cook the other side for 2-3 minutes or until the desired doneness has been reached.
Reduce heat to low (or remove the pan from heat) and top the burgers with slices of cheese. Set aside to melt while you prepare the special sauce.
Place mayonnaise, relish, seafood seasoning, turmeric, and vinegar in a medium bowl, and whisk to combine.
To assemble your Krabby Patties, dollop the bottom burger bun with approximately 1 tablespoon each of ketchup and mustard. Dollop the top bun with a heaping tablespoon of the special sauce and evenly spread to cover.
Place the burger patties on the dressed bottom bun and top with lettuce, tomato, onion, pickles, and 1-2 seaweed chips (in that order). Secure your burgers with toothpicks, and serve immediately.
Nutrition
| | |
| --- | --- |
| Calories per Serving | 1,024 |
| Total Fat | 52.9 g |
| Saturated Fat | 15.8 g |
| Trans Fat | 1.4 g |
| Cholesterol | 172.9 mg |
| | |
| --- | --- |
| Total Carbohydrates | 94.7 g |
| Dietary Fiber | 5.1 g |
| Total Sugars | 10.5 g |
| Sodium | 1,123.7 mg |
| Protein | 41.4 g |