Simple Chicken Tortellini Soup Recipe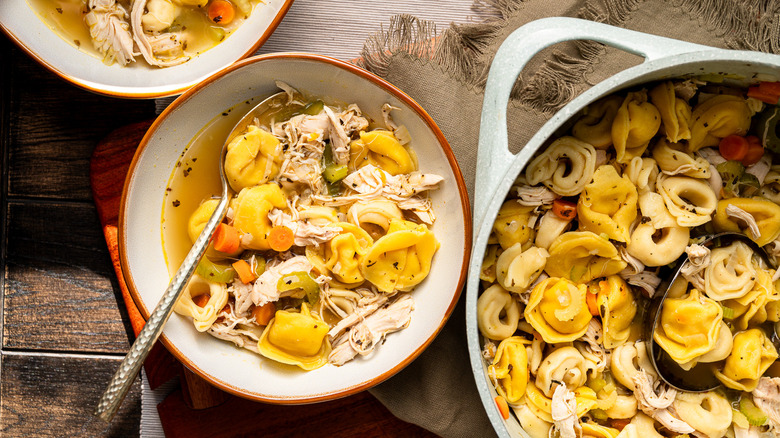 Christina Musgrave/Mashed
Tortellini (not to be confused with tortelloni) are a type of cute little ring-shaped pasta typically stuffed with meat. Each piece does, if you think about it, have kind of a belly button-like shape to it, and, as creepy tortellini legend has it, this was done intentionally to honor the navel of either a goddess or a flesh-and-blood woman. (As to who got a peep, and how, and why, we'd rather not let these details put us off our pasta.) While tortellini can be sauced and served as a main course, the pasta also makes a great alternative to noodles in chicken soup.
As recipe developer Christina Musgrave tells us, "This chicken tortellini soup recipe has all of the elements of classic chicken noodle soup with a delicious twist of tortellini." It's actually not all that difficult to cook up this more or less scratch-made soup, since it takes such shortcuts as using premade stock and precooked chicken. While there may be a certain amount of prep work involved in peeling and chopping all of the vegetables, you could always save some time by buying pre-cut celery and carrots, frozen chopped onions, and minced garlic from a jar. Musgrave also notes that the "tortellini can be added fresh or frozen" to the bubbling soup.
Sort out the ingredients for this simple chicken tortellini soup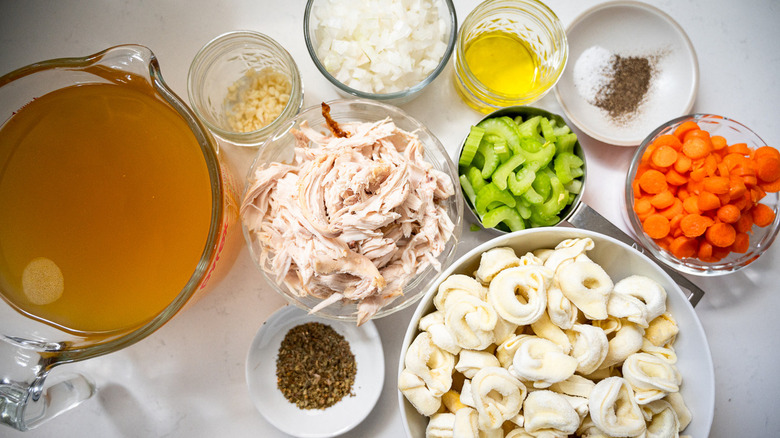 Christina Musgrave/Mashed
This soup includes several different vegetables: carrots, celery, and onions, along with a few cloves of garlic. You'll also need olive oil and chicken stock for cooking, plus basil, oregano, salt, and pepper for seasoning. The only remaining ingredients are the titular chicken (pre-cooked) and tortellini.
Prepare the produce
Christina Musgrave/Mashed
Once you chop up your onion, peeled carrot, and celery, you'll want to cook these up in a large pot. Heat some oil over medium heat, then cook the carrots, onion, and celery until they soften. Per Musgrave, this should take about 10 minutes. At this point, toss in the garlic and cook it for another 2 minutes or until it starts to smell garlicky. Be careful not to overcook it, though, as browned garlic may take on a bitter flavor.
Season and simmer the soup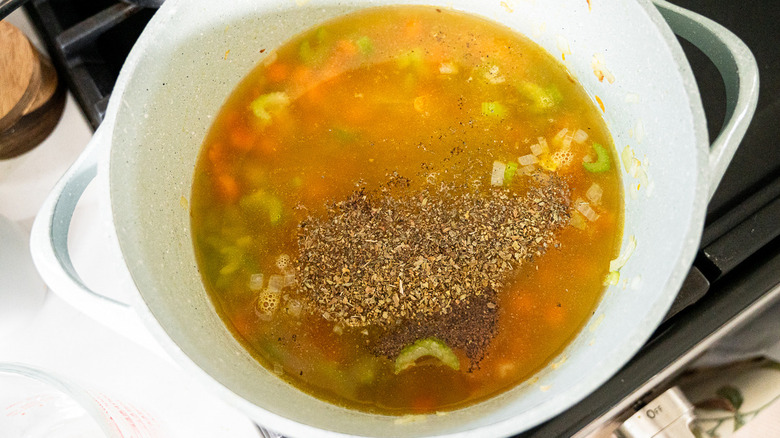 Christina Musgrave/Mashed
Pour the stock into the vegetable mixture, then season the soup with basil, oregano, salt, and pepper. Cook the soup until it boils, then turn down the heat so it's just simmering. Let it cook for 10 minutes.
Finish the soup off with the final ingredients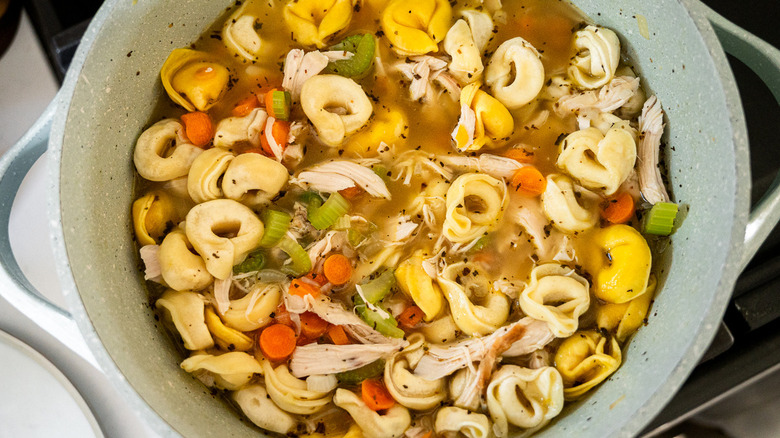 Christina Musgrave/Mashed
After the 10 minutes of cooking time have elapsed, add the shredded chicken and tortellini to the broth. Keep cooking the soup for another 5 minutes, then, as Musgrave advises, "check that the tortellini are fully cooked." If you are starting with frozen ones rather than fresh, it's possible they may need another minute or so, but if they are done, turn off the heat and get ready to eat.
This soup, like most soups, makes great leftovers and can either be kept for up to 4 days in the fridge or frozen for months. When you reheat the cold soup, Musgrave suggests adding "a bit more broth, as some of it is likely to be absorbed."
Simple Chicken Tortellini Soup Recipe
If you have a bag of tortellini and some leftover shredded chicken in the fridge, you can whip up this hug in a bowl in no time at all.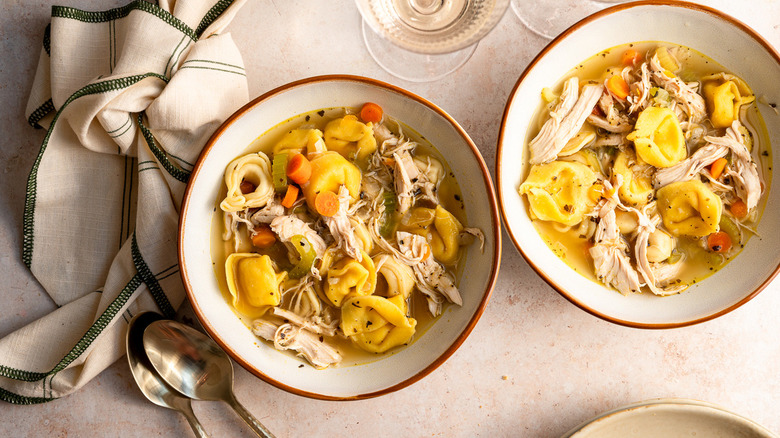 Ingredients
1 tablespoon olive oil
1 cup carrots, diced
1 white onion, diced
1 cup celery, diced
2 cloves garlic, minced
4 cups chicken stock
1 teaspoon dried basil
1 teaspoon dried oregano
½ teaspoon salt
½ teaspoon black pepper
12 ounces tortellini
2 cups shredded cooked chicken
Directions
Heat the olive oil in a large pot over medium heat.
Add the carrots, onion, and celery to the pot and sauté for 10 minutes or until softened.
Add the garlic to the vegetables and cook for 2 minutes or until fragrant.
Stir the stock, basil, oregano, salt, and pepper into the vegetable mixture.
Bring the soup to a boil, then reduce the heat to simmer for 10 minutes.
Add the tortellini and chicken to the soup and simmer for 5 minutes or until the pasta is cooked. Serve immediately.
Nutrition
| | |
| --- | --- |
| Calories per Serving | 234 |
| Total Fat | 9.7 g |
| Saturated Fat | 2.5 g |
| Trans Fat | 0.1 g |
| Cholesterol | 43.8 mg |
| | |
| --- | --- |
| Total Carbohydrates | 17.2 g |
| Dietary Fiber | 2.9 g |
| Total Sugars | 6.3 g |
| Sodium | 645.3 mg |
| Protein | 18.8 g |