UK Fast Food Chains You Won't Find In The US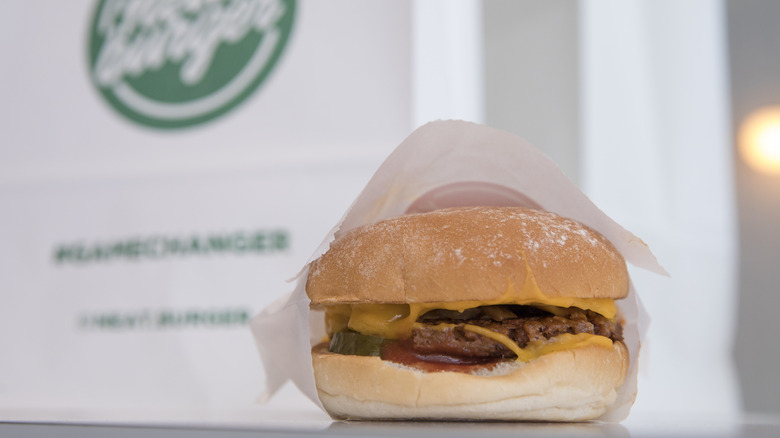 Bloomberg/Getty Images
At first glance, the U.K. fast-food scene isn't all that different from what's available in the U.S., but there are some differences. Among the familiar faces, there are some U.K. fast-food chains that you won't find in the U.S. In some ways, Britain isn't all that different from America. You'll still find a McDonald's on every corner and people are still puzzled over KFC's 11 herbs and spices. You can also find other popular U.S. fast-food chains, including Burger King, Wendy's, Taco Bell, and Popeyes.
That's good to know if you want something familiar to eat while you're away, but you might find the differences more interesting. Perhaps you want to discover what burritos are like in the U.K. by visiting Tortilla or maybe you want some traditional British fish and chips at Harry Ramsden's. Whatever it is that you're craving, you can find it on streets and down alleyways all over England, Scotland, Wales, and Northern Ireland.
It's always interesting to see how countries do things differently from one another, and fast-food culture is just one of the many interesting differences. Whether you're scoping out what to eat on a trip to the U.K. or you're simply intrigued about the options, these are some British fast-food chains that aren't usually seen in the U.S.
Wasabi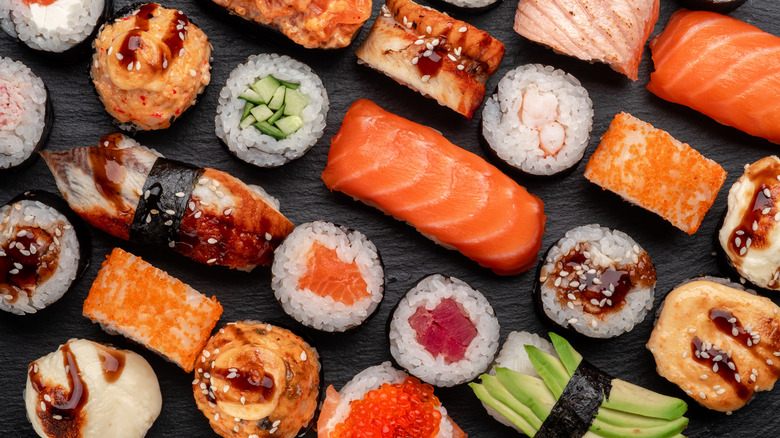 Andrei Iakhniuk/Shutterstock
When you think of fast food, you might picture burgers and fries, but there's much more to it than that. Wasabi is all about serving up fresh and flavorful Japanese food, perfect for on-the-go moments or for a quick sit-down lunch. Its menu is a delightful mix of traditional Japanese dishes and contemporary twists that cater to a wide range of palates.
Good news for sushi lovers — Wasabi's sushi selection is a true crowd-pleaser. From classic nigiri to maki rolls bursting with colorful fillings, you're bound to find something you love. There are plenty of veggie and vegan sushi options, too.
If sushi isn't your thing, that's okay. Wasabi has an array of other mouthwatering options. How about some delectable bento boxes featuring a base of noodles or rice? Wasabi has flavors such as katsu curry and sweet chili. These dishes are available with a range of different proteins, including chicken, tofu, and Quorn mock meats. Plus, there are noodle soups on offer if you fancy something even more warming.
You don't have to miss out on dessert, either, with Japanese classics such as mochi and filled pancakes called dorayaki all available.
All Wasabi's food is ready-made and available in boxes in fridges or on warmer plates, so you can just pick up what you want and take it away, making it a perfect fast-food option.
Leon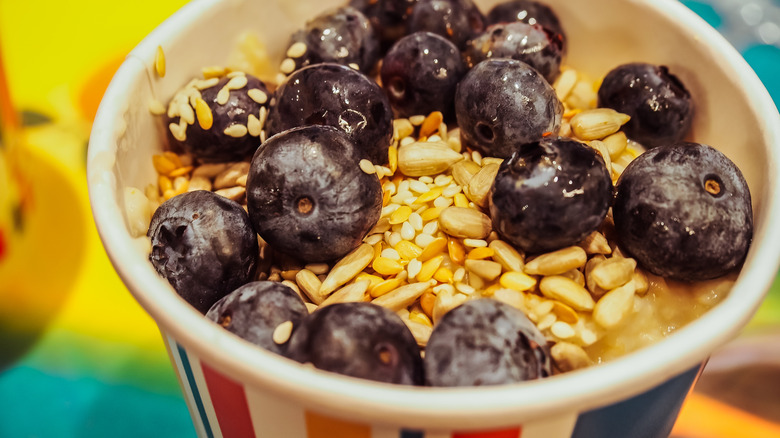 SophieOst/Shutterstock
Leon offers a modern, healthy twist on classic fast-food favorites. Its motto is "Naturally Fast Food" so you can imagine where its focus lies and what it might offer on its menu. Leon serves up fast food that's not only tasty but also healthy and nourishing.
If fast food to you is burgers and fries, Leon takes fast-food burgers to the next level. Its popular LOVe Burger is a vegan alternative to a fast-food classic, containing a mock meat patty, plant-based cheese, gherkins, and dill-heavy burger sauce all in an egg- and milk-free brioche bun. Rather than standard fries, this fast-food restaurant offers delicious baked waffle fries.
Aside from burgers, it serves wraps containing fillings such as jerk chicken and grilled halloumi. It's also known for its hot food boxes that are packed with dishes like Brazilian black beans, lentil masala, and satay chicken on a bed of wholesome rice.
And let's not forget about breakfast. Leon serves up a scrumptious morning spread with options like breakfast muffins, egg pots, and tasty porridge that'll give you the energy you need to kickstart your day.
There was a time when Leon made it over to the U.S., with branches in Virginia and Washington D.C., but its time in the U.S. has now come to an end, so you'll only find it in the U.K. and Europe. Luckily, it's easy to find in the U.K., with branches on many city high streets.
Tortilla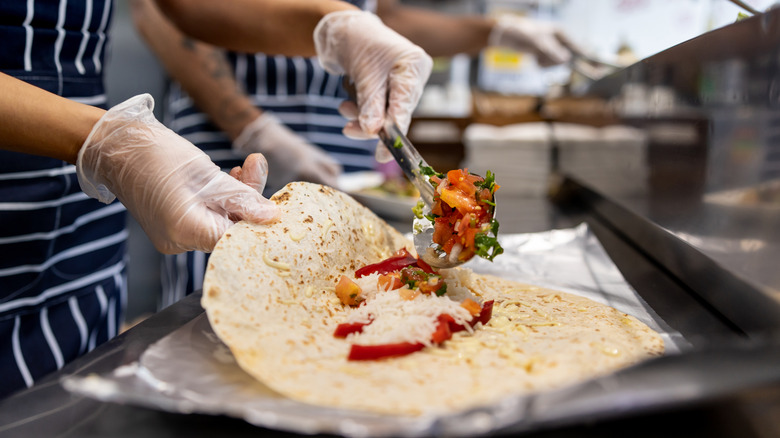 Andresr/Getty Images
Now, let's introduce you to Tortilla, the burrito joint inspired by California's take on Mexican food. You won't find authentic Mexican dishes here, but you will come across the kinds of burritos you'd find in California containing fresh, healthy ingredients.
Staff make your burrito for you at the counter in minutes, so it's an excellent fast-food choice. You start with the choice between rich tomato or zesty coriander rice — or you can opt for lettuce if you prefer. Then you're given the option of black beans or pinto beans. Next up comes meat or veggie fillings, including carnitas pork or vegan chili no carne. Finish it off with extras, such as cheese, sour cream, salsa, and guac.
If burritos aren't your thing, you also have the option of a burrito bowl — all the fillings without the tortilla wrap — or tacos. And what's a Mexican-inspired meal without some nachos? Tortilla has you covered there, too. Loaded with melted cheese, guacamole, salsa, jalapeños, and sour cream, their nachos are an explosion of deliciousness.
Whether you're on a lunch break, grabbing a quick dinner, or just in need of a flavorful pick-me-up, Tortilla has the goods. It might not be anything ground-breaking if you're used to authentic Mexican cuisine or at least decent Tex-Mex, but it's a solid choice on the U.K. fast-food scene that's quick and affordable.
Neat Burger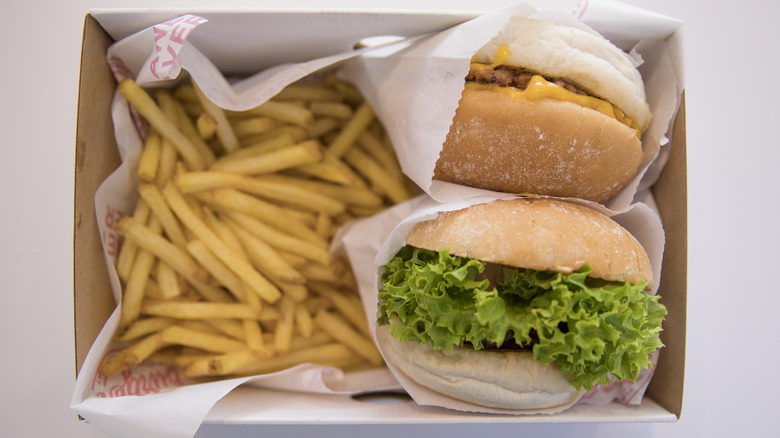 Bloomberg/Getty Images
Here's one for the plant-eaters out there. Imagine a fast-food joint where everything is vegan, from the burgers and hot dogs to the thick, creamy milkshakes. Well, at Neat Burger, you don't have to. Everything is 100% vegan. This chain is all over London and is likely to expand to more parts of the U.K. soon, too.
So, what can you get at Neat Burger? As the name suggests, their signature items are their burgers, and oh boy, they're beyond fantastic. You can choose from a range of different burgers, some with faux beef patties and others filled with fried mock chicken.
They've also got a hot dog option for those craving that familiar stadium snack, as well as salads and an awesome range of sides, including fries, onion rings, tater tots, sweetcorn ribs, and cauliflower wings. You can also enjoy sweet treats in the form of milkshakes and churros.
Neat Burger is a gamechanger in the fast-food scene, offering a completely plant-based menu that's not just for vegans but for anyone who loves good food with a side of conscience.
It's not entirely accurate to say you won't find this vegan fast-food restaurant in the U.S. — there's one branch in New York City, but that still makes it inaccessible for most Americans. Still, that means that there might be more branches of Neat Burger coming to a city near you sometime in the not-too-distant future.
Wimpy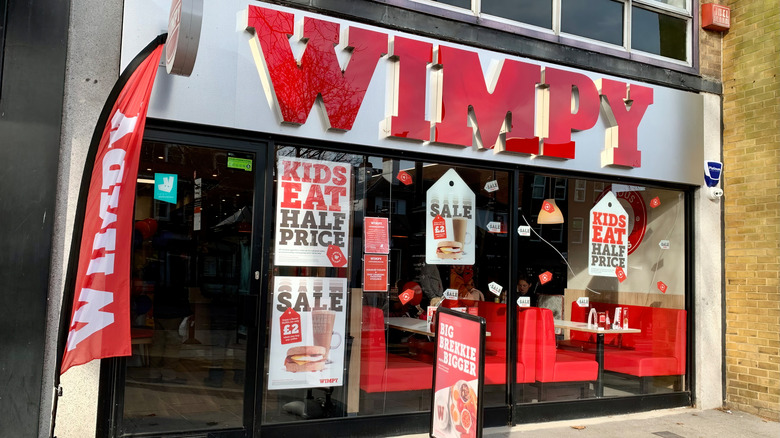 Nigel Harris /Getty Images
Although Wimpy was actually founded in the U.S. in the 1930s, its popularity really took off in the U.K. Today, Wimpy is a recognizable chain in the U.K. but none of its American outlets remain.
It's a classic fast-food icon that's been satisfying hunger pangs in the U.K. for generations. If you're looking for a taste of nostalgia and some good old-fashioned comfort food, Wimpy is the place to be.
Stepping into a Wimpy restaurant is like taking a trip back in time, with its retro charm and welcoming atmosphere. Now, let's talk about what they serve. At the heart of Wimpy's menu are its mouthwatering burgers. From classic beef patties to tasty chicken or veggie options, there's a burger for everyone. The buns are soft, the toppings are fresh, and each bite takes you on a journey of flavors that bring back memories of carefree days.
But Wimpy doesn't stop at burgers. It's got a range of other goodies to tempt your taste buds. The breakfast options are perfect for starting your day with a hearty meal. Then you have other options at lunch and dinner, including wraps and fish and chips. What to eat with your main meal? Expect classic sides and a few unusual offerings, including chips, onion rings, mozzarella sticks, mushrooms, and baked beans.
Greggs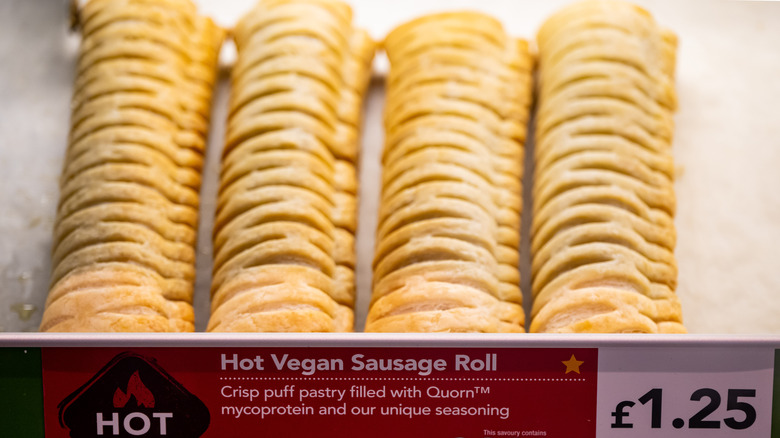 Matthew Horwood/Getty Images
Home of the vegan sausage roll that stirred up controversy among the right-wing press in the U.K., Greggs is a British institution. You'll find at least one in almost every city and large town in the U.K., not to mention branches in train stations and motorway services.
You might have heard of Greggs from the aforementioned vegan sausage roll drama or the viral TikTok clip in which an American woman pronounces it "G.R. Eggs," but what's served there? Effectively, Greggs is a bakery, but it's so much more than that.
Let's start with its breakfast options. Whether you're an early riser or craving a breakfast fix at any time of the day, Greggs has you covered. It offers warm rolls and baguettes stuffed with bacon, sausage, and egg, including some vegan options.
Now, onto the all-day offerings. Greggs is famous for its savory pies and pastries, each one a pocket of flavor heaven. From the classic steak bake with its rich filling to the iconic sausage roll that's simply irresistible, you'll find yourself coming back for more. It has several veggie and vegan takes on its classic savory options, including vegan sausage rolls.
But Greggs isn't just about savory treats. It also has sweet baked goods, including donuts and Belgian buns. We mustn't overlook its coffee and hot drinks. Greggs serves up a mean cup of joe, perfect for getting that caffeine fix while you enjoy your meal.
Wrapchic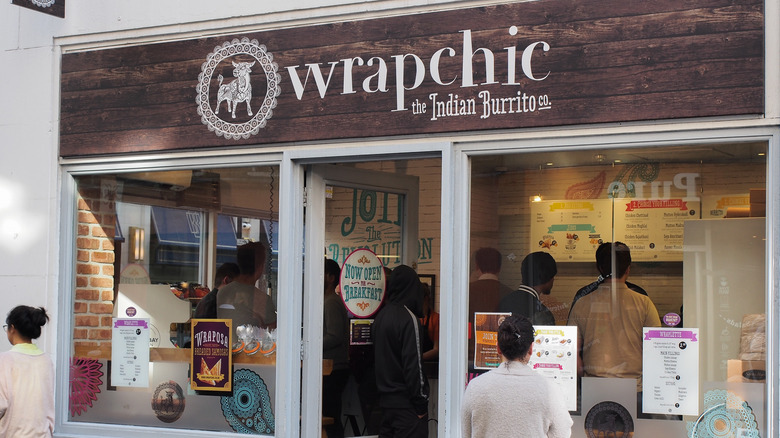 SophieOst/Shutterstock
Since opening its first branch in Birmingham, U.K. in 2012, Wrapchic has surged in popularity and now has branches all over Britain. This chain is effectively an Indian-Mexican fusion, offering Indian flavors with the convenience of being housed in a Mexican tortilla wrap. This makes it a perfect fast-food item for eating on the go.
If you visit a branch of Wrapchic, you're in for a treat. Brace yourself for a mouthwatering selection of wraps filled with scrumptious fillings that are sure to transport you to a whole new world of flavor.
Its burritos are the stars of the show, featuring a warm, soft tortilla filled with a choice of delightful Indian-inspired fillings. From aromatic chicken methi to flavorful paneer masala, every bite is a burst of flavor.
And that's not all — it also offers bowls filled with rice or salad and topped with your favorite Indian curry or protein option. It's like a deconstructed burrito that allows you to savor each ingredient individually. There are also "Wrapchos" on the menu, which are effectively nachos piled high with Indian-inspired toppings.
One thing that sets Wrapchic apart is its commitment to using high-quality ingredients and preparing its dishes with love and care. While it might seem like a gimmick to fuse Indian and Mexican food, the resulting dishes are delicious and well worth trying.
Nando's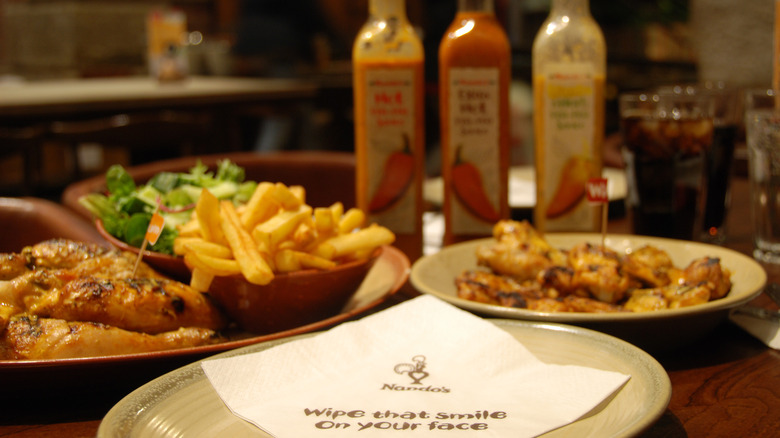 easyknotcocco/Shutterstock
It seems like half the population of the U.K. is obsessed with going for a cheeky Nando's — it's even approved by Prince William. Although Nando's originated in South Africa, it took off like a rocket ship in Britain and has become a national treasure.
But what exactly is Nando's and what does it serve? The restaurant specializes in peri-peri chicken, a dish made using African bird's eye chili. If you're looking for a lip-smacking blend of Portuguese-African flavors with a dash of South African spice, Nando's is the place to be.
Peri-peri chicken is marinated in Nando's secret peri-peri sauce, a blend of chilies, herbs, and spices that creates an explosion of flavors on your palate. You can choose various spice levels, from "plain" for a mild taste to "extra hot" for those who dare to take on the fire. If you're not in the mood for chicken, Nando's has got you covered with alternative protein options. Their veggie and plant-based alternatives, such as the Spiced Chickpea Burger or the Great Imitator Wrap are just as flavorful and satisfying.
But Nando's is more than just chicken and veggie alternatives. It's got a variety of sides and salads to complement your meal. From crispy peri-peri fries and spicy rice to fresh coleslaw and crunchy corn on the cob, the options are plentiful. 
Although it was once exclusively found in South Africa and Europe, Nando's has since branched out. Its U.S. presence includes locations in Maryland, Illinois, Washington D.C., Virginia, and Texas.
Ben's Cookies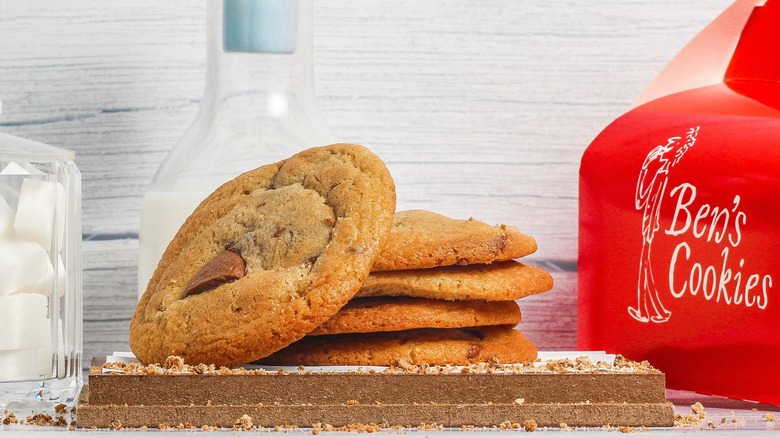 Bylens/Shutterstock
Fast food might normally be savory, but any examination of fast food in the U.K. wouldn't be complete without a word on Ben's Cookies. It's a well-known and beloved chain of cookie shops in the U.K. Founded by Helge Rubinstein in 1983, the first Ben's Cookies store opened in Oxford. Since then, it has grown in popularity and expanded across the nation.
What sets Ben's Cookies apart is its commitment to creating fresh, irresistible cookies made with high-quality ingredients. It uses a simple and traditional recipe, ensuring that each cookie is packed with flavor and baked to perfection. Its cookies are often described as soft, gooey, and indulgent, making them a favorite among cookie enthusiasts.
The menu at Ben's Cookies typically features a variety of cookie flavors to suit different preferences. From classic options like chocolate chip and double chocolate to more adventurous choices like peanut butter and white chocolate cranberry, there's a cookie for everyone. It even offers some vegan options, so those that forgo animal products won't have to miss out.
One of the things that make Ben's Cookies stand out is its emphasis on using natural ingredients. Without artificial additives or preservatives, the flavors of the cookies shine through. The cookies are baked fresh in each store, so you can pick them up while they're still warm from the oven.
Harry Ramsden's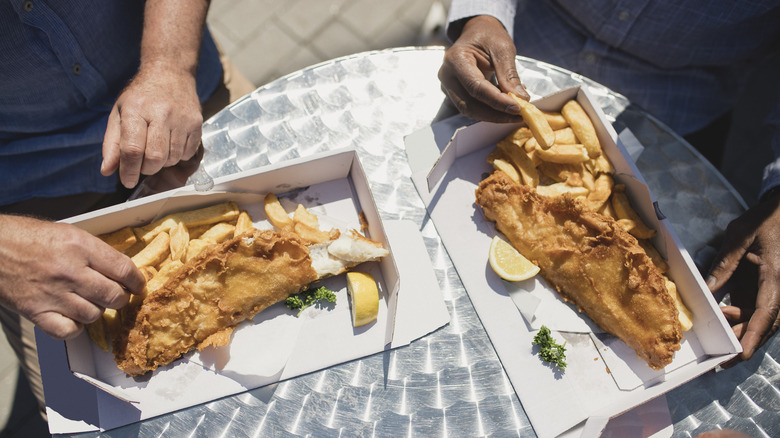 Solstock/Getty Images
When you think of British cuisine, fish and chips might be one of the first things that comes to mind. And it's not just a stereotype, either — Brits really are obsessed with this tasty combination. While there are many independent restaurants that serve this iconic fast food, there's also a popular fish and chip chain: Harry Ramsden's.
This eatery has been famous for serving up classic and delicious fish and chips since 1928. It all started with Harry Ramsden himself, who opened a small fish and chip shop in a wooden hut in Guiseley, West Yorkshire, England. Ramsden's dedication to perfection and high-quality ingredients soon earned him a reputation for the best fish and chips in the region. As word spread, his business grew, and Harry Ramsden's became a household name across the U.K.
It now has many locations, some of which are takeaway-only while others offer both takeaway and seated options. In addition to chips and battered fish, it also serves other chip shop classics, such as battered sausages and burgers. It has a battered halloumi option for vegetarians. There's also the kinds of sides and sauces you'd expect to find in a British fish and chip shop, including mushy peas and curry sauce.
The restaurants maintain a traditional and nostalgic ambiance, reminiscent of the classic fish and chip shops of old. Many of them feature cheerful and vintage-inspired interiors, creating a warm and welcoming atmosphere for diners.
Chaiiwala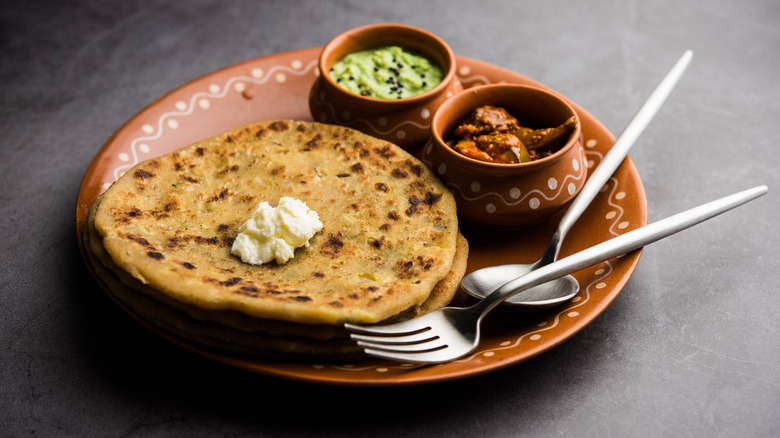 Arundhati Sathe/Getty Images
Indian food has been a staple in the U.K. for decades and the country boasts some of the greatest and most authentic options outside of India. However, going out for an Indian meal is generally a sit-down, multi-course affair — far from fast food. Enter Chaiiwala, serving Indian street food across the U.K. so customers can enjoy these delicious, complex flavors when they're in a hurry.
The clue is in the name — Chaiiwala is known for its excellent chai tea. It offers a range of authentic Indian tea blends, each infused with a medley of aromatic spices. Whether you prefer tea hot and comforting or chilled and refreshing, Chaiiwala has you covered.
But Chaiiwala is not only about tea — it's also a paradise for street food enthusiasts. Its menu is bursting with a delightful selection of Indian snacks and treats, perfect for a quick bite or a filling meal. Popular options include aloo paratha — a flaky flatbread stuffed with a potato filling — and masala chips — crunchy potato fries with a masala sauce.
If you feel like something sweet after your meal, it also serves dessert. There are some classic Indian desserts on offer, including halwa and gulab jamun, as well as Western desserts with an Indian twist, such as chai cake and ghulab jamun cheesecake.