Old-Fashioned Creamed Cucumber Slices Recipe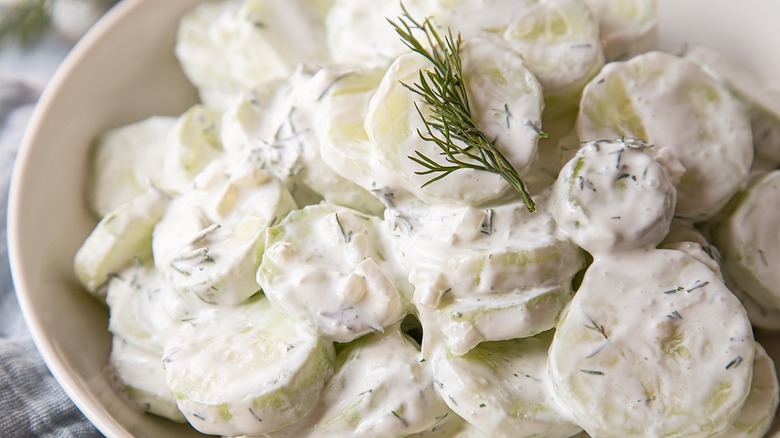 Kate Shungu/Mashed
Simple side dishes are an excellent addition to complete a basic meal. Whether you want to add a fresh vegetable accompaniment to lunch or bring an easy salad for a potluck or barbecue, these old-fashioned creamed cucumber slices are the perfect option. Mashed recipe developer Kate Shungu brings us this delightful recipe that combines crunchy cucumbers with sour cream, vinegar, and fresh dill for a tangy and tasty dish.
Shungu shares, "My grandma made a version of this recipe many years ago, so it was fun to recreate something that she served her family." Classic vegetable sides are a timeless way to round out a simple meat dish or even a sandwich for lunch. Although these cucumber slices need to be chilled a bit before serving, the prep work is done in 10 minutes, leaving you plenty of time to prepare the rest of your food or enjoy a bit of downtime before you eat.
Gather the ingredients for these old-fashioned creamed cucumber slices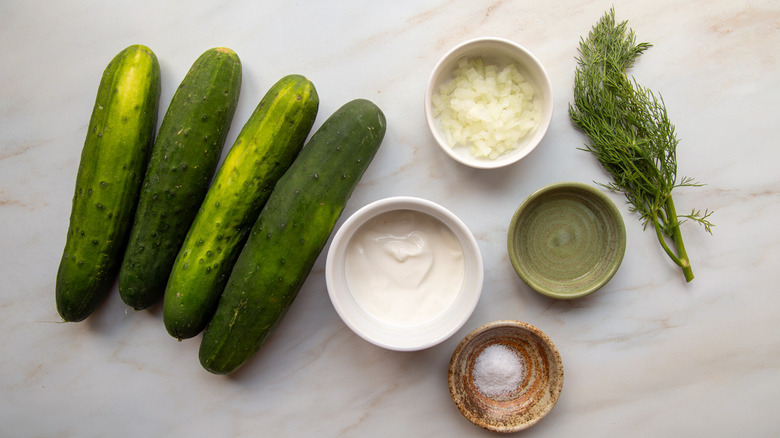 Kate Shungu/Mashed
If you're headed to the grocery store to pick up the ingredients for this recipe, you'll need to stop by the produce section and grab medium-sized cucumbers, yellow onion, and fresh dill.  You'll also need salt, sour cream, and white vinegar. "You can substitute white wine vinegar or apple cider vinegar for the white vinegar, if you prefer. 
Salt and chill the cucumbers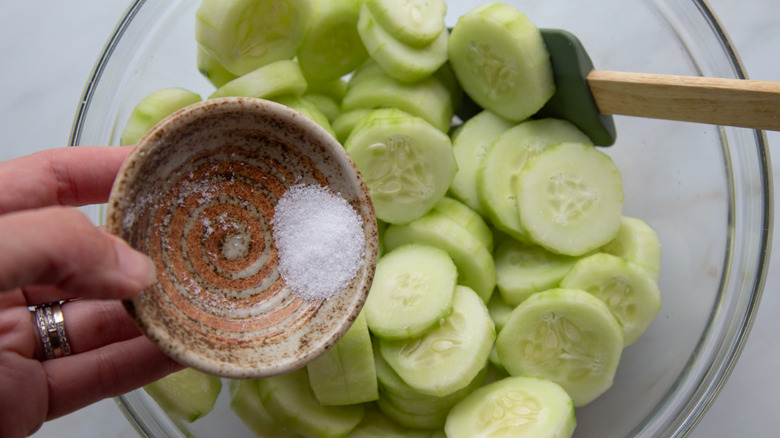 Kate Shungu/Mashed
Get a large bowl and add in all the peeled and sliced cucumbers. Sprinkle the salt on top and toss the slices to cover them in salt, then transfer the bowl to the fridge for one hour. Shungu says that this step is essential and explains, "The salt softens the cucumbers so they are slightly tender, making this salad perfectly seasoned and easier to eat."
Make the sour cream mixture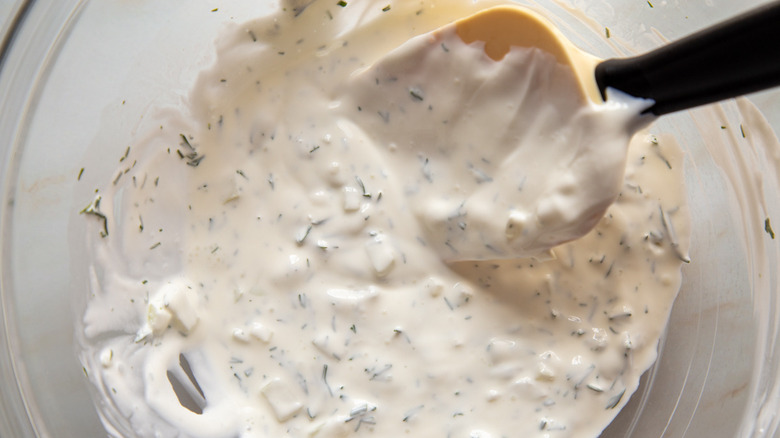 Kate Shungu/Mashed
While the cucumbers are chilling, add the sour cream, vinegar, chopped onion, and dill to a large bowl. Mix everything together to make a uniform sauce.
Drain the cucumbers and combine with cream sauce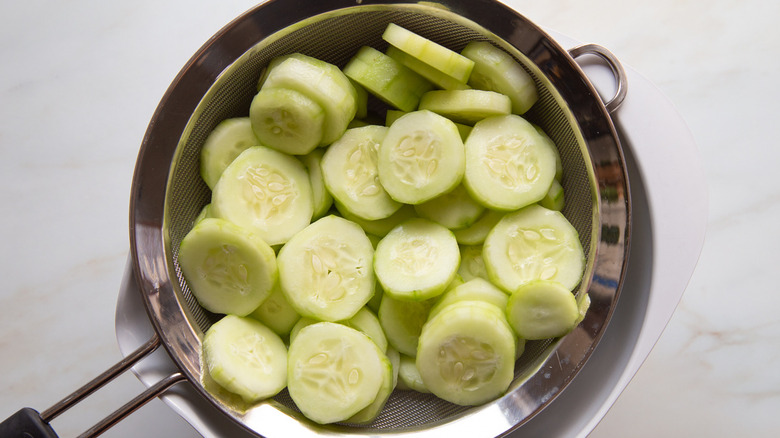 Kate Shungu/Mashed
Once the hour is up, transfer the cucumber slices to a colander to drain off the excess liquid. Then, add the salted cucumbers to the sour cream mixture and stir to coat all of the slices.
Serve this old-fashioned salad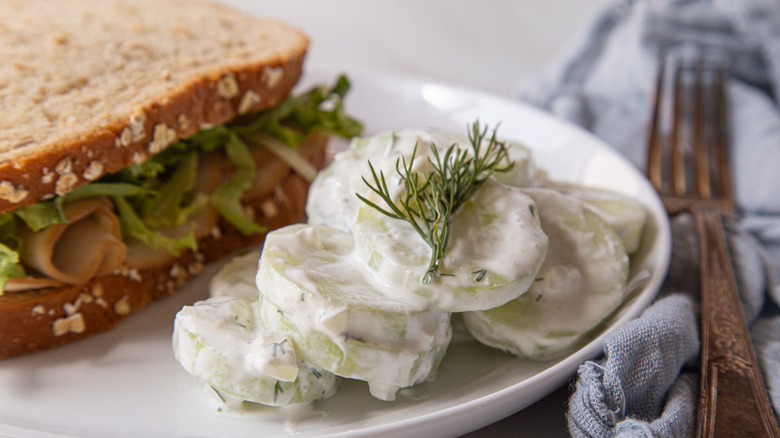 Kate Shungu/Mashed
Shungu recommends serving these old-fashioned creamed cucumber slices immediately or chilling them for a few hours before dishing them out. She notes, "You'll want to enjoy this salad on the same day that it's made," as she explains that "The sour cream starts to separate after a day or so in the refrigerator."
Munch on this cucumber dish straight out of the fridge or serve it with grilled chicken or burgers, per Shungu's suggestion. She also notes, "This is a great cookout side dish."
Old-Fashioned Creamed Cucumber Slices Recipe
Tired of making the same few recipes on repeat? Take inspiration from the past! This recipe for old-fashioned creamed cucumber slices is an oldie but a goodie.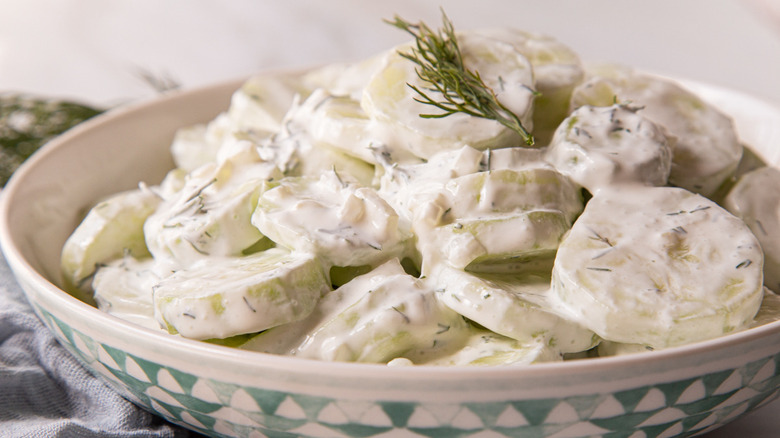 Total time: 1 hour, 10 minutes
Ingredients
4 medium cucumbers, peeled and sliced
1 teaspoon salt
⅔ cup sour cream
1 tablespoon white vinegar
2 tablespoons yellow onion, finely chopped
1 tablespoon fresh dill, roughly chopped
Directions
Place the sliced cucumbers in a large bowl, then sprinkle with salt and toss to combine.
Refrigerate for 1 hour.
Meanwhile, add sour cream, vinegar, onion, and dill to a large bowl and mix to combine.
Drain the cucumbers in a colander and discard the liquid.
Pour the cucumbers into the bowl with the sour cream mixture and stir to combine.
Serve the cucumbers right away, or chill for several hours before serving.
Nutrition
| | |
| --- | --- |
| Calories per Serving | 76 |
| Total Fat | 5.1 g |
| Saturated Fat | 2.6 g |
| Trans Fat | 0.2 g |
| Cholesterol | 15.1 mg |
| | |
| --- | --- |
| Total Carbohydrates | 7.3 g |
| Dietary Fiber | 0.9 g |
| Total Sugars | 3.7 g |
| Sodium | 399.4 mg |
| Protein | 1.7 g |