Wawa Is Set To Become Your Next Go-To Fast Food Pizzeria
If you're already someone who finds yourself within driving distance of a Wawa on a regular basis, then you know the kind of reputation it has. Wawa has long been one of the chain convenience stores that have a bit of a cult following, and one of its most beloved features is its menu of prepared drinks, snacks, and even full meals that can be ordered on-the-go and served up quickly. Still, in spite of the seemingly-endless list of prepared treats that we know we can get from Wawa, the newest food option is going to open up a whole new cheesy door.
In a press release, Wawa's Vice President of Fresh Food & Beverages, Mary-Rose Hannum, announced the newest menu item: Wawa Pizza. Yes, soon your late-night Wawa trips can include a 14 or 16-inch pizza pie — sizes that should work well for groups — and that just may change the snacking-on-the-go game for many of us. 
Nevertheless, Wawa Pizza persisted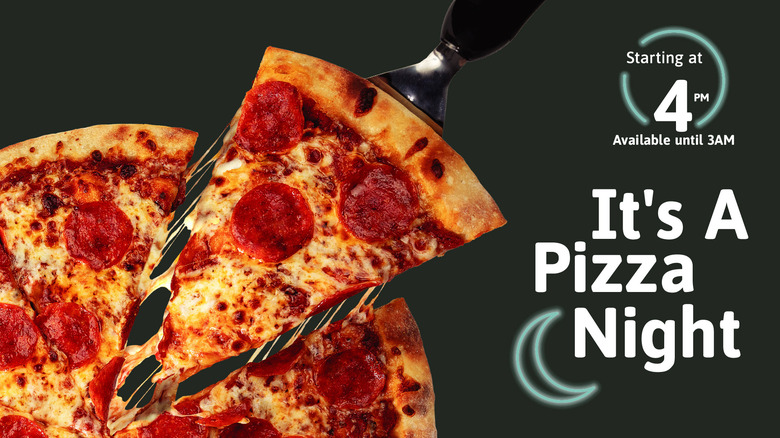 Wawa
According to the July 25 press release, the launch that will bring pizzas to over 900 Wawa locations has already begun. Wawa's Mary-Rose Hannum writes that the minds behind the chain are eager to "create a restaurant-like experience." Pizzas will be available between 4 p.m. and 3 a.m. starting at $12.99 and can be ordered on the Wawa app or on one of Wawa's famous touchscreens. The pizzas will be put together and baked in newly added in-store pizza ovens, and they'll come in plain, pepperoni, veggie, mushroom, and sausage.
Wawa Pizza sounds novel and exciting for many of us, but this actually isn't the chain's first attempt at getting into the pizza business. In the 1990s, Wawa partnered with a few fast food chains, including Pizza Hut. Pizza was removed from Wawa's menu not long after it was added, but the chain made an another attempt nearly two decades later. In 2014, Wawa offered personal deep-dish pizzas, but negative reviews left the chain backtracking again. While the phrase "Wawa Pizza" may sound foolproof, hearing that Wawa has a less-than-stellar track record with the popular food may give folks pause. Still, this new development will likely bring a welcome update to folks' beach days, as well as the ever-important late-night snack acquisition. As Hannum says in the press release, "It's officially a pizza night at Wawa!" Considering pies start being served at 4, it's technically also pizza late lunch.