Chain Convenience Stores That Have A Cult Following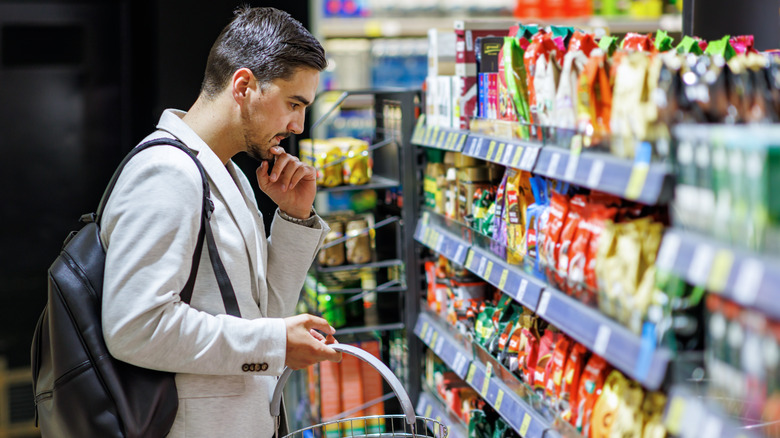 Realpeoplegroup/Getty Images
Sometimes you don't realize you're a chain convenience store addict until you start noticing that you have developed a regular routine to get your favorite drinks or foods. And when you find yourself in a city without your favorite convenience store, you likely panic. When Payless Power surveyed people about their gas station habits, they found that nearly 60% of customers choose their favorite station rather than the closest one or the one with the lowest prices. The average customer would go 18 minutes out of their way just to go to a favorite gas station, with places like Buc-ee's being worth the effort of driving 21 minutes out of their way.
Customers are drawn to convenience stores with meticulously clean locations and consistently friendly staff. Other draws include whole walls of fountain drinks, coffee, and slushies, along with craveable food items and snacks that are both naughty and nice. Some have even become travel destinations in themselves. Zealous fans continue to spread the gospel of their favorite convenience stores, even posting their latest snack runs on social media. We've set out to discover what makes some convenience stores so fan-worthy.
QuikTrip
QuikTrip has been providing fast and friendly service since the first one opened in Tulsa, Oklahoma, in 1958. Not only are they meticulously clean and well-organized, but it provides plenty of food options that become addictions. QT tends to draw in unwaveringly loyal fans with a variety of foods for nearly any craving. As the name promises, you'll get in and out quickly.
You'll find an entire side of the store devoted to coffee, soft drinks, and slushies. QT's roller belt food is actually more good than scary and ranges from hot dogs and egg rolls to taquitos and buffalo chicken bites with cheese. There are plenty of grab-and-go options, like breakfast and lunch sandwiches, fresh fruit cups, salads, and individual squares of chocolate or carrot cake. In the last few years, most locations have gotten a QT Kitchens area to make custom orders like pizzas, ice cream treats, fancy coffee drinks, and sandwiches. An order kiosk helps move the orders along and provides a ticket for payment.
As of January 2022, there were 900 QTs gathering adoring fans in 14 states. Most are in the South and Midwest. Once you've been to a QT, you feel spoiled walking into other local convenience stores like Casey's. When a QT finally comes to town, it's not abnormal to see people camping out in anticipation of opening day.
Kwik Trip and Kwik Star
While neither convenience store can spell very well, you shouldn't confuse with QuikTrip with Kwik Trip. Kwik Trip didn't open its first store until 1965 in Eau Claire, Wisconsin, which was seven years after and 740 miles away from QuikTrip. If you're comparing the two, they're similar in many aspects — although you may be more likely to go to Kwik Trip than QuikTrip for grocery items.
Kwik Trip has continued to add new items to its offerings, including pastries, donuts, cold food like salads and sandwiches, and fried chicken. You can go in for a cheeseburger, pizza, or burrito — but you can also find side items like mac and cheese or mashed potatoes. Pop into Kwik Trip to grab a take-home meal like a meatloaf and potatoes dinner, beef stroganoff, or even a rack of bbq ribs, or nab a take-n-bake pizza also on offer. Beyond the normal canned and bottled beverages, you can pick up frappes and fruit smoothies — or healthier choices like yogurt and fruit trays.
There are around 850 locations in Wisconsin, Minnesota, and Iowa. However, keep in mind that in Iowa, the chain is called Kwik Star. In these three states, Kwik Trip and Kwik Star are the kings of convenience, with fans swearing firm allegiance to them. The chain has an obsessive online presence, with several Kwik Trip Enthusiast Clubs, which have racked up thousands of fans, loads of photos, and even Kwik Trip memes.
Wawa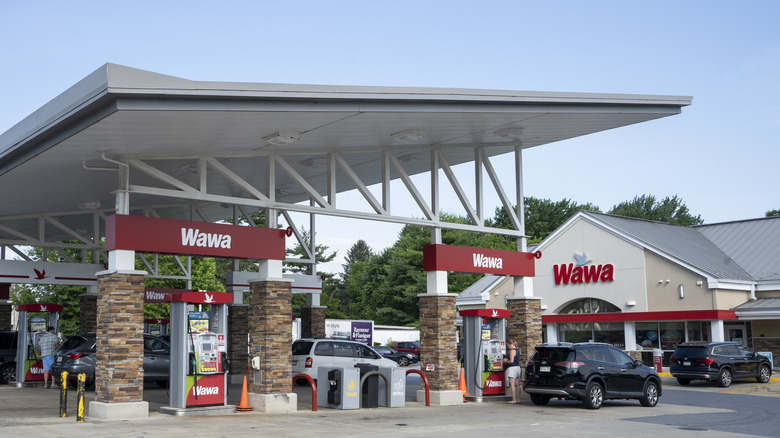 Hapabapa/Getty Images
Don't get a Wawa fanatic started about the superiority of Wawa to other convenience stores. Wawa has a cult following that includes over 1.3 million fans on its Facebook page. According to a Payless Power survey, the average customer spends 16 minutes and $84 during each Wawa stop, which is more than at any other gas station. Customers rate it high for cleanliness, customer service, and good food. Even if your car doesn't use gas, you can use Wawa for electric car charging. With 200 Wawas not even selling gas, it's holding its own in a different way than most convenience stores.
The prepackaged food section has options for everyone. You can fill up on high-quality coffee, made-to-order espresso drinks, pastries, frozen drinks, and milkshakes. A kiosk allows you to order a wide variety of sandwiches, including the chain's famous hoagies or its bistro-level paninis — you can even get soup and dessert.
Even if you have never been to a Wawa, you may have seen it on the TV show "The Goldbergs," which is set in Jenkintown, Pennsylvania. Wawa started out as a dairy farm in Wawa, Pennsylvania, in 1902. It delivered milk throughout the Philadelphia area before morphing into a convenience store in 1964 in Folsom, Pennsylvania. Fans of the franchise can now find over 950 Wawas in seven states along the east coast.
Sheetz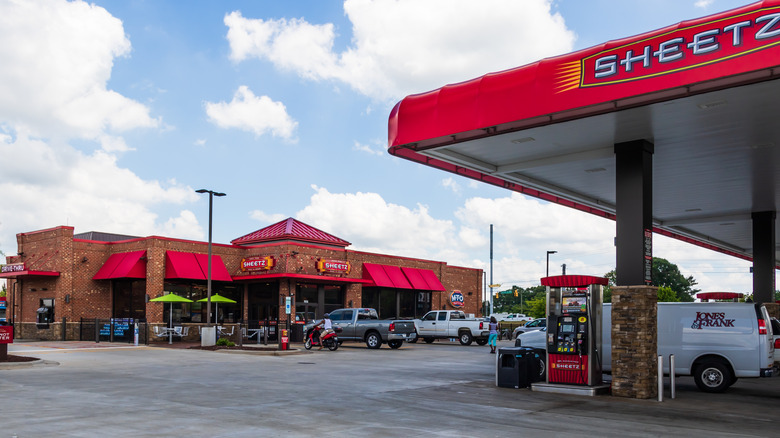 J. Michael Jones/Getty Images
You'll find some heavy opposing sentiments from rival Wawa and Sheetz fans. One Redditor from Pennsylvania calls Sheetz the "unhealthy version of Wawa." They say, "When I want s*** covered in cheese, I go to Sheetz. If I want good coffee and a decent hoagie, I go to Wawa." Some of the unhealthy foods you can get at Sheetz include frozen slushy drinks, shnack wrapz, hotdogs, custom-made specialty treat drinks, espresso beverages, and F'Real milkshakes. There are also fried foods like mac and cheese bites, fries, chicken fingers, and other "appz." Of course, pizza and Mexican-style food are also available. Like many other popular convenience stores, you can get sandwiches made to order. In fact, Sheetz was the first convenience store to try kiosk ordering – and you can even use it to order a Beyond Burger. Customers who can't seem to stop going to Sheetz can get a Rewards! card, with every $50 spent in the store earning them a free coffee, fountain drink, donut, or cookie.
If Sheetz sounds familiar, it might be because characters in Scranton, Pennsylvania, from the TV show "The Office" drank out of Sheetz cups or had other Sheetz props around the workplace. Sheetz got its start in Altoona, Pennsylvania, in 1952 when Bob Sheetz transformed his father's dairy store into what would eventually become a gas station and convenience store chain. You can now find Sheetz in over 670 locations in six states, all in the Northeast.
Buc-ee's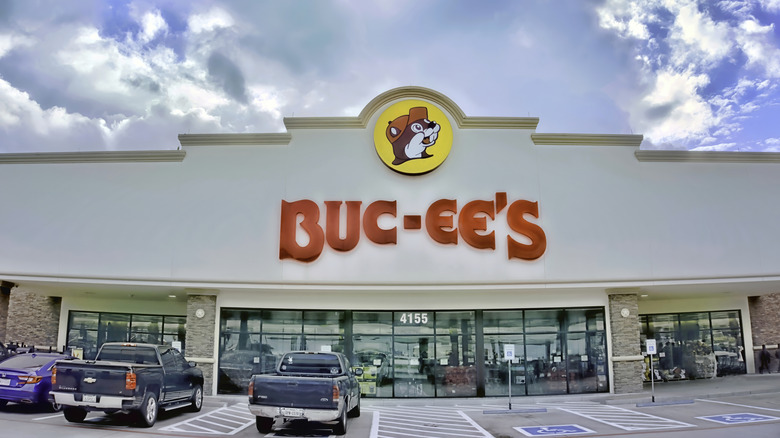 Mj0007/Getty Images
If you have a friend who visits Buc-ee's, you'll certainly know it because they will post pictures of everything from Buc-ee's they never knew they needed (until they went inside) on social media. One Redditor explained their love for Buc-ee's this way: "Because when I'm driving from La Grange to Galveston, I never know if I might need to make an emergency stop for kolaches, a bedazzled cow skull, a deep fryer, and/or a variety of jams and jellies while I gas up." Going to Buc-ee's is largely about the food, the experience, and the "WTF did I just find?" factor. Its restrooms are also refreshingly cleaner than most you find along the interstate.
Some of the food delicacies you can expect to enjoy at Buc-ee's include sugary Beaver Nuggets corn puffs, Texas-style savory kolaches, fresh beef jerky in flavors you've never seen before (like maple cherry), pecan logs, frozen slushy drinks, Mayhaw jelly, Texas-style barbecue, and pickled quail eggs. It's also unheard of to leave without at least considering buying branded kitsch with Buc-ee the beaver on it.
If you want to find out what the big deal is about Buc-ee's first hand, you'll have to luck upon one of the 40-something locations in Texas, Florida, Alabama, or Kentucky that have opened since 1982. At 66,335 square feet, the New Braunfels, Texas, location holds the world record for being the world's largest convenience store, which is about half the size of the average Sam's Club.
7-Eleven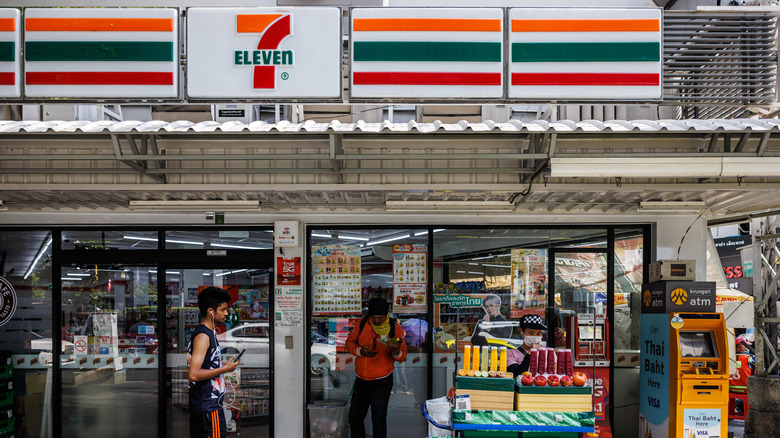 Bloomberg/Getty Images
7-Eleven is known for its gigantic Big Gulp fountain drinks and its original Slurpees. However, there's plenty of other junk food available, including hot offerings like pizza, cheeseburgers, boneless wings, and Korean BBQ taquitos. A Redditor explained the appeal of 7-Eleven by stating, "I'm fully aware that the food is trash. It's a guilty pleasure of mine." Plus, it's cheap. Newly-designed stores even allow you to buy craft beer and tacos. New Scan & Pay technology cuts out the cashier experience as well. Oddly enough for a convenience store, 7-Eleven has become more popular than even Aldi and Kroger for buying groceries, which may be partly due to food deserts.
The first 7-Elevens started as ice houses in 1927 in Dallas, Texas, called Southland Ice Company. It eventually began selling food and changed the name to 7-Eleven in 1946 to remind people of the store hours. 7-Elevens became Kwik-E-Marts for a hot minute in 2007 in anticipation of the Simpsons Movie. You've likely heard of 7-Eleven even if you don't live in the U.S. That's because it's the biggest convenience store chain in the world. With over 78,000 locations, there are almost twice as many 7-Elevens as McDonald's. Fourteen thousand of those stores are in the U.S. and Canada. Despite its worldwide reach, many people have never stepped into a 7-Eleven in the U.S. because an astonishing 19 states don't have one.
Casey's
For years, Casey's store design and logo made it look like a generic mom-and-pop convenience store. However, in 2020, the company finally dropped the "General Store" portion of its name, modernized its logo, and began revamping the whole store image. It went from a place you'd pass by in favor of another convenience store to one that actually looked inviting. It still doesn't have the same appealing offerings as places like QT, but it's getting there.
Its real claim to fandom comes from its pizza. If you don't go for in for anything else, you might walk in and grab a pizza on a Friday night since it tastes as good as or better than any other pizza you can find locally, including Domino's. If you live in a small town, it may be the only place to get a pizza that doesn't come from your freezer. Plus, the store has a breakfast pizza that's also surprisingly tasty. However, you can also grab donuts, sandwiches, and random sides like macaroni, chicken tenders, and cheesy breadsticks.
Donald Lamberti started out turning his dad's service station into a convenience store in Boone, Iowa, in 1959. In 1968, he got the idea of turning other service stations in small towns into Casey's General Stores. There are currently over 2,300 Casey's in 16 states, mainly in the Midwest but dipping as far south as Oklahoma and Arkansas and spilling into Tennessee where its fanbase still thrives.
Ampm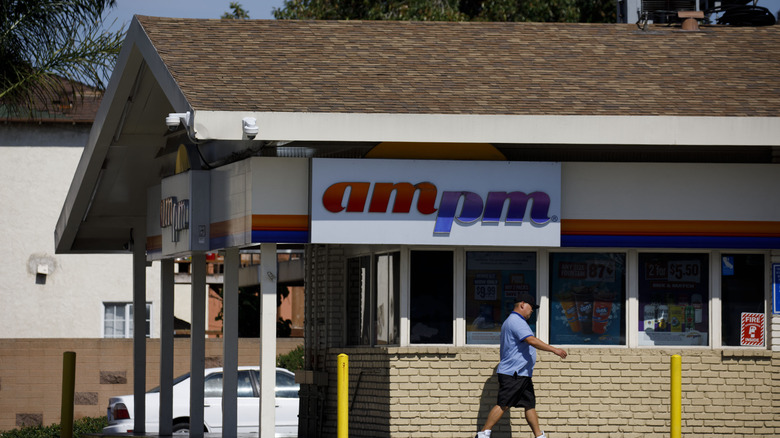 Bloomberg/Getty Images
Ampm has a lot of craveable food offerings that fuel its fandom. In fact, the chain has coined a new word for the combination of convenience and nom-worthy food that it offers: "Crave-venience." If you're craving a McDonald's McRib during the off-season, you'll find that the Ampm pork rib sandwich tastes pretty close. The cinnamon rolls are also nostalgia-worthy for anyone who no longer lives near an Ampm. Other food offerings that people rave about include the cheddarwurst and salted caramel cookies. It has normal convenience store items like slushies, but you can also get Mexican pastries like conchas.
One fun thing Ampm offers its hardcore fans is the chance to play an in-app Scratchers game, which allows them to try for a chance to win free food. Check-ins at an Ampm — and winning and Tweeting about it — get you even more scratchers. So, customers can be obsessive about stopping by Ampm. Since anything you win expires in 48 hours, they get you in the door quickly, hoping you'll buy something else and start the process over again.
If you don't live on the West Coast, you probably don't have an Ampm in your city. However, you might still recognize it from the "Terminator 3 Rise of the Machines" movie. This BP-owned convenience store has been around since 1978 and has over 1,000 locations in five states.
Kum & Go
Kum & Go might have a snicker-worthy name, but it's really evolved into a place you want to stop for convenience food. It tends to be clean and is often nicer than nearby convenience store options. Plus, it has really upgraded its food in recent years. Sure, there are the expected donuts, fountain drinks, sandwiches, and roller foods; however, we were genuinely impressed during our visit to see so many healthy snacks and modern food offerings. You can expect to find healthier snack brands from Jackson's chips to Nick's Sticks jerky. Plus, you'll find a microwave for heating up meals ranging from big ramen bowls to refrigerated chicken tikka masala and pierogies. You can even find gourmet chocolate bars alongside staples like Snickers. So, Kum & Go is trying to woo people who don't want the junk food offerings that the average convenience store offers. Of course, if you're not into healthier foods, you can still satisfy your craving for more naughty convenience store fare.
Even the food from the kitchen is more sophisticated than usual food from a convenience store kitchen. You'll see grain bowls, burritos, and sandwiches with ingredients like chorizo, brisket, sweet potatoes, brown rice, Nashville hot chicken, pulled pork falafel, and fancy sauces. Plus, they have pizzas.
Kum & Go originated in Hampton, Iowa, in 1959, and over a fourth of the locations are in Iowa. However, there are close to 400 Kum & Go locations in the U.S. in 13 states, nearly all west of the Mississippi River.
Wally's
Wally's was created with the intention of providing an interesting stopping point along classic Route 66. Like many modern attractions along Route 66, it tries to capture retro nostalgia in its decor. Wally's says it's the "Home of the Great American Roadtrip." While it looks to the past for decorating inspiration, it continues to look to the future with covered e-charging stations to cater to more than just gas-driven vehicles. The inside has a clean and open feel, featuring three "experience stations," including BBQ, a cafe, and popcorn. The cafe has eight flavors of hot drinks, along with cold drinks like Sloosh, fountain drinks, nitro cold brew, and kombucha. There's also plenty of merchandise to buy, but it's more practical than outrageous like at Buc-ee's. You'll still find Wally's branded items, but they will be alongside camping equipment and items to help make your road trip better instead of the "bedazzled cow skulls" at Buc-ee's. One fan on Reddit says they love it because it "feels and smells like America." No, we're not sure either what that means.
If you haven't heard of Wally's yet, it's probably because it opened its first location in Pontiac, Illinois, only recently in 2020. There are currently only two locations: One in Pontiac, Illinois, and another in Fenton, Missouri along historic Route 66.
Love's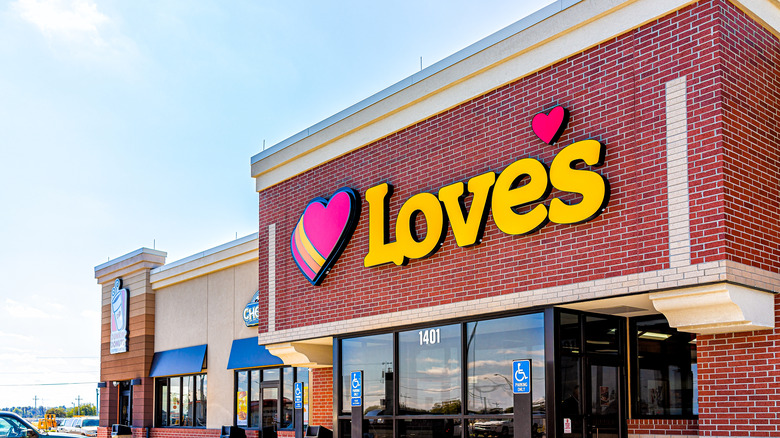 Andriy Blokhin/Shutterstock
If you travel the interstate much, you've probably started looking out for Love's signs shining as a beacon in the distance. You know Love's will be clean and have clean restrooms and nice showers. We've also found that, if you're traveling with a baby, there's no gamble about whether or not it will have a baby changing station. Since it usually has a connected dine-in restaurant like Subway and McDonald's — along with lots of truck parking — it pulls in more than its fair share of interstate business. There are plans to pair more locations with a Middle Eastern restaurant called Naf Naf in future years. Love's also tends to sell items you may have accidentally left at home on your travels, like charger cords or clothes. Plus, you can grab random souvenirs and gifts based on your location. Of course, there are other pluses, like snacks, frozen drinks, and frozen yogurt. Another fan-favorite for some travelers is free Wi-Fi and casino gaming rooms (where legal).
1964 was the first year you could find a Love's gas station where it all started in Watonga, Oklahoma. Now, there are over 630 Love's locations in the U.S. in 42 states, so you'll find one in most states you pass through. Since the chain adds 20+ new locations each year, they're even easier to find.
Stewart's Shops
Stewart's started out as an ice cream parlor back in 1945. The store eventually expanded outside its original location in Ballston, Spa, New York. Customers liked being able to build their own sundaes — and how they could buy milk there. When the company purchased a shop in Hudson, New York, it had to promise to sell gas and changed its model to be a supplier of dairy products, like ice cream, and gas. Over the years, it has branched out into serving non-dairy products like coffee, pastries, and Stewart's own line of refreshing drinks (not to be confused with Stewart's Fountain Classics soft drinks, which has a similar logo). In the 2010s, Stewart's added a kitchen that provided everything from salads and sandwiches to hot foods like macaroni and cheese and chili. Stewart's Shops products are popular enough to sell beyond its convenience stores. Fans can even buy bags of Stewart's Shops coffee and K-cups to use to make coffee at home.
Alas, motorists can only visit Stewart's in New York and Vermont, but there are now over 350 locations in those two states. If you live in either, you're likely a rabid Stewart's fan and go there for your dairy needs, snacks, coffee, beverage cravings, egg nog, and even groceries. However, having gas sets it a step above Braum's, as does its more expansive kitchen offerings — like BBQ pulled pork sandwiches, chicken parm, and subs.