7-Eleven's Self-Serve Iced Coffee Makes Starbucks Look Like A Joke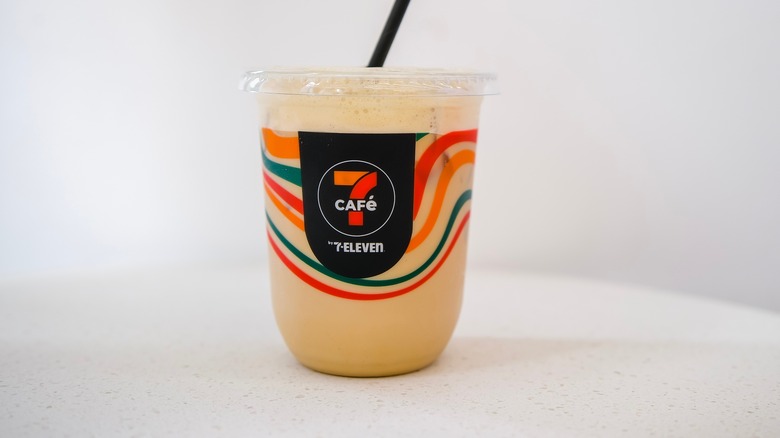 Abdul Razak Latif/Shutterstock
it's mid-summer, and we need an answer to a very important question: Where can we get the best iced coffee? Starbucks is the most famous coffee joint in the world, but when it comes to getting your morning pick-me-up on the cold side, is it the best? For many, the answer is "no." However, the iconic chain's stiffest competition may surprise you. 
According to QSR Magazine, from April 2021 to April 2022, cold brew coffee orders were up a whopping 27% at quick-service restaurants. Approximately 2.8 billion iced coffees were ordered at quick-service spots that year. The demand for chilled coffees you can grab on the go is rising, especially when the weather is warm. Where you can get your hands on the tastiest iced coffee is, of course, up for debate, but one place to grab an iced coffee on the go stands above the rest, and there's a good chance that you've been overlooking it — 7-Eleven. 
7-Eleven's iced coffee on tap will upgrade your coffee order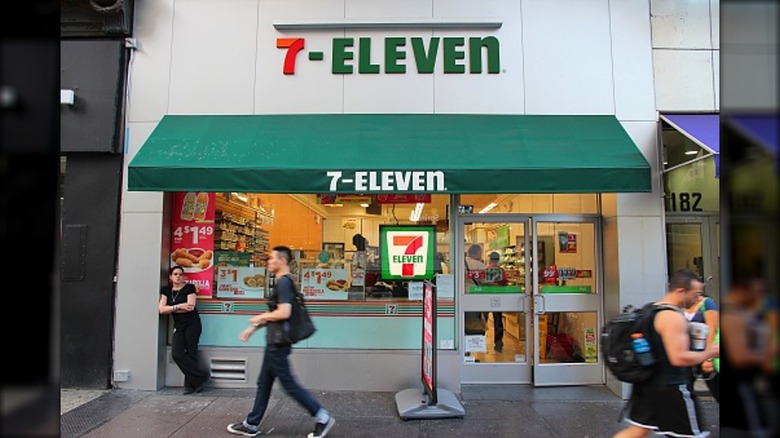 Tupungato/Getty Images
Move over, Starbucks. There's a new best-iced-coffee joint in town, and it isn't new at all. If you haven't stopped by your nearest 7-Eleven in a while, now may be the time, especially if you're craving a cool caffeine boost. For those of us who struggle to speak up over the crowds when uttering "one grande iced oat milk latte" or fear grabbing someone else's cup when we believe we hear our name called, Starbucks mobile orders and drive-thrus have given us less to stress about. Still, 7-Eleven's self-service iced coffee eliminates any guessing involved in your current coffee-ordering routine. 
7-Eleven has iced coffee and cold brew on tap at self-service stations. This means that you get to use the taps yourself and customize your drink exactly as you wish. There are different flavors of coffee as well as decaf options to choose from. And, if you're a lover of experimenting with your coffee, then you'll be thrilled to know that your options don't stop there. There are seemingly endless International Delight coffee creamers, sweeteners, and flavors to mix, match and add to your coffee as you wish. Plus, unlike when you're ordering a coffee, you get to see and select exactly how much of any flavor goes in to ensure you're getting exactly what you want, allowing you to tweak your ratio for next time.
7-Eleven lets you save on your go-to iced coffee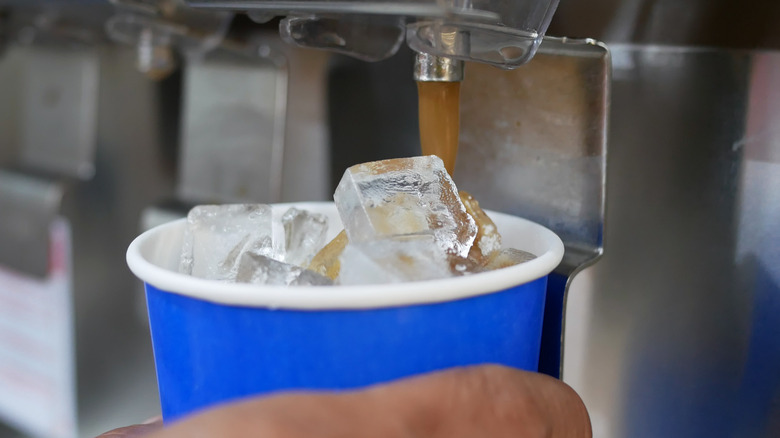 chanonnat srisura/Shutterstock
While many of us may have become so accustomed to Starbucks prices that we don't even blink an eye when we're ready to order our favorite iced coffee, they are pretty pricey. For the chain's medium-sized Grande, an iced caffè Americano will set you back $3.85. Unsurprisingly, the price will only go up from there as your drink gets fancier. The classic Starbucks cold brew costs $4.45, while their Nitro cold brew is a whopping $5.25.
7-Eleven's bespoke coffee experience can get you any size for prices ranging from just $0.99 to $1.29. Plus, the store's current 7Rewards promo allows you to get every seventh iced coffee free on the app, which manages to make it even more of a savings. As for the coffee, everyone's tastes are different. Still, the 7-Eleven website boasts three years in a row winning the North American Golden Bean Award for Champion in the Large Chain Store category for their special blend from Canterbury Coffee. While your local 7-Eleven's iced-coffee tap may not be able to exactly replicate your go-to Starbucks order, you're free to do plenty of experimenting to make your new favorite iced coffee even better and for quite a savings.