7-Eleven Is Kicking Off Pumpkin Spice Latte Season Early
While many of us start to feel wistful when September approaches, fans of back-to-school, cooler weather, and changing colors cheer. Once the season begins to transition from summer to autumn, pumpkin lovers also get excited, because the announcement of their favorite drink is right around the corner. This year, they can begin their rejoicing even earlier, as 7-Eleven declared in an August 1 press release that it's already unveiling three autumnal options: pumpkin syrup, pumpkin coffee, and pumpkin spice latte, which will be available at participating 7-Eleven, Speedway, and Stripes locations through October 31.
Pumpkin spice season came early at 7-Eleven last year, too, but this year sees it roll it out four days sooner. Along with pumpkin-flavored drinks, the apple cider donut is also available for a limited time, and customers who are part of the 7Rewards and Speedy Rewards programs can purchase apple snack pies or apple danishes for $1. And of course, pumpkin muffins are right behind the drinks, due in stores by the end of August. For those that want their pumpkin spice latte and apple cider donut brought to them, they can order through the 7NOW Delivery app.
Fall beverages begin to appear earlier each year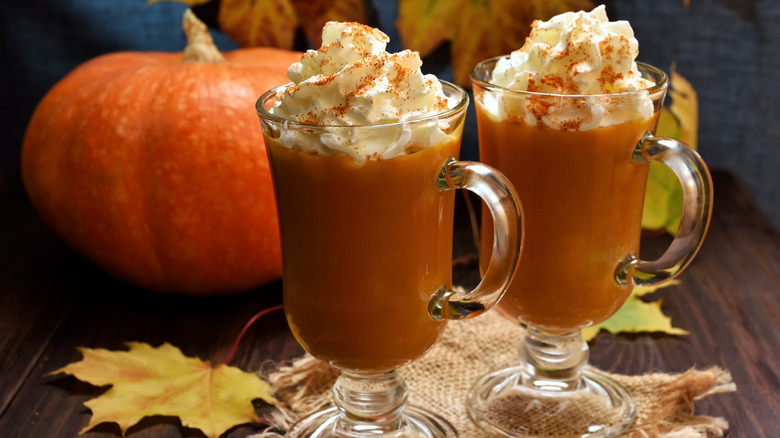 Tatiana Volgutova/Getty Images
The pumpkin spice latte became a fall staple shortly after it was first introduced by Starbucks in 2003. The union of cinnamon, ginger, nutmeg, and cloves mixed with espresso and milk made the drink's popularity undeniable, and soon 7-Eleven, McDonald's, Dunkin', and Krispy Kreme all had their own versions. The drink's combination of sugar, salt, and fat makes customers keep coming back for more, which helps explain why the (very profitable) drinks keep rolling out earlier and earlier each year. The 2020 release date of the beverage marked the last time 7-Eleven debuted the beverage in September.
Even fans of fall have been finding themselves frustrated at the early roll-outs of seasonal items, though. Krispy Kreme is joining 7-Eleven with the August trend, announcing that customers can begin purchasing pumpkin spice-flavored drinks and doughnuts on August 8. One food blogger has also claimed on Instagram that Dunkin' is beginning its fall menu on August 16, and — perhaps due to increased competition — Starbucks has moved its fall lineup from August 29 to August 24.
While the idea of pumpkin spice lattes appearing in July may seem crazy to many, Starbucks' pumpkin spice cold brew coffee and Fall Blend K-Cup pods were both spotted on Walmart shelves by one Instagrammer in July this year, so that day may be closer than you think.