Sam's Club Beer Cheese Popcorn Enters Stores And Captures Hearts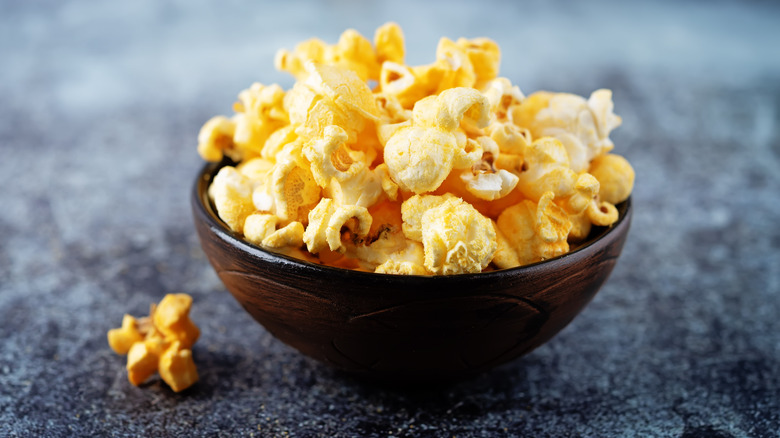 Nataliya Arzamasova/Shutterstock
We all know that pumpkin spice is the quintessential flavor of fall, though with 7-Eleven kicking off pumpkin spice latte season early this year, we could argue it's becoming the flavor of the summer. However, for those who gravitate toward more savory eats, few things scream fall more than a vat of warm beer cheese.
An Oktoberfest staple, beer cheese has unexpected origins and is an essential component of any tailgate. Plus, it pairs perfectly with pretzels, chips, crudités, and ... popcorn? Yes, popcorn. Or, at least, that's what several Sam's Club shoppers think after sampling the latest snack offering from the chain.
Spotted in several warehouses over the last few weeks, Member's Mark beer cheese popcorn is the newest must-buy for Sam's Club cardholders. Some might see this as the perfect snack to have on hand when they crave the flavorful dip but don't feel like pulling out the crockpot to make it. The limited-edition treat features the chain's classic popcorn coated in a beer cheese flavor dust. Don't tell pumpkin spice, but it might have a new competitor. 
What Sam's Club members are saying about beer cheese popcorn
Sam's Club's new Member's Mark beer cheese popcorn is available in 14-ounce bags retailing for $4.98, though prices may vary by location. The treat is only available for a limited time, but even with the threat of never seeing it again looming in your mind, we understand some may not be able to decide whether it's worth buying. However, per the advice of several Sam's Club members, the answer is undoubtedly "yes."
Instagram user @samsclubfoodreviews is one supporter of the retailer's new snack, which they awarded an impressive score of 9.5 out of 10. "The cheese powder had an authentic and non-artificial taste, generously coating each popcorn piece with a creamy and slightly sharp cheddar flavor that's absolutely crave-worthy," they said. The reviewer also noted the beer flavor was subtle but blended well with the rest of the spices, and the popcorn had a nice, crunchy texture. TikToker @bootlegfoodreview also enjoyed the cheesy munchie, though they did note in their taste test that it has a slightly overpowering garlic taste, which may linger after you've finished snacking.
Meanwhile, on the Sam's Club website, members have given the beer cheese popcorn a rating of 4.5 out of 5. One even shared how they made a party mix with the snack by combining it with pretzels and peanuts. Yum!