Use Instant Mashed Potatoes To Easily Make Nostalgic Smiley Fries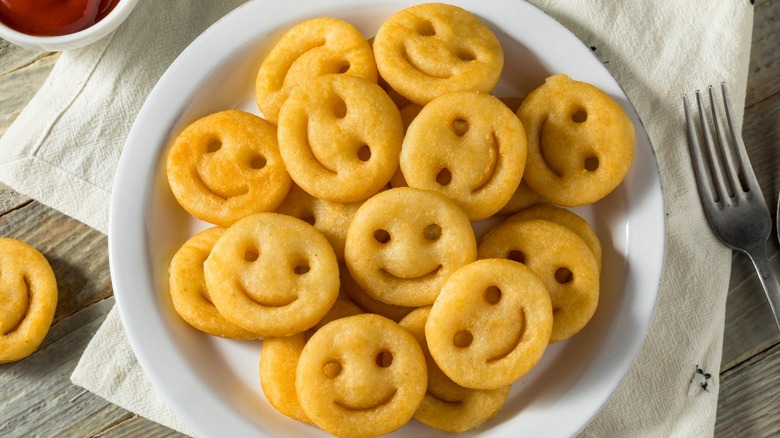 Hofacker/Shutterstock
Smiley fries are one of those foods that invoke immediate feelings of nostalgia, and they're as fun for kids today as they were for the previous generation. McCain, the company behind Potato Smiles, discontinued the item in 2015. This caused such a ruckus that the company brought them back in 2020. However, while they're available in stores, there are ways to make smiley fries at home — one of which involves using instant mashed potatoes.
That's right, turning boxed mashed potato powder into smiley fries is possible. It's likely the quickest and most convenient way to make them at home. All it takes is a few common kitchen tools, mashed potato mix, eggs, flour, and oil. The end result looks nearly as impressive as the McCain brand Potato Smiles, and it won't break the bank. Plus, the experience of making these with friends or family will have everyone smiling along with the homemade fries.
How to make smiley fries with instant mashed potatoes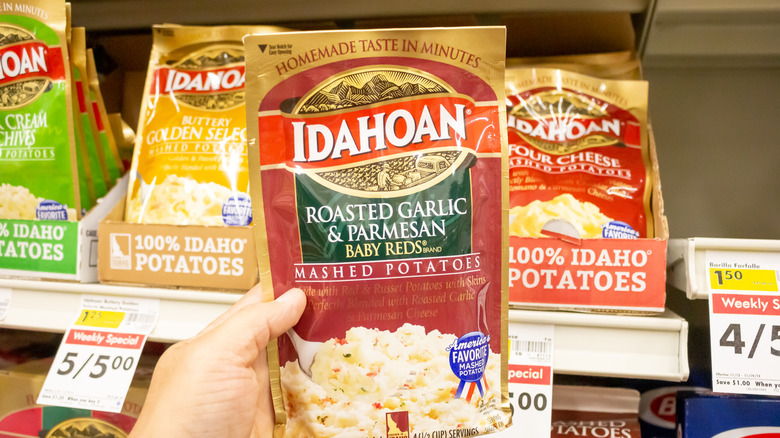 The Image Party/Shutterstock
TikTok creator @arimonika demonstrates how to make smiley fries in a viral video, using Idahoan's roasted garlic mashed potatoes as the base. The creator starts by combining mashed potato mix, an egg, 2 cups of water, and ⅔ cup of flour in a large bowl. Once that's all blended together, they sprinkle flour onto a cutting board and flatten the potato mixture on top. Then they use a small, round cup to create circles in this flattened base. From there, they carve smiley faces into these circles and pop them out.
After the smiley fries are shaped, it's just a matter of cooking them. The TikTok video recommends frying them in peanut oil, but any oil will suffice. The fries may not come out as perfectly shaped as McCain's. However, they'll still have a cute nostalgic appearance and a crispy texture.