Aldi UK's Viral McDonald's Copycat Chicken Strips Have Us Wishing We Were British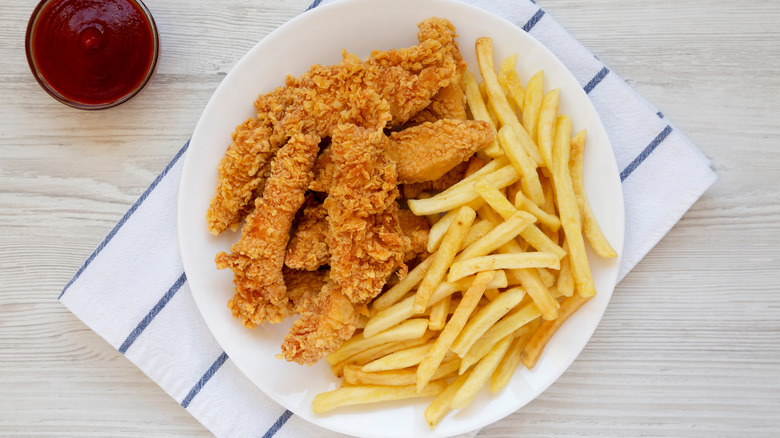 Liudmyla Chuhunova/Shutterstock
Outside of its competitive prices and limited-time specially selected products, Aldi has made a name for itself among customers thanks to its copycat products. It even has a Chick-fil-A copycat sandwich you can still have on Sundays. However, Aldis in the United Kingdom has even more products than in the U.S., and these copycat McDonald's chicken strips may have you wanting to journey across the pond.
Aldi's chicken strips meal comes in a four-piece with a sweet chili dip or barbecue sauce, although you can always pick up a bottle of your favorite dipping sauce to substitute. The product is apparently a convincing dupe of McDonald's popular Chicken Selects, which first appeared on menus in 2004 as an alternative to chicken nuggets. Unfortunately, the fast food chain has since removed them — first in 2013 and then again in 2020 temporarily due to supply chain shortages caused by the Covid-19 pandemic.
One TikToker, in the United Kingdom, tried the Aldi copycat as well as some other McDonald's knockoffs and gave the product a raving review. In response, some potential shoppers shared their hopes of trying the product themselves.
How Aldi's chicken strips compare to the real thing
In a TikTok video, several commenters expressed excitement over Aldi's chicken strips, with one person writing, "Them strips are absolutely gorgeous." Another also wrote, "Amazing gem." However, not everyone was impressed with one user questioning why anyone would want to recreate fast food at home.
That may come down to convenience more than anything. All shoppers have to do is toss Aldi's chicken strips in the oven or air fryer. They don't have to wait in line at a drive-thru, so the appeal is understandable. However, as far as taste is concerned, one reviewer on YouTube actually compared it to a different restaurant — KFC. They described the crunch of the chicken batter as "southern-fried." Meanwhile, another reviewer praised the quality of the chicken meat itself.
While it sounds like many taste testers enjoyed the product, that's of little consolation to shoppers in the U.S. missing out. For now, your best bet is to buy a bag of Kirkwood crispy chicken strips or try out a copycat McNuggets recipe. But who knows what the future holds? Maybe, Aldi will add its copycat product to stores in the U.S., or McDonald's will once again resurrect its chicken strips.