MrBeast's Empire Is Hit By A $100M Burger Lawsuit
In late 2020, YouTuber MrBeast launched a ghost kitchen-based restaurant chain, MrBeast Burger. As of January 2023, the burger chain had brought in more than $150 million in revenue, with a net profit of about $30 million. Despite the initial success, however, MrBeast Burger now finds itself at the center of not one, but two beefy lawsuits.
At the end of July, MrBeast sued Virtual Dining Concepts — the ghost kitchen responsible for making MrBeast Burger's food — and alleged that the kitchen failed to control for quality. He further accused VDC of damaging his reputation by producing sub-par food associated with his name and brand and failing to compensate him accordingly.
In light of the YouTuber's lawsuit and the fact that he thinks his brand's burgers are inedible, VDC responded with its own lawsuit, claiming that MrBeast was trying to back out of the contract. VDC also alleged that MrBeast intentionally sabotaged the brand when he couldn't negotiate a new deal. As such, the ghost kitchen intended to sue him for $100 million.
MrBeast has beef with his ghost kitchen contract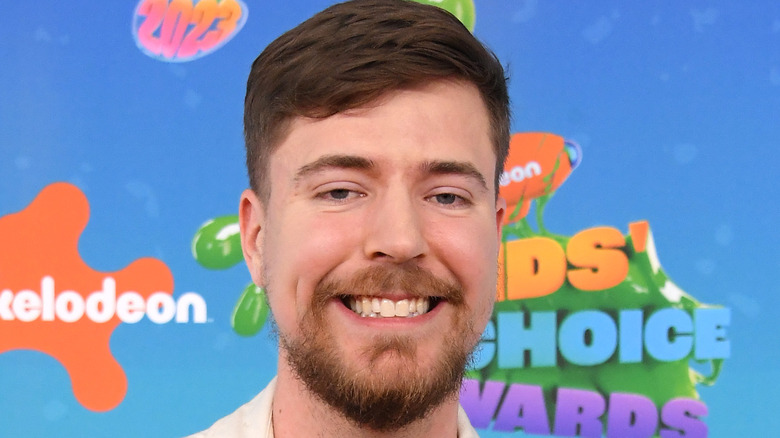 Steve Granitz/Getty Images
Though indirect, the whole legal situation surrounding MrBeast Burger right now seems to stem from public opinion about the food quality. One MrBeast Burger location, for instance, has an average rating of 2.9 stars, with Grubhub customers regularly commenting their food was cold, burnt, or simply not what they had ordered. 
Understandably, MrBeast was upset by the feedback and took to Twitter in June 2023. There, he told his fans he was "moving on" from his partnership with Virtual Dining Concepts, which he said was "terrible for [his] brand" and "a bad deal," per Dexerto. He quickly deleted his comments but the damage was done.
The YouTuber signed a contract with VDC at the start of his foray into the food industry, and the ghost kitchen reserves the right to hold its partners accountable. Without a doubt, it's a very tricky place for either side to be in, with reputations and millions of dollars hanging in the balance. Given that MrBeast has requested a jury trial, we can only hope that the truth will be brought to light and an agreement quickly reached.