Silky Smooth Carrot Ginger Soup Recipe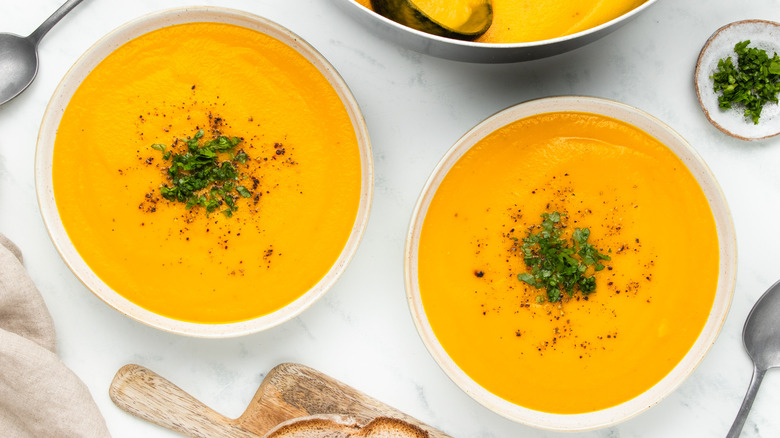 Catherine Brookes/Mashed
For those times when you're feeling under the weather or you just want something warm and comforting for dinner, there's no better option than soup, and it's even better yet if it's homemade. While canned or premade soup offers convenience, nothing beats the flavor and freshness of the from-scratch stuff — take, for example, this silky smooth carrot ginger soup, courtesy of recipe developer Catherine Brookes. She describes this soup as being "full of color, goodness, and flavor," and says, "It's perfect for all seasons and uses just a few simple ingredients," along with, "This soup feels like a hug in a bowl!"
If a hug in a bowl is just what you need after a long day, then you've definitely come to the right place. And, despite being a from-scratch soup, you'll need fewer than 10 ingredients to make the magic happen. That means that you'll spend minimal time fussing over ingredients and more time enjoying a bowlful of comforting goodness — no matter the season, that's a win-win.
Gather the ingredients for silky smooth carrot ginger soup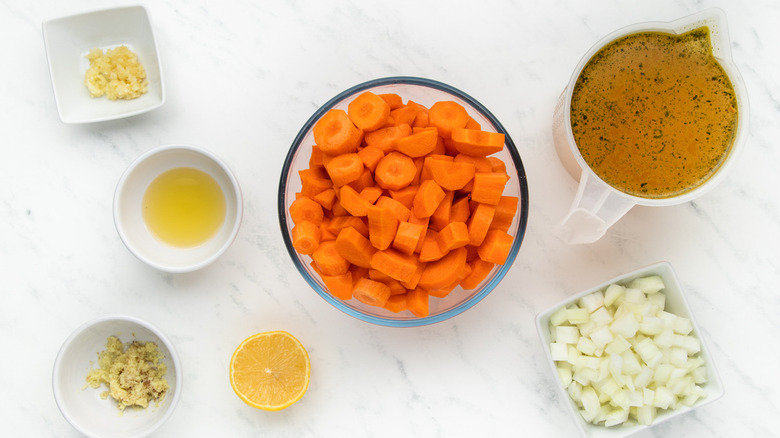 Catherine Brookes/Mashed
You won't need too many ingredients to whip up this soup. Carrots are the star of the show here, with fresh ginger providing an unexpected but very welcome punch of flavor. "The fresh ginger adds a real warmth and fiery flavor to the soup that pairs deliciously with the sweet carrot," Brookes describes. Other soup components include olive oil, a diced onion, minced garlic, vegetable stock, lemon juice, and some salt and pepper to taste.
Simmer the soup ingredients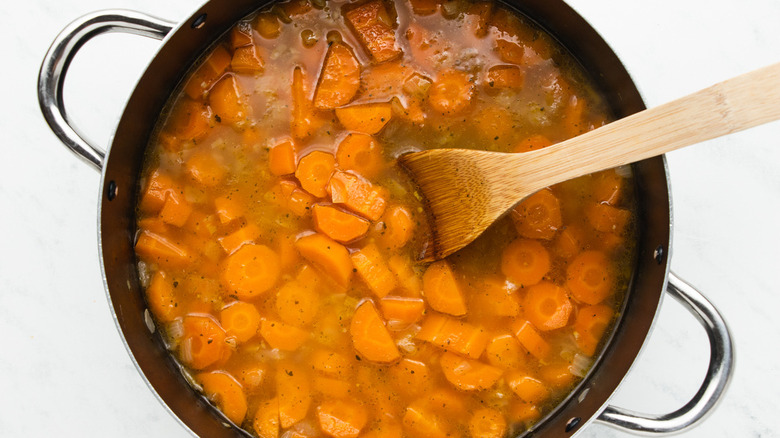 Catherine Brookes/Mashed
Start by placing a large pot over medium heat and adding in the olive oil. Once hot, add in the diced onion and cook until softened, which should take about 6 to 8 minutes. Then, add in the minced garlic and grated ginger and cook for another minute to open up the flavor, stirring constantly so as not to burn the aromatics.
Next up, add the chopped carrots and vegetable stock. Turn the heat up and allow the soup to come to a boil, then reduce the heat, cover the pot, and let the soup simmer for 30 minutes. 
Blend the soup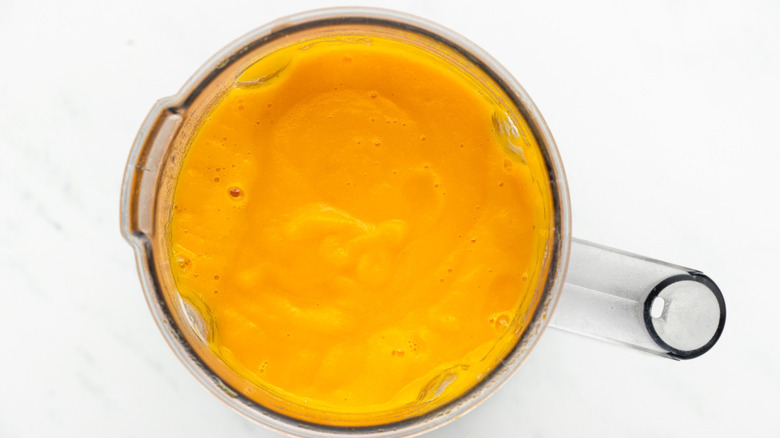 Catherine Brookes/Mashed
Now that the vegetables have had the chance to get nice and soft, it's time to turn this chunky soup into a silky smooth one. To do so, transfer the contents of the pot to a stand blender — depending on the size, you may have to blend in batches. Either way, turn on the blender and blitz the soup until all vegetable chunks have broken down and you're left with a smooth mixture.
Once all of the soup is blended up, return it to the pot and stir in the lemon juice. Give the soup a taste and add salt and pepper as desired. 
Enjoy a comforting bowl of carrot ginger soup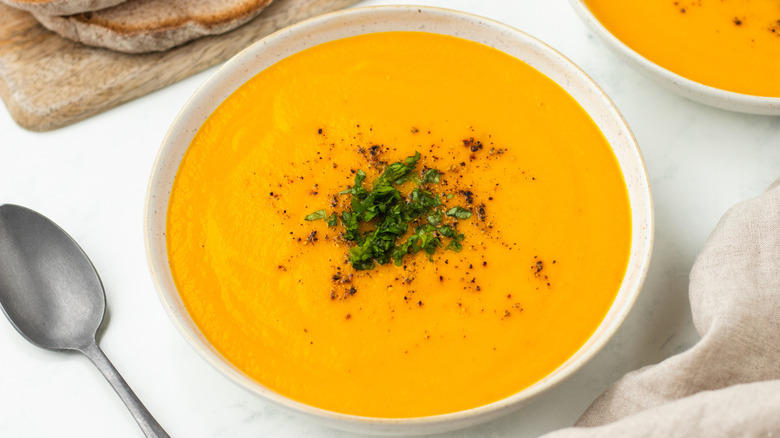 Catherine Brookes/Mashed
Optionally garnish a bowl of this carrot ginger soup with chopped parsley and freshly-cracked black pepper, then dive right into your bowl of comforting orange goodness. Because this is a pretty light soup, you may want to enjoy it with some sides, and Brookes notes, "It's great with some crusty bread or chicken salad on the side."
And, in case you're not sold on the idea of enjoying soup even on warm days, Brookes explains that "Soup is always a great idea in fall or winter, but this one feels fresh enough to have all year round." Also, any meal-preppers out there can add this recipe to their repertoire, as Brookes says that she likes "to make it in a big batch and eat it for lunches throughout the week." If you do go the meal-prep route or simply have leftovers, they'll keep in the fridge for up to 5 days — simply reheat on the stovetop or in the microwave. 
Silky Smooth Carrot Ginger Soup Recipe
This silky smooth carrot ginger soup is full of color, goodness, and flavor. It's perfect for all seasons and uses just a few simple ingredients.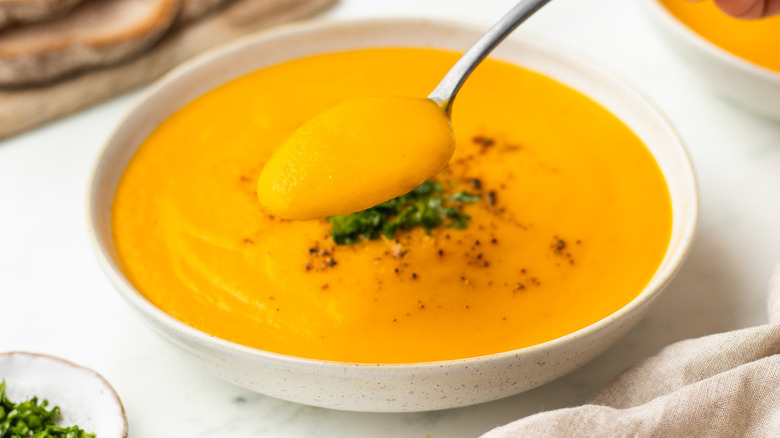 Ingredients
1 tablespoon olive oil
1 onion, diced
3 cloves garlic, minced
1 tablespoon grated ginger
2 pounds carrots, peeled and chopped
4 cups vegetable stock
Juice of ½ lemon
salt, to taste
pepper, to taste
Optional Ingredients
fresh chopped parsley, for garnish
Directions
Heat the oil in a large soup pot over medium heat.
Add the onion and fry until softened, about 6-8 minutes. Then add the garlic and ginger and fry for another minute, stirring constantly.
Add the carrots and vegetable stock and stir.
Bring to a boil, then reduce to a simmer and cover. Leave to simmer for 30 minutes.
Add the soup to a jug blender and blitz until smooth. You might have to do this in batches.
Pour the soup back into the pot and squeeze in the lemon juice. Add some salt and pepper to taste and stir.
Serve with some fresh chopped parsley and extra black pepper if desired.
Nutrition
| | |
| --- | --- |
| Calories per Serving | 149 |
| Total Fat | 4.1 g |
| Saturated Fat | 0.6 g |
| Trans Fat | 0.0 g |
| Cholesterol | 0.0 mg |
| | |
| --- | --- |
| Total Carbohydrates | 27.9 g |
| Dietary Fiber | 7.7 g |
| Total Sugars | 12.5 g |
| Sodium | 1,172.5 mg |
| Protein | 3.0 g |