Savory Cupcakes Are The Cheesy Answer For Those Who Dislike Sweets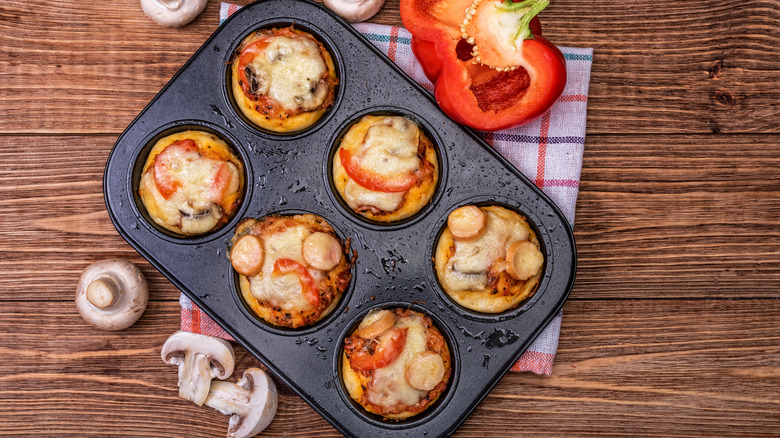 Rasulov/Shutterstock
When most people think of cupcakes, they think of something that is sweet, fruity, or even chocolaty. But the last few years have seen the rise of savory cupcakes and muffins. After The Pizza Cupcake received an enthusiastic response on "Shark Tank," it became apparent that it wasn't just a fad. A cheesy, salty, or spicy twist on the classically sweet item was exactly what many people were craving.
Savory muffins and cupcakes can be used to make portable breakfasts and snacks or even as a dessert for those without a sweet tooth. Typically using flour as you would a regular cupcake, the main difference would be the lack of sugar. Ingredient options you can add are virtually endless, with varieties ranging from salmon or chicken to kale and sweet potato. Many also add a savory frosting out of cream cheese, butter cream, or even mashed potatoes.
Pizza cupcakes, the savory cupcake getting all the attention, are simply mini pizzas baked in a cupcake or muffin tins. Some use pizza dough, while others use store-bought crescent rolls or biscuit dough. After pressing the dough into the cups, the toppings, pizza sauce, and mozzarella cheese are added and then baked. Many home bakers have posted their own mouth-watering variations on social media, with one TikToker posting a video using phyllo dough, and another wrapping all the toppings inside the dough.
Home bakers and restaurants are getting creative with savory cupcake recipes
While The Pizza Cupcake is more well known due to "Shark Tank," a restaurant in Boston spent years perfecting its own pizza cupcakes. 4 Corners' pizza cupcakes first appeared on its Instagram account in 2017, and then disappeared until 2019. They were shelved again when the pandemic began, and finally re-introduced in March 2022. Two months later a TikTok creator posted a video showcasing 4 Corners' pizza cupcakes with flavors ranging from Chicken Ranch to Double Pepperoni. The video quickly went viral, getting over a million views. 
"When we hit 100,000 views, we were, like freaking out, and we're only like a couple weeks away from that video and it's [got] a million views," Nyk Chatzis, part-owner and co-creator of the cupcakes told The Heights. With the popularity of the cupcake soaring, Chatzis and his co-creator, sister Natasha, have plans to add new flavors, with the restaurant currently offering 14 savory varieties.
Whether you're serving them at a party, to kids, or as a quick and easy meal for yourself, cute pizza cupcakes or veggie-filled savory cupcakes are definitely a trend anyone can get on board with.