The Pumpkin Cupcakes That Add Sugar Cookies To The Party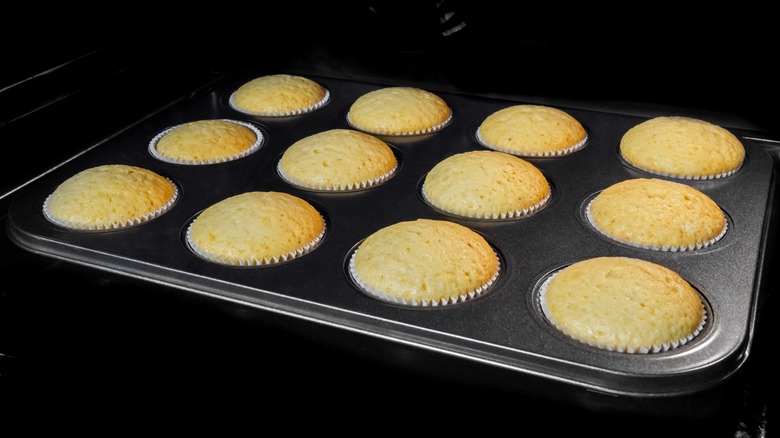 Zyabich/Shutterstock
Forget tricks, celebrate this Halloween with all treats by scaring up some pumpkin-inspired cupcakes for your guests. If you're on the fence about whether to serve holiday-themed sugar cookies or cupcakes to guests this All Hallow's Eve, then why not consider the best of both worlds?
Baker Maddison Koutrouba of The Squeaky Mixer took to TikTok to showcase how to make some pumpkin-themed sugar cookie cupcakes that are sure to please even the pickiest of eaters. For the recipe, you'll need to pick up two packs of Pillsbury Pumpkin Sugar Cookies. This recipe is a fairly simple one to put together. While Koutrouba opts to use a boxed cake mix for the cupcake batter, you can always create your own classic vanilla cupcake base. However, if you're short on time, feel free to pick up your favorite cake mix, just keep in mind that you will be mixing it with sugar cookies.
To create the cupcakes, place one raw pumpkin sugar cookie dough in each cupcake liner. Fortunately, the cookie dough comes pre-sliced for easy convenience. You will then cover each cookie dough bite in your cake batter. From there, you will pop them into the oven to bake at 350 degrees Fahrenheit for around five minutes. You'll also need to cook some pumpkin sugar cookies, which will act as your cupcake toppers, in a separate pan. In a stroke of convenience, these cookies also cook at 350 degrees but take a bit longer in the oven. 
Customize for any holiday
Once both your cupcakes and cookies are done, it's just a matter of assembling them. Word for the wise, you should let your cookies sit first, so they will harden and you won't end up with a crumbling mess of a cupcake. Top each cupcake with orange frosting and then one of the freshly baked pumpkin cookies, and they're ready to serve. You now have a holiday treat sure to be a hit with all those ghouls and goblins. 
However, if you're reading this article way past Halloween, then you should know that's fairly easy to customize this recipe for any holiday. For Christmas, you could swap out those pumpkins for either Christmas trees or snowmen. Buy a box of funfetti cake mix and get an assortment of red, green, or gold frosting to create a dazzling platter of holiday-themed cupcakes for Christmas dinner. 
If there's no major holiday, but you still want to try the recipe then don't let that stop you. Consider buying plain sugar cookies, or if you have a Pokemon fan in your life, buy some Pokeball-themed sugar cookies and mix with yellow frosting, which would be perfect for a children's birthday party. The important thing to remember is to have fun and get creative.