Why Is No One Talking About How Fire H Mart's Food Court Is?
Over 40 years have passed since the first H Mart opened its doors in Queens, New York. Today, this family business has expanded to over 97 stores in the United States. For those unfamiliar, the Asian supermarket chain is the go-to place to buy authentic Korean ingredients and snacks like kimchi, instant ramen, and Asian pears. However, with its dazzling food courts, H Mart is much more than just a grocery store.
H Mart food courts house a variety of Asian cuisines, such as Japanese, Taiwanese, and Thai, depending on the location. And, of course, it covers all the Korean food you didn't know you should be ordering. People online mention being impressed with the authentic meals and say they crave the experience of dining in these sensational food courts. 
At H Mart, even when you only plan on shopping for groceries, you can't help but be intercepted by the smells of Korean fried chicken and savory udon. There's no need to shop on an empty stomach when the vast options and quick service can lead you to a full, satisfying meal right in the grocery store. 
What to order at an H Mart food court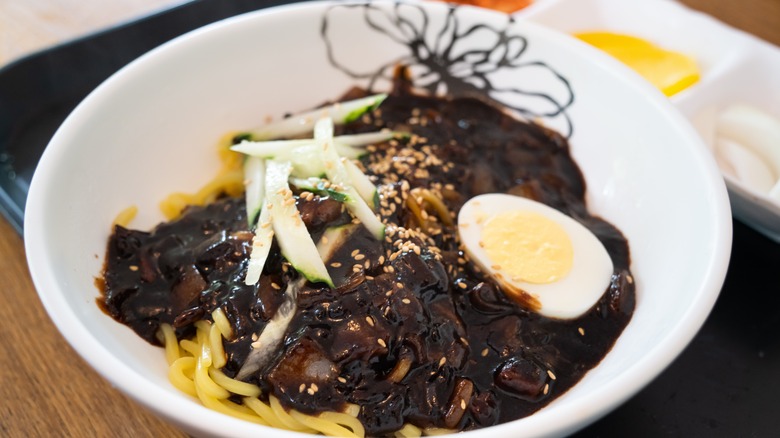 Romix Image/Shutterstock
If you're stopping by an H Mart food court, there are some essentials you should try. First, keep an eye out for Korean street foods. In Korea, street food vendors sell a variety of snacks and meals. One of the classic offerings is tteokbokki. This dish has chewy rice cakes, spicy sauce, and an assortment of fish cakes, sausage, and veggies to round it out. 
Next up are Korean corn dogs. While we have plenty of these in America, the Korean version uses a rice flour batter and gets served with toppings like potato, crumbled ramen, and sugar. Sample a bit of everything by ordering a half mozzarella, half sausage corn dog coated in potato cubes. To eat it the Korean way, opt for a dusting of sugar and sweet chili sauce.
Another item to look out for is Korean noodles. Jajangmyeon, or black bean noodles, is a comfort food staple. This Korean-Chinese noodle dish has a thick black bean sauce with cubed pork, zucchini, and onion. It's traditionally paired with pickled yellow radish, so expect to get some for free on the side. 
Finally, naengmyeon (Korean cold noodles) is essential to the food court conversation. Naengmyeon features thin buckwheat noodles in an icy broth, typically garnished with brisket, cucumber, and an egg. This dish is refreshing during the hot summer months and offers a great way to nourish yourself after an afternoon of shopping.