You'll Finally Be Able To Try Chick-Fil-A's Honey Pepper Pimento Chicken Sandwich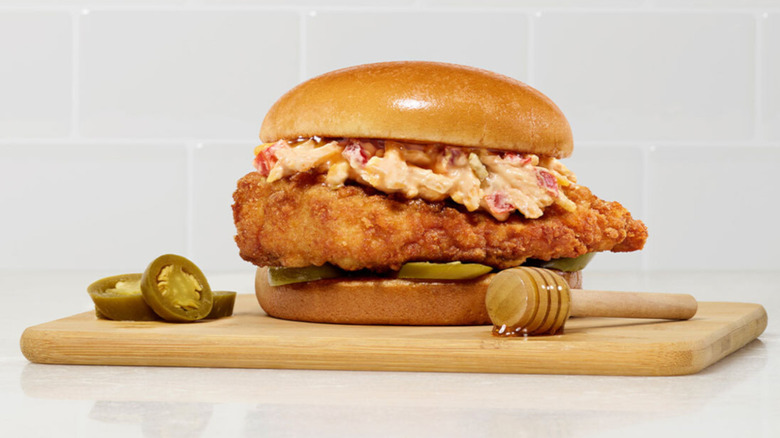 Chick-fil-A
Anyone worried they'd never be able to try Chick-fil-A's Southern Pimento Sandwich can finally put their minds at ease. Three years after its experimental debut, the company is bringing this menu item to stores nationwide. On August 15, Chick-fil-A announced that the Honey Pepper Pimento Chicken Sandwich — the "first-ever twist" on its classic chicken sandwich — will be available in stores across the U.S. starting on August 28.
Chick-fil-A made the announcement on its website, sharing that the sandwich will be a seasonal item available for a limited time. Its ingredients include Chick-fil-A's standard chicken filet, along with pimento cheese, pickled jalapeños, and two toasted buns drizzled with honey. The combination of sweet and savory flavors is likely to appeal to customers, and the jalapeños will bring a zesty kick to a beloved classic.
Chick-fil-A first released the Honey Pepper Pimento Chicken Sandwich in 2020, trying it out in its North Carolina and South Carolina locations. It seemed unlikely the Southern-style sandwich would ever reach other areas, especially after several years passed without any word of the market test's success. However, it seems to have paid off enough that Chick-fil-A is giving the sandwich another go this fall.
Chick-fil-A's sandwich is part of its fall lineup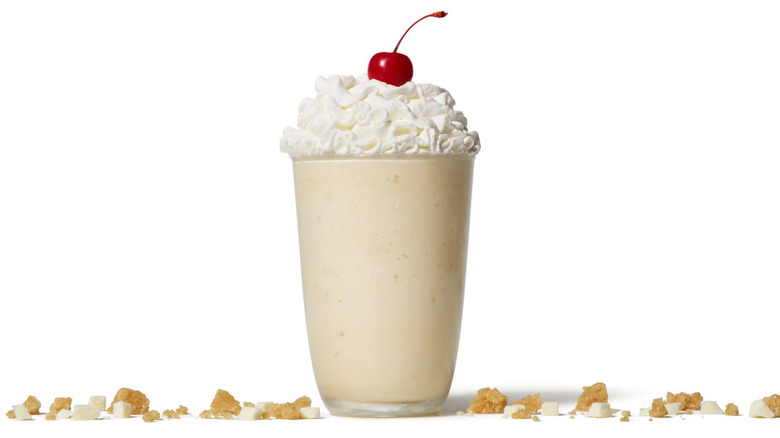 Chick-fil-A
The Honey Pepper Pimento Chicken Sandwich is part of Chick-fil-A's fall lineup, and it's not the only seasonal special customers should be on the lookout for. The limited-time menu item is being released alongside the new Caramel Crumble Milkshake — a treat that will no doubt alleviate the heat from Chick-fil-A's Southern-style sandwich.
Chick-fil-A's Caramel Crumble Milkshake consists of the company's signature Icedream, blondie crumbles, whipped cream, and a cherry. It's an updated take on the restaurant's Butterscotch Crumble Milkshake, which also emerged in a market test in 2021. The company seems committed to experimenting with new items this fall, something it attributes to successful seasonal releases like the Smokehouse BBQ Bacon Sandwich and Grilled Spicy Deluxe Sandwich.
Given the rising popularity of hot honey, the spicy, savory Honey Pepper Pimento Chicken Sandwich seems poised to join the chain's list of success stories. The addition of the sweet Caramel Crumble Milkshake only makes it more likely that customers will flock to Chick-fil-A this fall.