We Got Our Hands On The New Hot Ones-Inspired Hot Pockets, And They Bring The Fire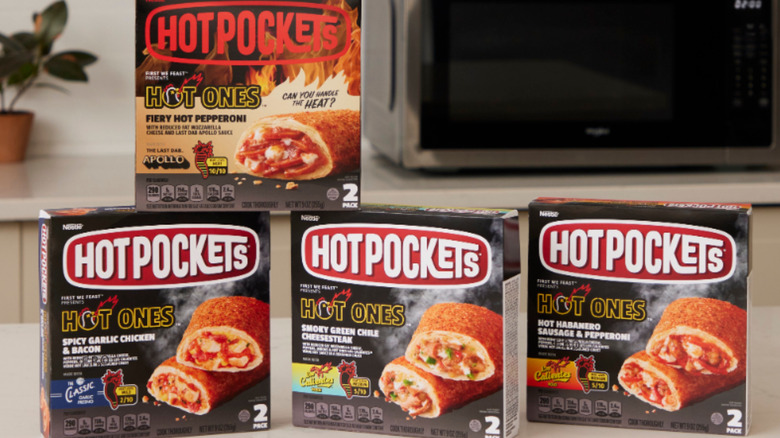 Hot Pockets
If you can't stop watching Sean Evans interviewing celebrities trying to keep it together while eating their way through increasingly hotter and hotter chicken wings on Hot Ones, the wildly popular YouTube series by First We Feast, you're in for the ultimate challenge. None other than Hot Pockets has tapped Hot Ones for a special collaboration with the First We Feast show, featuring what they're calling the "Hottest Hot Pocket Ever" — and we got an exclusive taste of all four fiery flavors.
The four new flavors will include Smoky Green Chile Cheesesteak, Hot Habanero Sausage & Pepperoni, Spicy Garlic Chicken & Bacon, and Fiery Hot Pepperoni Hot Pockets, all with varying degrees of intensity, thanks to four different Hot Ones hot sauces. To give you a preview of what to expect, we gathered tasters of varying heat tolerances to blindly taste the spicy new offerings. So grab a pitcher of water, glass of milk, and box of tissues and tuck in — this is what you can expect from the brand new Hot Pockets featuring Hot Ones collaboration snacks. (Cues Jennifer Lawrence sobbing and shouting, "I feel like I'm dying!")
How we judged the heat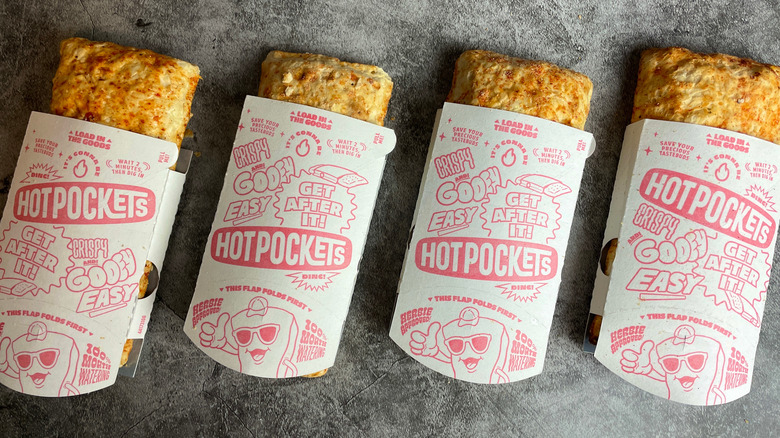 Jenny Kellerhals/Mashed
After trying the first two Hot Ones Hot Pockets flavors, we took a break to let the burn die down a little, watched a few episodes of Hot Ones on YouTube, and started digging into the flavor profiles of all the peppers listed in the ingredients. Heat tolerance is obviously subjective, so we wanted to use a universal system to impartially judge the intensity. The Scoville scale is the standard barometer for assessing the heat level of peppers, which is what's used on the Hot Ones show to rank the hot sauces — so that's what we also decided to pay attention to while judging the heat level of each flavor.
Each of the Hot Pockets uses a different hot sauce, with different peppers, combinations, and relative heat ratings. It's not immediately clear from the packages we received which brands of hot sauces were used, or if they were made internally. But given the ingredient information on the labels, we tracked down our best guesses of which sauces might be used in each of the Hot Pocket flavors. Based on the heat ratings of each hot sauce, we chose to present the four Hot Pockets flavors to you, beginning with the mildest option, and working our way up to the hottest Hot Ones Hot Pocket. If you're planning on recreating an episode of Hot Ones at home with these Hot Pockets, this is the order you should eat them in.
Spicy Garlic Chicken & Bacon
Jenny Kellerhals/Mashed
We decided not to take a very close look at the ingredients in any of Hot Pockets before we tasted them to keep from jumping to any conclusions about the flavors, or how hot they were going to be. So even though this is the mildest of all the Hot Pockets in terms of spice, it's actually the last one we tried during the taste test. And after everything we'd just put ourselves through, the Spicy Garlic Chicken & Bacon Hot Pocket was a welcome relief.
It's filled with cheddar cheese, chicken strip pieces, and chunks of bacon, all of which were easy enough to enjoy, and reminding us that regardless of which hot sauce might be involved, few things compare to the scorching hot cheese lava that comes out of a Hot Pocket if you eat it too quickly after microwaving. A subtle warmth is noticeable in these Hot Pockets, but we didn't have any issues eating and enjoying the whole piece.
The hot sauce listed in the ingredients is the Fresno chile-based sauce Hot Ones "The Classic" hot sauce, Garlic Fresno Edition. It's one of three classic hot sauces available from the brand, and it last appeared on the show in season 18. Hot Ones gives it a 2 out of 10 for heat, with an estimated 1,800 Scoville Heat Units (SHU) — which is admittedly pretty low on the Scoville scale. Just about anyone should be able to handle the heat here.
Smoky Green Chile Cheesesteak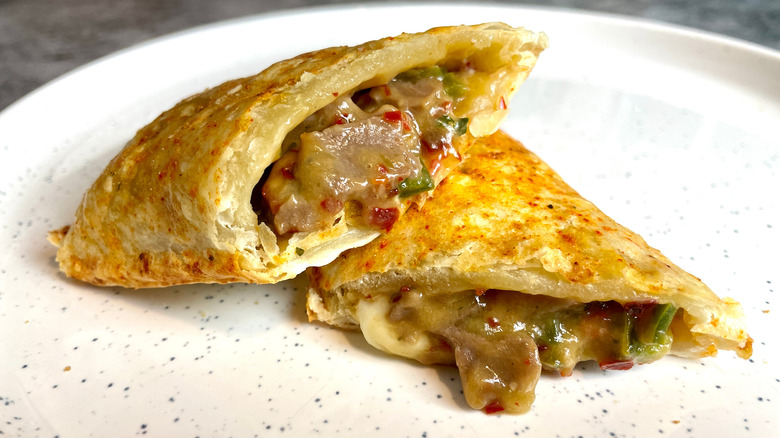 Jenny Kellerhals/Mashed
The Smoky Green Chile Cheesesteak Hot Pockets are the next stop on our spicy journey, and are filled with steak, visible pieces of jalapeño peppers, and melted mozzarella cheese. There's already a Philly Cheesesteak option in the Hot Pockets lineup, but that version has red and green bell peppers instead of the jalapenos, and includes Parmesan cheese, which the Hot Ones version does not.
The hot sauce in this version takes a noticeable step up into the realm of spiciness. Not so much so that it obscures the flavor of the meat, cheese, and jalapeño peppers, but enough to slow down our most sensitive taste tester. According to the ingredients, it's a Serrano chili-based hot sauce that's got both green serrano chilies and applewood-smoked green serranos. But what really kicks the heat up is the addition of orange habanero peppers to the sauce, which appear in a smaller quantity, but have a much higher SHU rating, which typically ranges from 100,000 to 350,000 SHU. 
The hot sauce used in this snack is the Hot Ones Los Calientes Verde hot sauce, which most recently appeared in season 20 of the show. Hot Ones gives it a 4 out of 10 heat ranking on their website, and an average of 36,000 SHU, which is far from a deadly heat rating but will certainly register some fire. Our hot sauce-loving tasters were satisfied with the heat level, but not overwhelmed by the intensity ... yet.
Hot Habanero Sausage & Pepperoni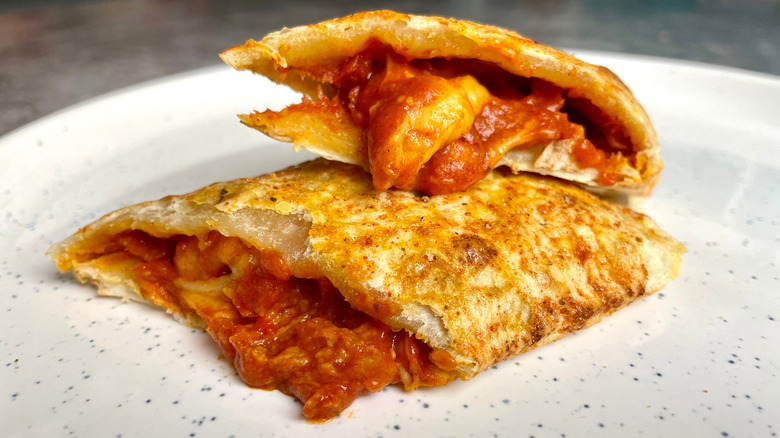 Jenny Kellerhals/Mashed
Moving up the ladder, the third hottest of the new Hot Pockets offerings is the Hot Habanero Sausage & Pepperoni flavor. Given that the package tells you there's habanero in it, you can start to make a pretty clear assumption about what you're getting yourself into. The sausage pieces are made with pork, chicken, and beef, and accompany slices of pepperoni, stuffed into the Hot Pocket with a 4 cheese-style sauce that includes mozzarella, parmesan, asiago, and romano cheeses.
As you might have guessed, there are habanero peppers in the hot sauce, which also includes smoked red jalapenos and tomatillos. We noticed the smoky flavor from the jalapenos come through, almost giving this particular flavor a barbecue vibe that we weren't expecting. At this point, our most sensitive tester reached for their glass of milk for relief, and the stronger testers casually (but noticeably) began to take sips of their drinks as well. The hot sauce in this snack is the Hot Ones Los Calientes Rojo, which is currently in the lineup in season 21, and ranks a 5 out of 10 on the Hot Ones website. It's got an average of 49,000 SHU, which is about how much heat you'd get biting into an especially spicy cayenne pepper, or a relatively mild Thai pepper. You're going to feel the heat with this one — but only you can know if you'll be able to handle it.
Fiery Hot Pepperoni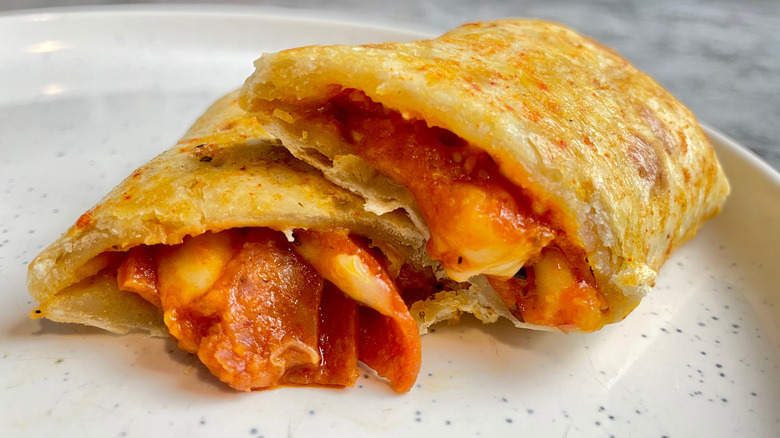 Jenny Kellerhals/Mashed
Apparently, Hot Pockets decided to save its hottest challenge for what is potentially the most popular flavor. The Fiery Hot Pepperoni is exactly what you'd expect from a pepperoni Hot Pocket, including a river of molten mozzarella cheese, pizza sauce, and slices of pepperoni — and then there's the Apollo pepper hot sauce. This one's called The Last Dab: Apollo by Hot Ones, and it's made with incredibly hot apollo peppers, apollo pepper powder, and apollo pepper distillate. On their own, these peppers rate around 3,180,000 SHU—potentially the hottest in the world, and are a hybrid pepper of the famously hot Carolina reaper and Pepper X peppers created by pepper mastermind, Smokin' Ed Currie.
On the website for the hot sauce, it's given an 11 out of 10 heat rating, although, on the Hot Pockets retail box, it's scaled back some to a 10 out of 10. It's typically the last hot sauce used in the lineup on the show, with an estimated average of 2,000,000 SHU. Needless to say, our most sensitive taster had to give up, and couldn't find any immediate relief in anything they drank, while the more acclimated tasters commented that it was definitely hotter than the others, and put up an actual challenge to finish. Flavor-wise, we were satisfied with the amount of pepperoni in these Hot Pockets, but found the pizza sauce to be a little more acidic than expected, almost fruity, which could have been partially from the hot sauce.
How to score the Hot Ones Hot Pockets for your own Hot Ones challenge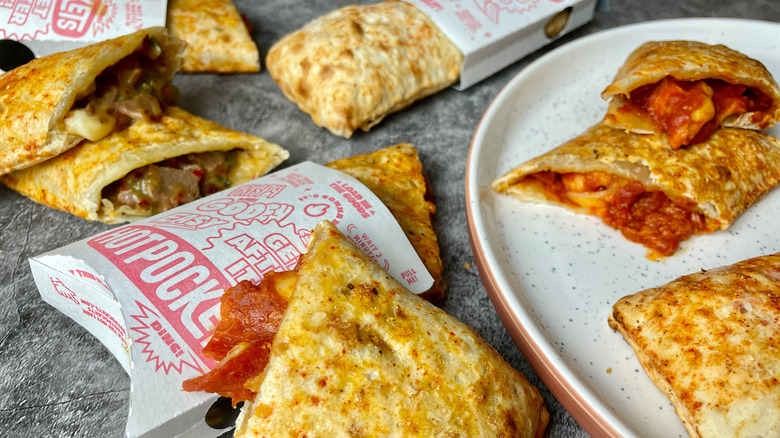 Jenny Kellerhals/Mashed
Ultimately, the Hot Ones x Hot Pockets collab is a fun experiment that's sure to launch a million TikTok challenges. If you're a fan of Hot Pockets, there's a good chance you'll enjoy these flavors (or at least the ones you can handle), and if you haven't had a Hot Pocket since college, this is a fun excuse to pick up a box and try them again. The Smoky Green Chile Cheesesteak flavor was the overall winner among our tasters, with the added benefit of being able to be enjoyed by everyone.
The special Hot Ones Hot Pockets will start making their way to grocery freezers everywhere beginning in September with the suggested retail price of $3.29, but will only include the Spicy Garlic Chicken & Bacon, Smoky Green Chile Cheesesteak, and Hot Habanero Pepperoni & Sausage flavors. The Fiery Hot Pepperoni Hot Pockets are "too hot" for regular grocery stores, and will only be available through Gopuff for an estimated $5.49 per box. Additionally, the special Hot Pocket collaboration will make its way onto the show sometime in October, and we can't wait to see which celebrity will take the heat.