Air Fry Anything Bacon-Wrapped For A Crunchy, Savory Journey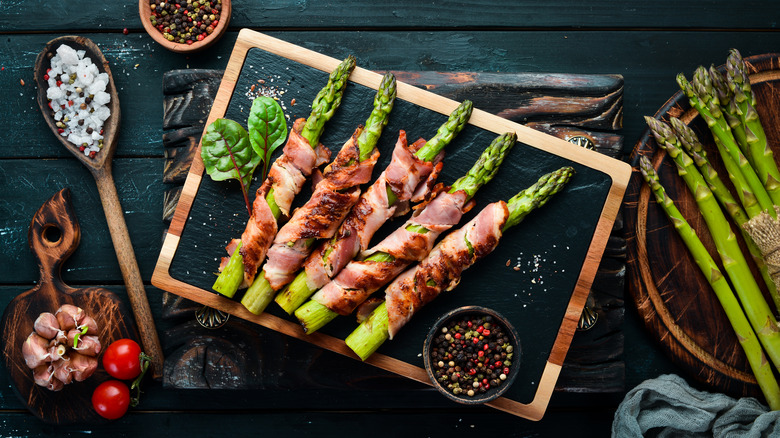 Yaruniv Studio/Shutterstock
If you believe everything tastes better wrapped in bacon, we've got some delicious recipes that will be right up your alley. From more complex concoctions to easy combinations, these suggestions prove that there are so many amazing ways to use bacon — and they are sure to wow a crowd. You can wrap your appetizer, main course, or dessert in bacon and throw it into the air fryer for a crispy culinary journey in three acts. 
Start off the night with a simple plate of bacon-wrapped asparagus. Gather a small handful of stalks and wrap them with the bacon cut of your choosing, season, and air fry at 360 degrees Fahrenheit for 10 minutes. While guests are enjoying this savory appetizer, prep an easy main course by wrapping bacon around your favorite protein. For a deliciously cheesy bacon-wrapped chicken dish, layer slices of your preferred cheese over thinly sliced chicken breasts, wrap them in bacon, and place the bundle in the air fryer for 20 minutes at 375 degrees Fahrenheit or until the chicken is cooked through.
For dessert, bacon-wrapped stuffed dates are the perfect way to end a meal, as they boast a complex flavor and involve little preparation. Stuff dates with your desired cheese, such as smooth goat cheese, and wrap them in salty bacon. After 7 minutes in the air fryer at 400 degrees Fahrenheit, drizzle them with honey and serve.
These bacon-wrapped air-fried treats are reminiscent of iconic fair food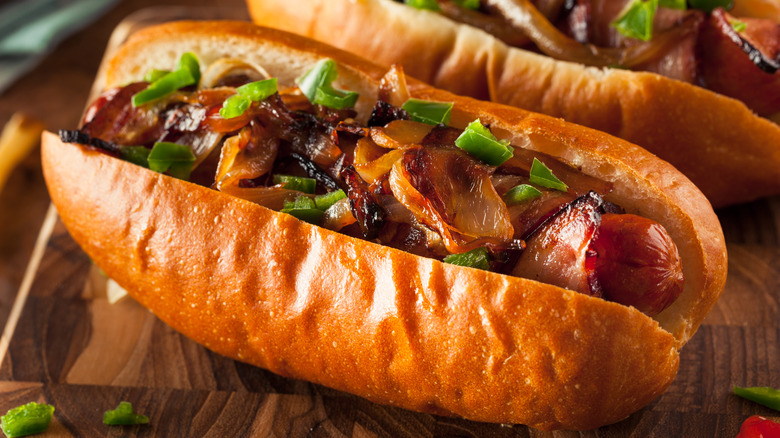 Brent Hofacker/Shutterstock
When you imagine eating a bacon-wrapped treat, odds are you're standing next to a Ferris wheel and a few dozen carnival rides. State fairs have become well-known for their bizarre food offerings, including a deep-fried or bacon-wrapped version of just about anything you can imagine. With an air fryer and a few key ingredients, you can avoid the big crowds and high prices of the county fair without sacrificing the joys of iconic fair food.
For pickle lovers, take your love of dill to the next level by wrapping a salty spear in bacon and air frying it for 15 minutes at 400 degrees Fahrenheit. The deliciously crispy appetizer reminds us of the jumbo pickles you can find next to the corn dog stand. As for corn dogs, upgrade the classic recipe by making a blue-ribbon-worthy bratwurst recipe in the air fryer. Add a cheese stick to the inside of a sliced bratwurst, wrap it in bacon, and air fry for 12 minutes at 400 degrees Fahrenheit. 
You've heard of deep-fried Oreos and bacon-wrapped Twinkies, but a bacon-wrapped PB&J is sure to appeal to even the most seasoned fair-goers. Prepare a classic peanut butter and jelly sandwich, then wrap it twice in bacon to ensure a solid seal. Air fry for 15 minutes on each side at 400 degrees Fahrenheit. What emerges from the air fryer is nothing short of our wildest dreams come true, all wrapped in bacon.