TikTok Won't Let Disney Get Away With Slipping Food Standards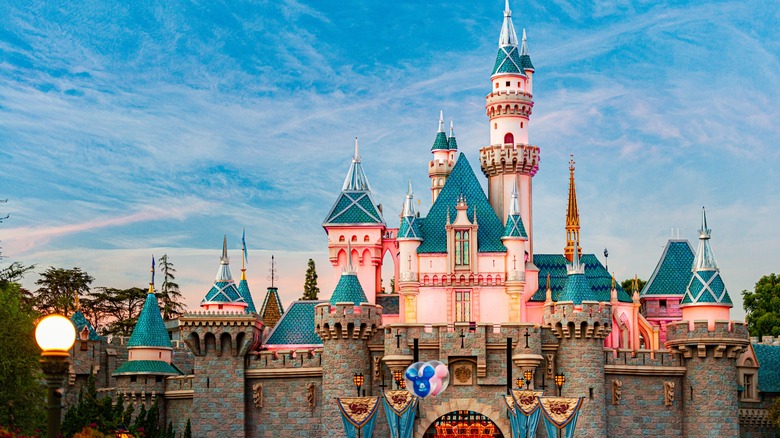 Konstantin Yolshin/Shutterstock
With food averaging $200 to $300 for a family of four, Disney World's culinary offerings can be expensive, but does the quality match the price? Several TikTokers have made it their goal to shine a light on Disney's dark side, specifically regarding food. These diners definitely weren't happy with the self-titled Happiest Place on Earth. 
In their TikTok montage, TikToker @herrerashow shared some questionable meals served at the theme parks. For instance, an overcooked hot dog covered in chips certainly doesn't sound worth its $15 price tag. However, the spicy chili cheese churro definitely has us running to the bathroom. One TikToker's disappointed reaction to the combo says more with looks than words could ever convey. It's enough for many to question if Disney's food standards have slipped. After all, who thought a blue hot dog was a good idea to serve to guests?
Outside the more extreme offerings offered at the Disney parks, some TikTokers like this one have also shared their disappointment with standard menu items. For instance, the TikToker called out the salmon at Space 220 for being overly dry and flavorless. Meanwhile, the Margherita flatbread at Mama Melrose's was also a no-go as well. It's enough to make you wonder what foods you can eat, and what offerings you should avoid like Mickey Mouse at a rat trap convention. 
Foods to Avoid
Fortunately, TikTokers have revealed the absolute worst foods at Disney World. First off, as mentioned above, you probably want to avoid anything that sounds too harsh on the stomach. The spicy chili cheese churro is an obvious culprit as one TikToker commented, "Not the churro...that should be illegal." Several visitors took issue with Disney's cheeseburger spring rolls. Meanwhile, spaghetti at Tony's Town Square restaurant made several people's do not eat list. Some also suggested avoiding the Nutella fruit waffles (as they were soggy), the lobster seafood boil for lack of flavor, and the brisket at Regal Eagle due to dryness and lack of flavor. 
That being said, Disney has often renovated and swapped up its food offerings since Disneyland opened back in the 1950s. So perhaps, the park service will listen to bad reviews and adjust accordingly. However, with adult meal plans costing around $100 a night, there's a steep price when it comes to food at Disney. So visitors expect their meals to be worth the amount of money they spend, and when it's not, they don't mind calling out the park. As one disappointed Disney fan wrote on TikTok, "I am literally a huge Disney parks fan and the food was def disappointing this time around. It used to be so good."