Apparently, You Can Buy A Whole Roasting Pig At Costco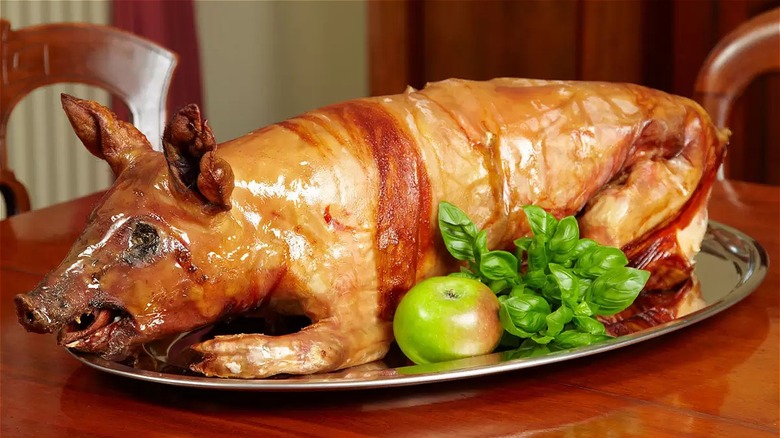 Costco UK
Have you ever strolled down the aisles of Costco and wondered where you might be able to find a large, whole frozen pig? Whether you're a professional Pitmaster hoping to roast your hog in the woods or just a curious amateur, it appears Costco has an answer: the Costco Business Center of Westminster, CA. The Orange County location now carries a "Fire Pit Pig for Roasting, according to a TikTok posted in May of 2023. The TikTok caption also described some other surprising items this Costco Business Center carries — including whole lambs and goats — in the freezer section.
Priced at $4.29 per pound, a 57.6-pound pig cost $247.10 at the time of the video. So, not exactly the kind of thing you pick up for a weeknight dinner. However, there are more occasions to roast a whole "Fire Pit Pig" than you might think.
The TikToker had some suggestions: "To buy for upcoming camping trip or just for Nhậu and Bia," she wrote of the pig, referring to the Vietnamese practice of "drinking and feasting" without a specific reason. A whole roast pig is seen as a classic offering for large gatherings and special (or not-so-special) occasions.
The fire pit pig has been spotted at other Costco Business Centers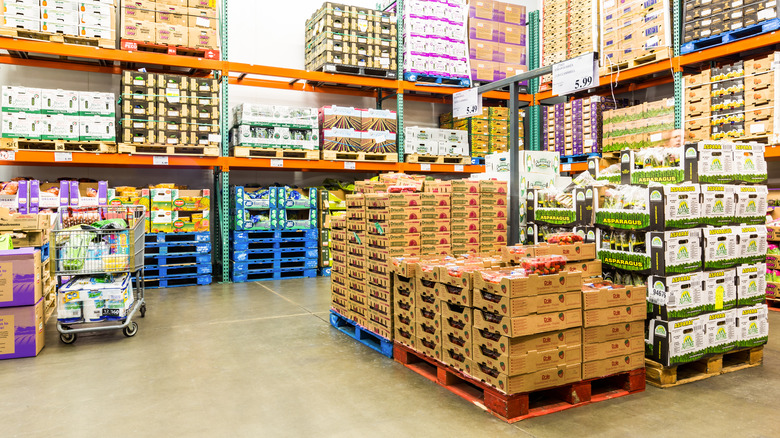 Mihai_Andritoiu/Shutterstock
Situated in the heart of Southern California, Westminster is home to part of Orange County's "Little Saigon," one of the largest and most famous Vietnamese American communities in the country. Considering the cultural connection to roasting pigs, perhaps it's unsurprising to find them at the big-box chain. However, the Westminster Business Center is not the first, nor the only U.S. Costco to carry this item.
Fans of feasting and hardcore barbecue might wish they knew about this underappreciated item sooner, as it appears to have cropped up at several different Costco Business Centers across the country. The "Fire Pit Pig for Roasting" was also spotted at a Costco Business Center in Fife, Washington in 2021, according to subreddit r/Costco. In the thread, some shared their experiences cooking the pig, with one person writing: "I did one of those last year. It was delicious. 20-pounder Smoked for about 7 hours at 275." Another Redditor spotted whole pigs and lambs at a Los Angeles Business Costco.
Costco Business Centers carry supplies, food, and bulk items that are useful to businesses, providing a different selection than you will find at your average, run-of-the-mill Costco. You don't need anything other than your normal Costco membership card to shop there. So, if you find yourself in need of a whole pig, now you know where to look.