Loaded Deviled Egg Pasta Salad Recipe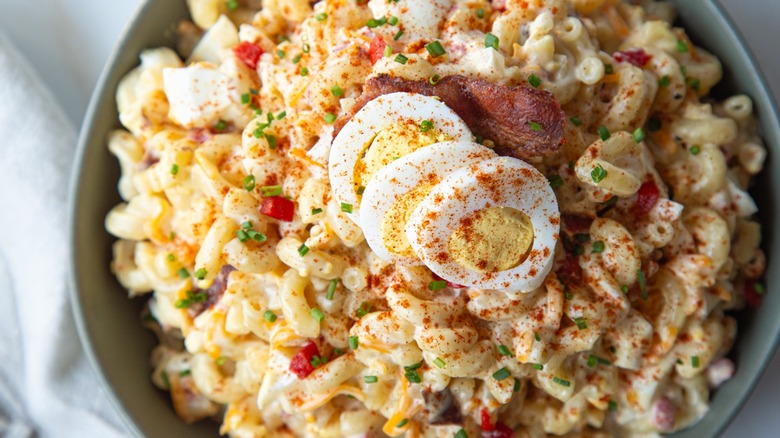 Kate Shungu/Mashed
There's something magical that takes place when two popular food items are combined to make something new. The cronut is one such example, but if you're looking for a new idea that's savory rather than sweet and guaranteed to please any group of family and friends, we'd like to suggest this "loaded" deviled egg pasta salad. Because truly, if you're a deviled eggs fan and a pasta salad fan, there's no way this recipe is going to end up a dud. 
"This recipe is packed with a variety of flavors and textures, and it's a fun spin on a traditional pasta salad," explains recipe developer Kate Shungu. "The bacon, in particular, is a surprising addition that's not common in pasta salads." And just like you might serve deviled eggs or pasta salad at a big barbecue or potluck, this hybrid dish works in the same way. "This would be a great side dish for burgers, brats, grilled chicken — really anything that you'd serve at a cookout," Shungu says. 
Gather the ingredients for this loaded deviled egg pasta salad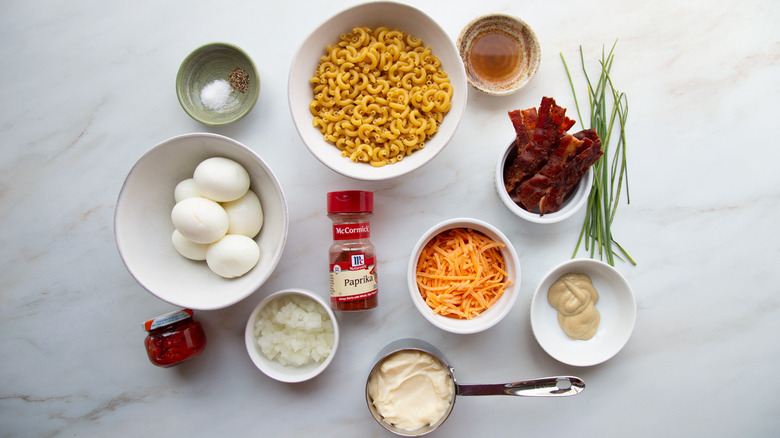 Kate Shungu/Mashed
Start by gathering the ingredients you'll need. You may already have quite a few of them on hand as they're all fairly common, but chances are you'll need to go ahead and boil your eggs or pick up a few of the add-ins from the store before you get started. "For this recipe, we're combining deviled eggs with pasta salad, and we're making them 'loaded.' So there are plenty of mix-ins, like bacon, pimentos, chives, and cheddar cheese," Shungu says.
You'll need a package of elbow pasta, hard-boiled eggs, a yellow onion, mayonnaise, Dijon mustard, apple cider vinegar, salt, pepper, cooked and crumbled bacon (you can make your own or pick up the pre-made version from the store), chopped pimentos, shredded cheddar cheese, fresh chives, and paprika. 
Cook the pasta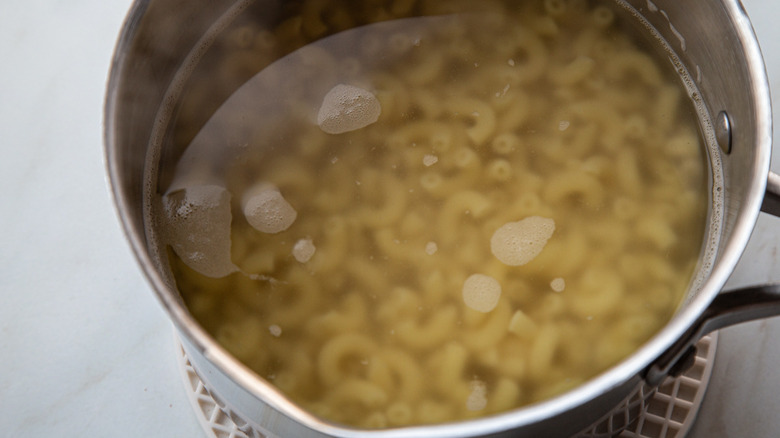 Kate Shungu/Mashed
This probably isn't your first time to cook pasta, so go ahead and cook it as you usually do, making sure to salt the water for flavor. Just make sure you check the cooking instructions on the package, as thicker pasta like elbows take a little longer to cook than a thinner shape like spaghetti or angel hair. When the pasta has cooked to your liking, drain it and set it aside to cool. 
Prep the hard boiled eggs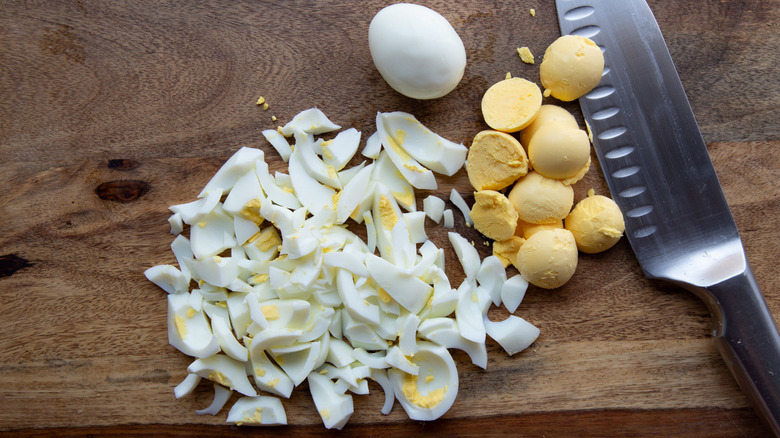 Kate Shungu/Mashed
You'll be using 6 hard-boiled eggs for this recipe, but one of them is reserved for the garnish, so set it aside. With the remaining eggs, remove the yolks and chop the egg whites, keeping the whites and yolks separate before setting them aside.
Make the deviled egg dressing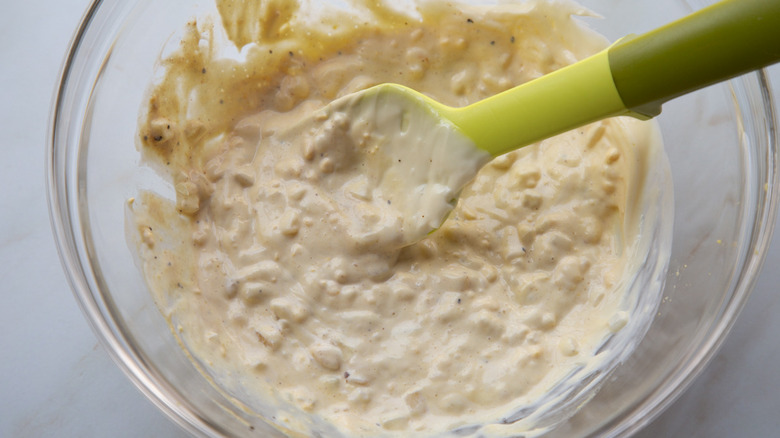 Kate Shungu/Mashed
This pasta salad is essentially tossed in a deviled eggs "sauce," so the first real step is to mix that up. Put the egg yolks in a large bowl and mash them together. Then, add the chopped onion, mayonnaise, Dijon, apple cider vinegar, salt, and pepper to the bowl. Whisk everything together until combined and mostly smooth. 
Stir in the pasta and fixings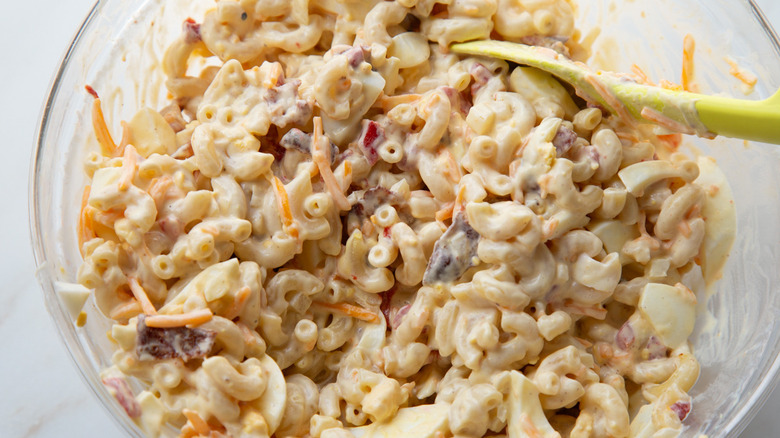 Kate Shungu/Mashed
With the sauce complete, add the cooked pasta, chopped egg whites, ¾ of the bacon, pimentos, and shredded cheddar to the same bowl. Use a spoon to mix it all together until everything is well combined. 
Garnish, chill, and serve the salad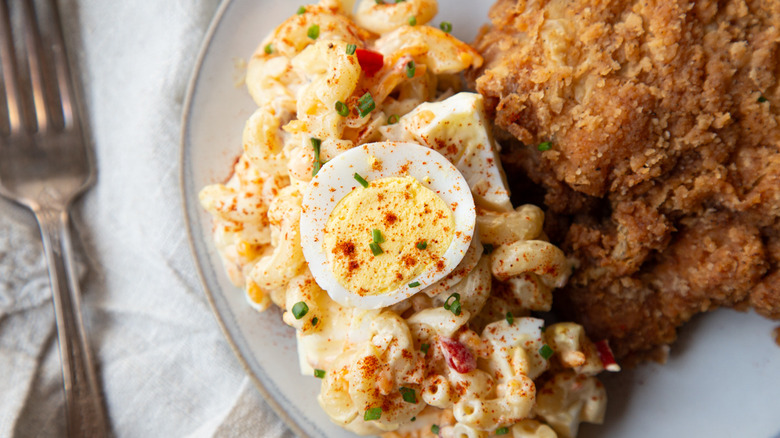 Kate Shungu/Mashed
All that's left to do is garnish the salad. Take the hard-boiled egg you set aside earlier and slice it, perhaps arranging it in a fan shape on the top of the macaroni. Sprinkle the remaining bacon and chopped chives on top, then finish with a dash of paprika. Shungu says this salad can be enjoyed immediately, but if you prefer a cold salad, pop it in the fridge to chill for several hours before serving it alongside your favorite main courses. 
If you don't eat all of your deviled egg pasta salad in one meal, you can store the leftovers for 4-5 days. You may even discover you prefer the salad a day or 2 after you've made it, as the flavors will have had even more time to meld. 
Loaded Deviled Egg Pasta Salad Recipe
Combining two cookout staples, this pasta salad is tossed with a deviled egg-inspired dressing for savory sauciness.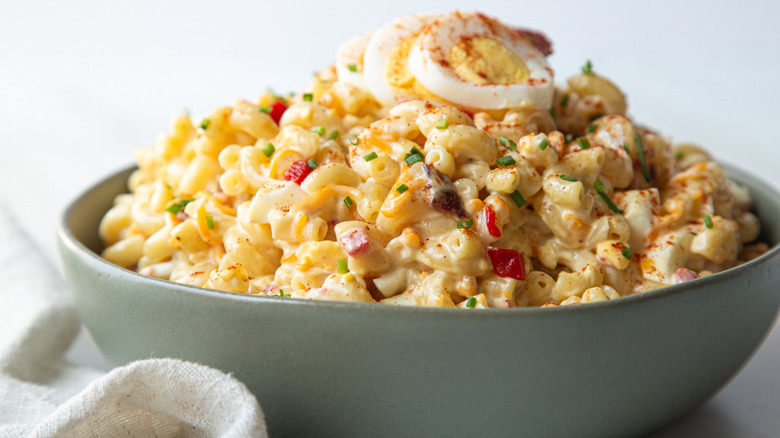 Ingredients
8 ounces elbow pasta
6 hard boiled eggs
¼ cup chopped yellow onion
¾ cup mayonnaise
2 tablespoons Dijon mustard
1 tablespoon apple cider vinegar
½ teaspoon salt
¼ teaspoon ground black pepper
4 slices bacon, cooked and crumbled
1 (2-ounce) jar chopped pimentos, drained
1 cup shredded cheddar cheese
1 tablespoon chopped fresh chives
⅛ teaspoon paprika
Directions
Cook elbow pasta according to package directions in salted water. Drain and let cool slightly.
Reserve 1 whole egg and set aside. Remove the yolks from the remaining hard boiled eggs, and set aside. Chop the egg whites, keeping them separate from the yolks.
Place the egg yolks in a large bowl and mash with a fork. Add the chopped onion, mayonnaise, Dijon mustard, apple cider vinegar, salt, and pepper. Whisk to combine.
Add the cooked pasta and egg whites to the egg yolk mixture, along with ¾ of the bacon, all of the pimentos, and all of the shredded cheese. Toss to combine.
Transfer the pasta mixture to a large serving bowl. Slice the reserved hard boiled egg, arranging it on top of the salad. Sprinkle with the remaining bacon, chopped chives, and paprika, then refrigerate until ready to serve.
Nutrition
| | |
| --- | --- |
| Calories per Serving | 563 |
| Total Fat | 40.7 g |
| Saturated Fat | 10.8 g |
| Trans Fat | 0.0 g |
| Cholesterol | 191.9 mg |
| | |
| --- | --- |
| Total Carbohydrates | 30.9 g |
| Dietary Fiber | 1.8 g |
| Total Sugars | 2.2 g |
| Sodium | 545.5 mg |
| Protein | 17.3 g |