The Complete List Of Actors Who Played Ronald McDonald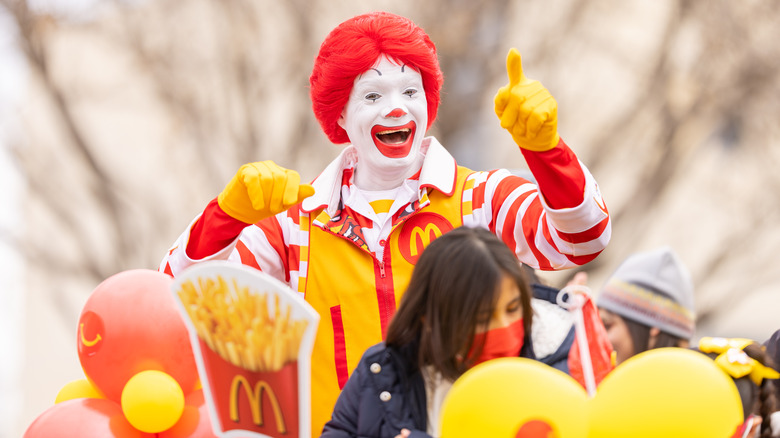 Roberto Galan/Getty Images
Since he first appeared in the early 1960s, Ronald McDonald has been among the most iconic corporate mascots in history. His appearance has been updated many times, but he is immediately recognizable to McDonald's fans worldwide. The colorful clown has been a constant fixture in promotional content and public events since his creation. Until his unofficial retirement from the media in 2016, fans could catch him in television commercials, direct-to-video movies, and video games. Ronald McDonald is also the face of the Ronald McDonald House charity, which provides housing and other services to families of seriously ill children. 
Of course, a mascot's likability depends heavily on the actor wearing the costume. Ronald McDonald's mannerisms are consistent no matter where he's spotted, but the face behind the clown makeup often differs from place to place. Although countless actors donned the iconic costume for local appearances over the years, only a handful have earned the title of the primary actor in television spots and other larger-scale assignments. Some delighted McDonald's fans for years, while others wore the costume for a short time. Regardless, these actors have each done their part to shape the history and aesthetics of this important piece of fast-food pop culture. 
Willard Scott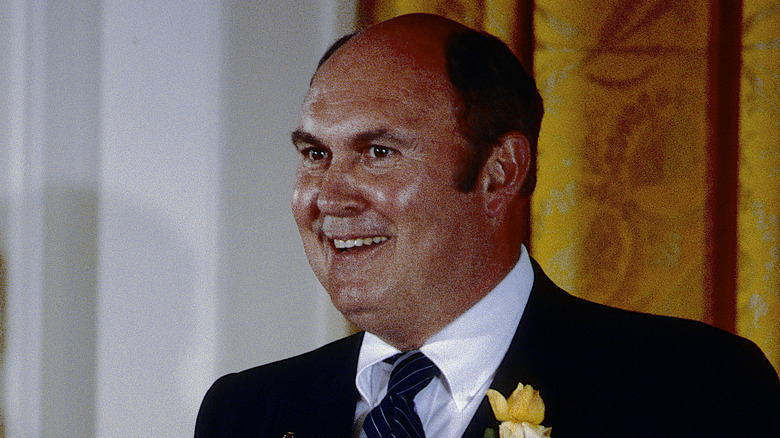 mark reinstein/Shutterstock
Most people think of Ronald McDonald as he has appeared in recent decades, sporting a yellow, red, and white costume with a bright, red wig to match. However, the first iteration of the famous clown looked quite different when Willard Scott took on the role in 1963. For example, in an early commercial, he wears a food tray for a hat instead of his well-known wig and has a cup for a nose. This look didn't last long, nor did Scott's working relationship with McDonald's. After just a couple of years, the fast food chain chose another actor for the part.
The actor appeared as the burger-pedaling performer in several commercials during his short tenure, but it wasn't the first time he donned a clown costume. From 1959 to 1962, he played Bozo the Clown, a popular children's character on television. However, televisions likely know Scott best as a weatherman for TODAY, a position he took on in 1980. The colorful personality that made him an entertaining clown translated well onto the popular program and made Scott an audience favorite. Though he left TODAY's regular lineup in the late 1990s, Scott didn't retire until 2015. 
Michael Polakovs
Many early Ronald McDonald actors started as circus clowns, including Michael Polakovs. The Latvian actor gained fame as Coco the Clown, a character created by his grandfather. Like many people born into a family of performers, Polakovs got an early start in his career by following in his father and grandfather's footsteps. After immigrating to the United States in the 1950s, he continued performing in circuses. After decades of being a clown, Polakovs joined the famous Ringling Brothers Barnum & Bailey circus in 1961 and enjoyed a newfound fame. His success as a circus clown eventually led him to work with McDonald's as the chain's beloved mascot. 
However, Polakovs didn't just play the role — he also innovated it. He helped redesign the Ronald McDonald costume, and his creation became the blueprint for the clown's modern appearance. For example, his version of Ronald McDonald featured a bright red wig, which has since become a standard part of the clown's costume. Polakovs appeared in commercials as the well-known character in the late 1960s but, like many early Ronald McDonalds, his tenure in the role was short-lived. At the end of his career, the actor retired in Kentucky with his second wife. 
Bev Bergeron
Most Ronald McDonald actors have a performing background, but few had a resume as colorful as Bev Bergeron's. The actor had many talents: magic, comedy, acting, and of course, performing as a clown. In the early 1960s, Bergeron starred as Rebo the Clown in "The Magic Land of Allakazam," a television series that combined magic and comedy. The show was primarily the brainchild of magician Mark Wilson, who was among the first magicians to conceive of a magic-themed television series. Before the series, Wilson and Bergeron performed in live shows, where Rebo the Clown was first developed. 
Bergeron's experience playing his trademark clown character made him a natural choice for Ronald McDonald's commercials. He held the role from 1966–1968 while on a hiatus from playing Rebo, and it's just one of dozens of entries on his performing resume. He became an author and show consultant while continuing to perform on television and stage. These appearances included a 16-year role in Walt Disney World's "Diamond Horseshoe Revue." He is also widely appreciated for his comedic magic routines. For example, in recognition of his contributions to the world of magic, the Academy of Magical Arts gave Bergeron a Lifetime Achievement Fellowship in 1998. 
George Voorhis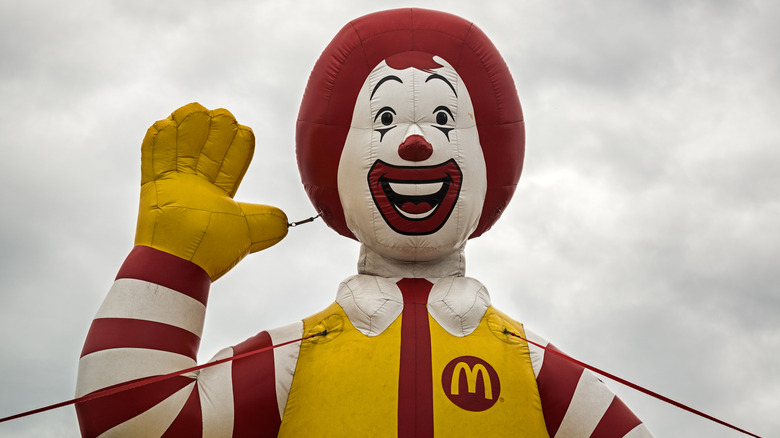 Shaunl/Getty Images
While some Ronald McDonald actors appear in national commercials, others have a solid local presence instead. These actors may not enjoy the same fame as their counterparts, but they are nevertheless crucial to the Ronald McDonald story. For example, George Voorhis spent the late 1960s portraying the mascot locally in Southern California. Local appearances for the popular clown typically range from new restaurant openings to special events. His experience performing as the mascot may have been straightforward, but there is debate about how significant his influence was over the character. Since he never appeared in commercials, images of Voorhis are scarce if not completely unavailable.
Voorhis and an associate, fellow clown Terry Teene, claimed to have created the character for an event at a local McDonald's. There have been several conflicting stories about who developed the mascot, but Washington, D.C. franchise owner Oscar Goldstein is widely credited as Ronald McDonald's creator. Willard Scott also claimed responsibility for the clown's birth and included it in his book "The Joy of Living." Since Voorhis lived on the opposite coast of Scott and Goldstein, it's possible he and Teene developed a similar character. However, neither man has received official credit as a Ronald McDonald creator.
Alexi Aye Jaye Jankowski
Although many actors have taken on the role of Ronald McDonald, the mascot's behavior and mannerisms are consistent from performer to performer. This consistency is thanks to a set of rules developed in 1972. The author of these rules, Alexi "Aye Jaye" Jankowski, spent a brief time playing the character himself before becoming the fast food chain's "Boss Clown." The position put Aye Jaye in charge of creating a framework for training Ronald McDonald performers, but he still made his own in-person appearances as the famous mascot. These appearances included events such as the annual Macy's Thanksgiving Day parade. 
However, Aye Jaye's time as Ronald McDonald wasn't his only experience being a clown. His parents were carnival performers in the Soviet Union, so performing in costume came naturally to him. He appeared in various local venues for years before landing his position with McDonald's, especially in his home state, Wisconsin. Later in life, Aye Jaye took on a few minor on-screen acting roles and became a published author. His book, "The Golden Rule of Schmoozing," offers readers lessons about how to improve their relationships by adding fun and charm to personal interactions.
Ray Rayner
Ray Rayner was already a recognizable face on Chicago television before he donned the Ronald McDonald costume. He began hosting a local children's program called "Breakfast With Bugs Bunny" in 1962, a show which eventually became "Ray Rayner & His Friends." This series ran for nearly two decades, helping the actor build a loyal fan base. His tenure as a child-friendly television personality also included the short-lived role of Oliver O. Oliver, a clown in the series "Bozo's Circus," which featured the enduring popular title character. 
The actor first starred as Ronald McDonald in local Chicago commercials in the late 1960s, but his clown makeup-covered face soon appeared on televisions nationwide. Though most of his national Ronald McDonald appearances only spanned a year, Rayner holds a unique distinction among actors who have worn the costume. He was the first actor to speak as Ronald McDonald in nationally aired commercials. Like other 1960s Ronald McDonald actors, the costume Rayner wore featured cartoonishly oversized pants that remained popular until the late 1970s. In addition to his many television performances, Rayner was also a consummate stage performer. Over the years, he took part in productions, including "Guys and Dolls" and 'The Rainmaker." 
Bob Brandon
In the late 1970s, McDonald's made a controversial decision about their current Ronald McDonald actor, Bob Brandon. Although he had successfully portrayed the company's mascot for several years and appeared in over a dozen commercials, Brandon's work with McDonald's ended abruptly in 1977 after he came out as gay. The fast food chain even pursued an injunction against Brandon to ban him from ever portraying Ronald McDonald again. The chain was concerned about Brandon's sexual orientation reflecting negatively on its trademark clown and sought to distance itself from the actor. 
Unfortunately, this stands as one of the darkest moments in Ronald McDonald's history. However, in recent years, McDonald's has shown signs of positive changes when it comes to the LGBTQ+ community. For example, the company launched its Pride Employee Business Network in 2005, a DEI initiative aimed at improving employment and professional development opportunities for members of the LGBTQ+ community. Furthermore, a 2020 Pride Month campaign for rival chain Burger King in Finland featured an image of Ronald McDonald kissing the Burger King mascot. Bob Brandon was shunned by the fast food chain, but future Ronald McDonald actors likely won't suffer the same fate. 
Robert King Moody
Robert "King" Moody had arguably the largest onscreen acting resume of all the actors who joined forces with McDonald's. He got a relatively late start in the acting world, landing his first part at 30 years old in 1959. Throughout his early career, he took on minor roles across multiple genres, appearing in everything from "Teenagers from Outer Space" to "Get Smart," and making cameos in shows such as "Bonanza" and "Dragnet 1967." Moody had been acting for a decade by the time he stepped into Ronald McDonald's clown shoes. 
Moody appeared in commercials throughout the 1970s and into the 1980s, one of the longest tenures of any Ronald McDonald actor. Since he had plenty of experience as a comedic performer, many of the commercials he starred in have a unique, zany quality that makes them especially memorable. After his time in the colorful role, Moody continued his television acting career. In the late 1980s, he made single-episode appearances in two popular series: "Quantum Leap" and "Night Court." He also appeared in "Get Smart, Again!" a made-for-television movie that gave him the opportunity to reprise one of his most beloved roles. 
Squire Fridell
One of the most recognizable Ronald McDonald actors is Squire Fridell, who took the mascot somewhere he had never been before: the silver screen. In 1988, Fridell appeared as Ronald McDonald in "Mac and Me," a children's movie that closely resembles E.T. and features a substantial amount of McDonald's promotion. The film was widely panned by critics and audiences alike at the time of its release, including a reviewer for The Los Angeles Times. As the reviewer explains, one of the only upsides to this film was that ticket sales partially benefited the Ronald McDonald House Charity. 
Nevertheless, the film brought Ronald McDonald into a new entertainment sphere and helped solidify Fridell's place as a memorable McDonald's mascot allum. In addition to his time in "Mac and Me," Fridell also acted in dozens of commercials for the burger chain in the late 1980s. His acting credits also include multiple television roles, a handful of minor film appearances, and over 3,000 commercials for various other companies, such as Toyota. Although acting is a lifelong career for many performers, it's just one of many resume entries for Fridell. Since 1986, the performer has owned and operated GlenLyon Winery, a small, family-owned business in Sonoma Valley, California.
Bruce Jack Doepke
For '90s kids, Bruce "Jack" Doepke may be familiar because of his time as Ronald McDonald. The actor's enthusiastic performance as the mascot kept him in the role for most of the decade, with his last appearances taking place in 1999. Whereas most Ronald McDonald actors only portrayed the mascot in person or commercials, Jack Doepke also took the character into the world of animation. He lent his voice to the famous clown in three installments of "The Wacky Adventures of Ronald McDonald," a promotional cartoon miniseries following Ronald McDonald and other McDonaldland characters through various, silly situations. 
Doepke's Ronald McDonald voice acting didn't end there: he is also featured in "Ronald McDonald Presents: Silly Sing Along," a cassette tape of kid-friendly songs performed by a variety of artists. This tape was one of a four-part set released in 1995 as collectible Happy Meal toys. Despite his enduring presence as Ronald McDonald, Doepke appears to have largely abandoned acting once his role ended. Instead, he turned to other passions, such as his hometown's history. The Chisago City Heritage Association in the actor's native Minnesota credits him with helping to create three DVDs detailing essential aspects of the city's past.
David Hussey
David Hussey was the primary Ronald McDonald actor from 2000 until 2014 when the character gradually began fading from ad campaigns. He had one of the longest tenures in the role and is the last actor to appear in television spots as Ronald McDonald regularly. Hussey's tenure also included some of the greatest variety; most earlier actors only portrayed the famous clown in commercials, but Hussey also appeared in multiple promotional films the brand released in the early 2000s. 
For example, he starred in several episodes of "The Wacky Adventures of Ronald McDonald" at the beginning of his tenure, following in Jack Doepke's footsteps. Hussey also appears in "Get Up And Go With Ronald," a straight-to-DVD video in the "McKids Adventures" series. The video encouraged kids to get more exercise by demonstrating fun physical activities. 
Some Ronald McDonald performers had minimal other acting roles, but Hussey's decades-long acting career isn't limited to playing mascots or starring in commercials. Prior to his role as Ronald McDonald, Hussey also took on multiple television parts, including single-episode appearances in "L.A. Heat" and "Pensacola: Wings of Gold." 
Brad Lennon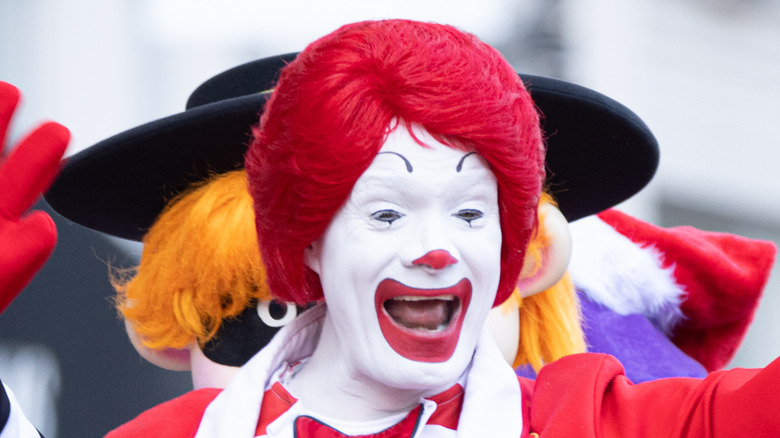 Noam Galai/Getty Images
In 2014, Brad Lennon officially took up the Ronald McDonald baton and began making some local appearances. For instance, The actor was spotted at a Canadian McDonald's restaurant for a special event. This performance was part of a nationwide tour to honor the chain's 10th turn as the official restaurant of the Olympics. Though appearing as Ronald McDonald in person is a typical part of the job, most other actors also had the opportunity to star in commercials while in costume. However, two years into Lennon's tenure, McDonald's made an unexpected choice when the chain retired its longtime mascot. 
Shortly before Ronald McDonald retreated from the limelight, some U.S. and U.K. people took part in an unsettling trend: dressing in scary clown costumes and intentionally startling people. Although it may have been harmless initially, the trend turned sinister when some clowns were spotted carrying weapons. For example, The Mirror reported a disturbing instance of a sledgehammer-wielding clown and three others approaching a young girl. Amid these events, the chain got rid of Ronald McDonald from a national advertising standpoint, but the character is still alive and well. Ronald McDonald still appears at local events and even has his own Instagram page, though it has not been updated since 2021.