Frozen Pickle Juice Ice Pops Are More Versatile Than You Think
While pickling may stretch back more than 4,000 years, pickle juice itself has had a bit of a moment over the past few years. Some people swear by drinking pickle juice every day, and stores even now sell the brine, minus pickles, by the ounce. On a hot summer day, concession stands sell frozen pickle juice ice pops as well, but you shouldn't dismiss these pickle pops as a one-trick pony. Frozen pickle juice is actually more versatile than you think.
Just as pickles come in different flavors, so do pickle pops if you're making them at home. Most pickle pop brands on the market are a bit basic, coming in just the standard dill flavor. However, pickle aficionados know there's a larger flavor wheel at play to pull from. While we haven't quite gotten high brow to have vintages of pickle brine, everyone knows there's a big difference between bread & butter pickles and kosher dill pickles. A bread & butter ice pop would be sweeter and less tangy, perfect for those who aren't a fan of the more sour dill variety.
Meanwhile, you could turn up the spice level a bit for a frozen treat with a bit of heat by creating a kimchi pickle pop. Digging beneath the surface of what's available, lemon pickle pops will guarantee to make your mouth pucker. For someone looking for a blend between conventional and outside the box, consider having a Kool-Aid pickle pop, which combines pickle brine and the drink mix.
How to spice up your pickle pops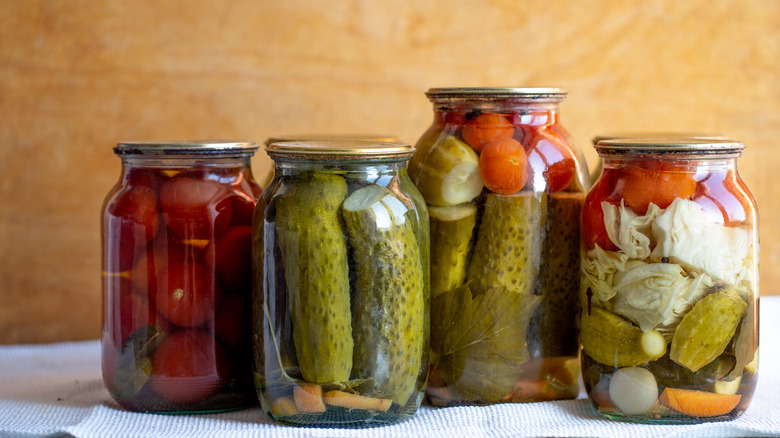 Antonovskay Anzhella/Shutterstock
You can put that leftover pickle juice to good use by making pickle pops. It's as simple as pouring the juice into a popsicle mold and putting it in the freezer, but you don't have to just rely on the flavoring of pickle brine either. Why not elevate your ice pops by adding your own bold flavor choices to the mix? If that pickle brine is still too sour for you, consider mixing in a bit of sugar to balance things out. This will make for a milder but still pickle-flavored treat.
On the other hand, you don't need kimchi if you want to spice things up. Hot sauce, a bit of ground pepper, and some garlic powder will make for a zesty pickle pop that packs a punch as much as it beats the heat. If you want to jazz up your presentation, consider adding small slices of pickles in the middle of your pickle pops. Just plop those in and let them freeze, and you're ready to serve.
Alcoholic pickle pops could be a hit at your next party. The brine blends well with a clear spirit like vodka, gin, or even tequila. Feel free to experiment and find the mixture that is right for you. So next time you consider pickle pops, know there are many different ways to be creative.