Aldi's Pumpkin-Flavored Pasta Sauces Remind Us Fall Is Almost Here
Every year, it seems, summer gets shorter and fall starts earlier. While most of the time that's pretty sad (school already?!), it does have its upside. In particular, pumpkin season is back, and fortunately for those who choose savory over sweet, it's not just for PSL lovers. One of Aldi's celebrated seasonal duos is back on shelves, just in time for September. If you haven't already guessed, we're talking about the German retailer's pumpkin pasta sauces. Two varieties have made their return: the spicy Pumpkin Chipotle and the sweeter, creamier Pumpkin and Butternut Squash sauce. 
Though there are some pretty amazing (and traditional) recipes for pumpkin ravioli, this gourd is probably not the first food most of us associate with pasta. While some shoppers, who associate pumpkin with overly sweet baked goods, have balked at the idea of pumpkin pasta sauce, many others have persevered and have found their efforts richly rewarded. 
Aldi's pumpkin pasta sauces have both proven very popular: The chipotle version has a distinctly smoky note to it and is reminiscent of pumpkin chili in sauce form. The butternut squash edition is a more traditional sauce and balances the sweetness of the vegetables against the acidity of the tomatoes.
They're not just for pasta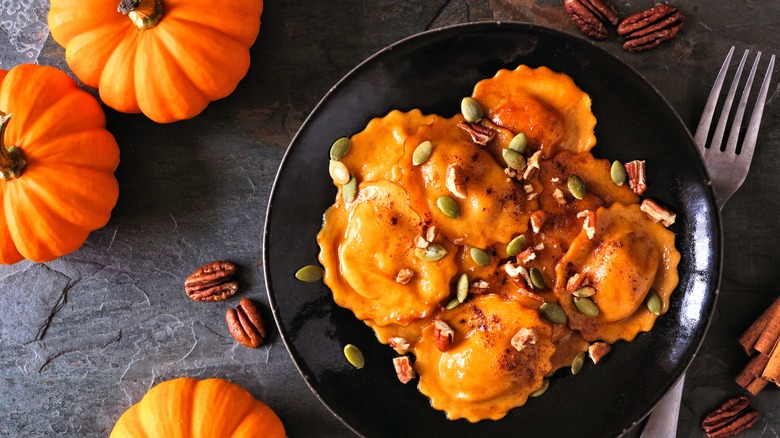 JeniFoto/Shutterstock
While both Aldi jars come with "Pasta Sauce" boldly emblazoned on the front, shoppers have found a variety of ways to use them that expand their repertoire far beyond carb-centric meals. Redditors have suggested simmering chicken in the sauce alongside some onion and vegetables, using it as a dipping sauce for grilled cheese (the way that some people use tomato soup), adding it to spaghetti squash with spinach and sausage, and pouring it into portobello mushroom caps before topping with mozzarella cheese and baking. 
These suggestions highlight pumpkin's surprising versatility in savory foods, despite its strong and heavily nostalgic associations with sweet baked goods — remember, not all pumpkin recipes need to include cinnamon and nutmeg (not that there's anything wrong with it!). While pumpkin does have a natural sweetness, its sweetness comes with a hearty, substantial texture that can make it a nice substitute for meat when you're looking for a little extra heft.  Adding roasted pumpkin to salads adds texture and sweetness while also boosting the beta carotene component. Pumpkin is also a natural in soups and stews, where it can contribute a creamy, rich element, especially when pureed. Pumpkin can even be added to hummus, and depending on the spices and additional flavorings, can become dessert-level sweet or stay savory. 
You know what they say — don't knock it until you've tried it. And Aldi's pumpkin pastas sauces, at 3.49 per jar, are a pretty easy way to dip your toe in the water.