The Aldi Pumpkin Sauce Instagram Is Calling The 'Best Ever'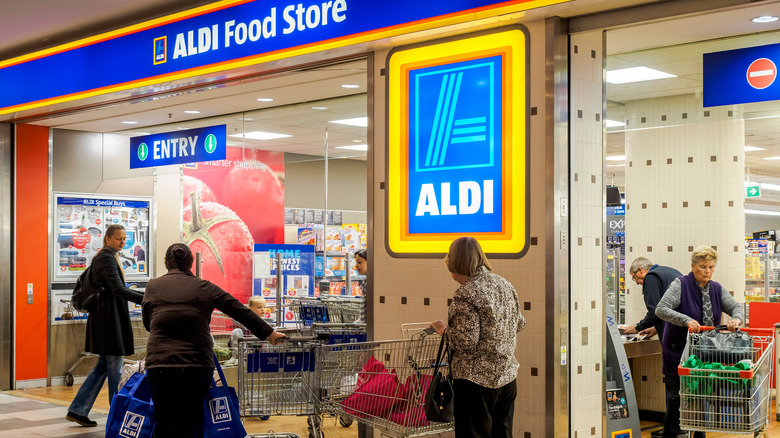 Dr. Victor Wong/Shutterstock
It's almost that time of year again — pumpkin time! While people are diving into their pumpkin spice lattes and pumpkin pies, there are plenty of other dishes out there that pumpkin goes well with. 
The grocer Aldi tends to surprise its customers with familiar products in addition to some items they may not have heard of before. When you stroll down the pasta sauce aisles of many other grocery stores, you'll see an abundance of the usual tomato-based sauces alongside some of the creamier ones like Alfredo. However, pumpkin also makes for great pasta sauce — there are plenty of options like a pumpkin carbonara recipe, but sometimes the convenience of having a jar of sauce ready to go in the pantry makes for an easy meal after a busy day.
Aldi is popular for many reasons, and sometimes you're likely to find some great products. Now, a pumpkin pasta sauce is back on the shelves and ready for you to try, per a shopper on Instagram.
There are two pumpkin sauces to choose from
A recent Instagram post featured a photo of the two Aldi pasta sauce offerings and stated, "I'm not exaggerating when I tell you the pumpkin pasta sauce is the best sauce ever! I look forward to it all year! I bought a few jars and am definitely buying a few more." 
Some of the replies seemed a bit skeptical, with several people saying that they were scared to try it. Other Instagram users stated that they'd seen it in their local Aldi but hadn't thought to try it. Yet another didn't know what to do with it. However, most people seemed positive about the pasta sauce with one user saying, "I buy these every year! This was my go-to for fall dinners back in college."
According to Aldi Things, these sauces are available for a limited time and you can find them with either the other pasta sauces or in the Aldi Finds aisle. The flavors are Pumpkin and Butternut Squash or Pumpkin Chipotle for an extra spice kick. The jars cost $3.49 each.