When Life Gives You Strawberries, Make Agua Fresca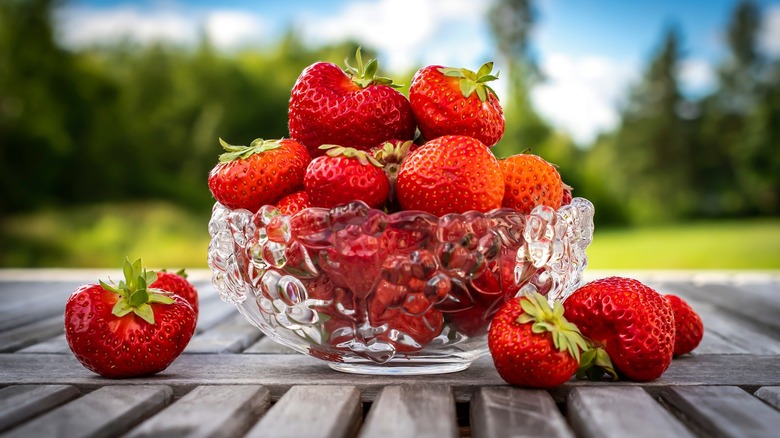 Ruslan Suseynov/Shutterstock
Although we're approaching the end of the season, the summer sun shines on and there's still time to get outside before the leaves change. But what's summertime without some refreshing beverages? And there's no better beverage to enjoy on a hot summer day than agua fresca — a traditional Mexican drink made simply from water, fruit, and sweetener, which is making a fruity splash on social media.
Agua fresca has been enjoyed since the 13th century when the ancient Aztecs muddled fresh fruits into drinking water, thus bringing to life the legend of agua fresca. By the 1940s, American beverage connoisseurs caught on to the sweet taste of agua fresca and began selling it across the nation, making the fruity, sometimes floral drink an international treasure. 
Although you can use any fruit, vegetable, or flower to make this much-loved drink, strawberry agua fresca is an enduring favorite. Ripe strawberries, sugary sweet, slightly tart, and very juicy, are the perfect choice for this classic Mexican libation. 
To make strawberry agua fresca, cut the stems off a batch of fresh strawberries and rinse them to remove any dirt. Blend with water until smooth, pour the puree through a strainer, mix in more water, lime juice, and the sweetener of your choice before pouring over ice. Et voila — strawberry agua fresca!
Customizing strawberry agua fresca
We love the simplicity of strawberry agua fresca because, with just a few common household ingredients and a few minutes of your time, you're sipping on sunshine faster than you can say strawberry. But if you're an adventurous mixologist, why settle for simplicity when you can add depth to your aqua fresca? 
Strawberries pair well with other fruits and herbs, so don't be afraid to mix and match. Try a blend of strawberries, watermelon, and pineapple for a taste of the tropics, or mix in additional berries like raspberries, blueberries, and blackberries for a rich and colorful berry agua fresca. Add fresh herbs like mint, basil, or cilantro to your agua fresca for a herbaceous and aromatic twist and if you're feeling spicy, muddle in some jalapenos and dust your glass with a Tajin rim.
Dessert anyone? One strawberry sommelier on TikTok shared a recipe for strawberry aqua fresca paired with ingredients used in another traditional Mexican treat — fresas con crema — by infusing the minimalist recipe with sweetened condensed milk and a dash of vanilla. You can also try using Mexican crema, sour cream, or even whipped cream for your agua fresca con crema.
Feeling boozy? Mix and match fruits, herbs, and spices, before adding in a dash of tequila, white rum, or vodka for an intoxicating strawberry agua fresca. Whichever way you choose to make your agua fresca, as long as it's sweet, fruity, and served over ice, you can't go wrong!