What Fast Food Looks Like In India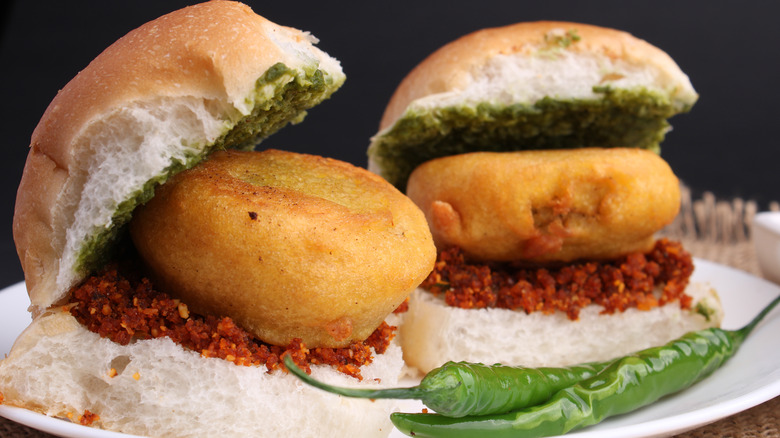 Image bug/Shutterstock
To reflect the taste and cultural differences of other countries, most fast food restaurants switch up their menu items depending on location. Because what's popular in India varies from what's popular in the U.S., visitors to the country will find specifically catered foods served alongside well-known staples. You won't find a lot of beef or pork on Indian fast food menus, because many of the most prevalent religions observed by Indians have restrictions on eating meat at all, or on eating certain animals. Most Indian versions of fast food classics also include a lot more spice and flavor, particularly in the sauces and condiments.
McDonald's, for example, made the decision when opening in India to substitute its traditional beef burgers for vegetable patties. Today, you can order a Veg Surprise Burger with a potato patty or a McAloo Tikki Burger made of potato, peas, and spices. A few classics, such as the McChicken and Filet-O-Fish, are also served for those who prefer them. Burger King is another fast food giant that caters to Indian tastes. It sells a vegetarian Tikki Twist Burger with onions and a spicy sauce, a Veg Peri Peri Rice Bowl, and a Veg Crunchy Volcano, which is a taco-like product filled with vegetables and beans. At Taco Bell, locals and tourists can opt for a burrito variation of the traditional Tikka Masala. Wrapped in a flour tortilla, it's stuffed with Mexican rice, grilled chicken, cilantro, onions, and Tandoori Mayo Sauce.
Popular local fast food choices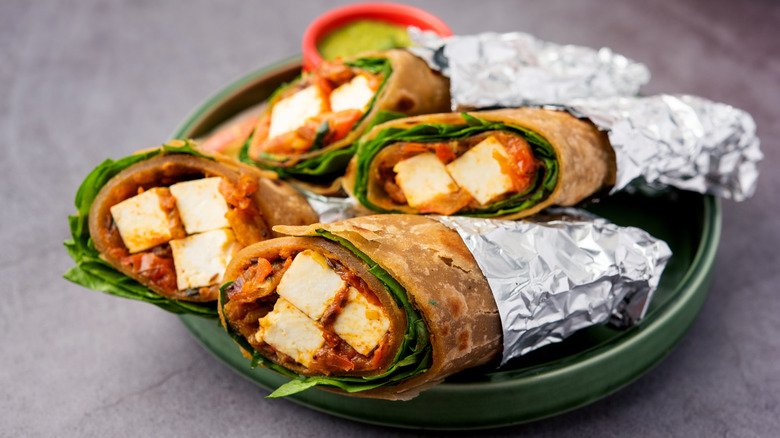 StockImageFactory.com/Shutterstock
Aside from deviations offered by international brands, India also boasts a unique selection of local fast food. India is home to many popular, locally-founded fast food joints. One company is KaatiZone, which serves a version of a popular street food called Kaati Rolls, which are wrapped in pan-fried bread and typically stuffed with onions, tomato chutney, eggs, and chaat masala. To combine fast-food convenience with more veg and a familiar twist, KaatiZone offers options like a mixed veggie roll and a chili paneer roll. Another brand, Bikanervala, which started as a small shop, specializes in Indian desserts. It serves products like Rasgulla, small, syrup-soaked balls made of curdled milk, and Anjeer Barfi, made of dried fruit and intended as a natural energy boost.
Street food is also popular in India, especially in Delhi, Jaipur, and Mumbai. There's a great deal of variety in food and culture across India, and the street food found in each region reflects that. But all of these foods, like fast food in any country, are meant to be quick, portable, flavorful meals. You might find pani puri, a puffy crispy bread-stuffed creation loaded with potatoes, curry, or chickpeas. Probably one of the most popular foods served on Indian street sides is the Vada Pav, a bun filled with a fried potato patty and condiments — not all that different from fast food sandwiches you can find anywhere in the world, and no doubt the inspiration for the McAloo Tikki Burger.