Hot Ones Is Turning Down The Heat (Slightly) With New Buffalo Sauce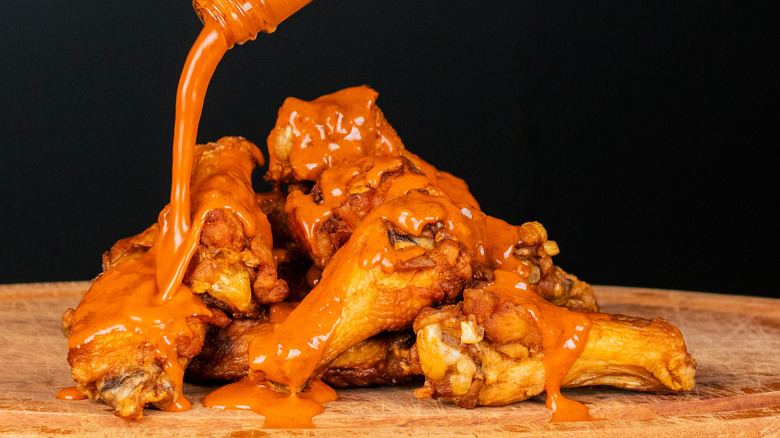 Hot Ones
The popular YouTube series "Hot Ones" is known for bringing the heat and testing all our favorite celebs' spice tolerance. Yet, Hot Ones' latest hot sauce may be just a bit easier for some of us to stomach. According to a press release shared with Mashed, the brand's first Buffalo hot sauce has just arrived, and it's a milder addition to Hot Ones' notoriously spicy lineup. The sauce mixes together cayenne peppers, vinegar, butter, celery, chipotle, and smoked paprika. This concoction will also be the number one sauce on "Hot Ones" Season 22.
Fans of Buffalo sauce are likely to enjoy this new product, as it sticks close to the classic recipe's taste but with a few twists and additional flavors. And if you're a fan of the YouTube series, you'll be happy to know that Bill Drexler — also known as "OG Camera Guy Bill" — who happens to be from Buffalo, New York, has already given this sauce the official Buffalo seal of approval.
Test out Hot Ones' new Buffalo sauce in Buffalo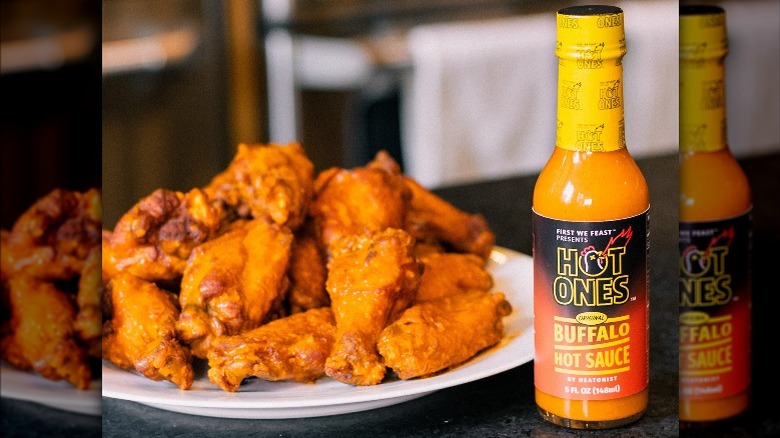 Hot Ones
Hot Ones' Buffalo sauce, which the brand has dubbed "the next big thing in wings," will be available with the rest of its lineup via Heatonist. Still, if you'd prefer to give this sauce the warm (or should we say hot) welcome it assumedly deserves, then you may want to attend the Buffalo Wing Festival in Buffalo, New York. The festival will run from September 2 to 3, and Bill Drexler will be hosting a "Hot Ones" event there to introduce this new product.
There may be no better place to taste-test Hot Ones' Buffalo sauce than in the city of the same name, but if you'd rather, you can always order the stuff online instead for $10. And as Hot Ones assures us, "It will be a permanent addition — fans have been asking for a Hot Ones buffalo sauce for years, so we're really excited to finally deliver one!" Toward the end of 2023, the sauce will also be coming, as part of a gift set, to retailers such as Target and Sam's Club.
Plus, this sauce is ready to pour right out of the bottle and onto your chicken wings with no prep required, so you can get right to the important part: eating. And compared to some other Hot Ones' products, you probably won't need quite as much milk or celery for this one. Still, this classic take on a familiar flavor doesn't pull any punches.